Summary

FTSE 100 traded marginally higher, led by shares of BT and AstraZeneca
BT jumped nearly 6 per cent after Patrick Drahi bought 12 per cent stake
AstraZeneca, up 2 per cent, supported the index further
UK shares traded flat in the early afternoon with the benchmark FTSE 100 oscillating marginally higher as shares of the heavyweight BT Plc (LON: BT.A) and AstraZeneca Plc (LON: AZN) provided the major positive points to the index. The global equity sentiments have been battered by the worries of mounting inflation, the jittery escalated after the Chinese factory gate prices registered a 9 per cent growth, the highest since September 2008.
The lost confidence was evident from the choppy Wall Street with the leading indicator Dow Industrials sliding more than 0.40 per cent at the close, the losses of S&P 500 were contained under 0.20 per cent, whereas the tech benchmark Nasdaq Composite finished moderately lower after diving in the late trades.
According to the London Stock Exchange, the headline FTSE 100 was trading at 7,100.76, up 0.28 per cent, from the previous close of 7,081.01. The index has been duly supported by the sharp spike in some of the blue-chip stocks with BT and AstraZeneca hand holding the uptick.
The stock of BT jumped nearly 6 per cent after the Switzerland-based telecom billionaire Patrick Drahi bought a 12.1 per cent stake of BT's issued share capital, effectively becoming the single largest shareholder in the company. Altice UK, a wholly-owned company by Drahi, acted as the investor to buy as much as 1.2 billion shares of BT.
Shares of BT, the London-headquartered multinational telecom giant, hit a fresh 52-week high following the major development. As per the trading data available with the LSE, the stock soared as much as 5.85 per cent to a new 52-week high of GBX 193.88 from the last close of GBX 183.15. The stock of BT was the second-biggest gainer among the 101 constituents of FTSE 100.
BT Group shares (10 June)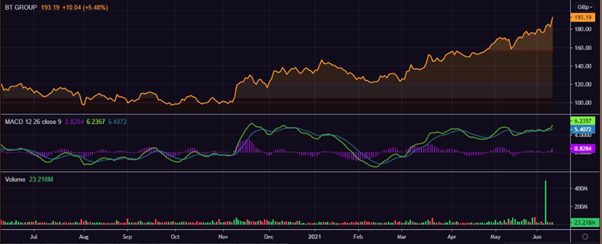 Image Source: REFINITIV
Meanwhile, the shares of AstraZeneca rose approximately 2 per cent, emerging as the biggest contributors to the key index. The stock jumped 1.92 per cent to at least a six month high of GBX 8,286 from the previous close of GBX 8,130 apiece.
Also Read | Which UK Companies Pay The Best Dividend?
On the contrary, the mid-cap indicator FTSE 250 dropped more than 0.50 per cent, largely due to persisting weakness in the mid-cap constituents, while the broader stock indices including the FTSE 350 and FTSE All-Share traded 0.14 and 0.13 per cent higher, respectively.
The domestic market participants have been awaiting the macroeconomic releases with the Office for National Statistics (ONS) lined up to declare the balance of trade, construction output, industrial and manufacturing production for the month of April.