US Markets: Broader indices in the United States traded on a mixed note - particularly, the S&P 500 index traded 8.34 points or 0.19 per cent lower at 4,447.14, Dow Jones Industrial Average Index surged by 149.60 points or 0.43 per cent higher at 34,947.60, and the technology benchmark index Nasdaq Composite traded lower at 14,956.90, down by 90.80 points or 0.60 per cent against the previous day close (at the time of writing – 11:45 AM ET).
US Market News: The major indices of Wall Street traded on a mixed note amid concerns around U.S. fiscal and monetary policy. Among the gaining stocks, Gannett (GCI) shares grew by around 2.17% amid reports that the Company would seek to refinance USD 550 million through senior secured debt. Tesla (TSLA) shares went up by around 1.80% after the Company rolled out software stating that the access would be permitted to the Tesla drivers who get a sufficiently high safety score. Toyota Motor Corp (TM) shares rose by around 1.35% after the Company had completed a 25.8 million share buyback programme. Among the declining stocks, Alphabet (GOOGL) shares fell by around 0.47% after the Google unit would cut down the commission charged on the third-party software sales.
UK Market News: The London markets traded in a green zone, driven by the banking & energy shares.
Rolls Royce Holdings shares surged by about 10.43% after the Company received a contract to provide the powerplant for the B-52 Stratofortress under the Commercial Engine Replacement Program (CERP).
Global Market recovers all losses
United Utilities Group shares dropped by around 1.26% after it mentioned in a trading update that the higher first-half revenue and targeted efficiencies got offset by higher underlying operating costs.
Kerry Group had completed the sale of its Consumer Foods' Meats and Meals business to Pilgrim's Pride for approximately 819 million euros. Meanwhile, the shares rose by around 0.19%.
IWG shares went up by around 5.04% amid the media reports that the Company would consider a multibillion-pound breakup that would involve splitting into several distinct companies.
European Indices Performance (at the time of writing):
FTSE 100 Index One Year Performance (as on 27 September 2021)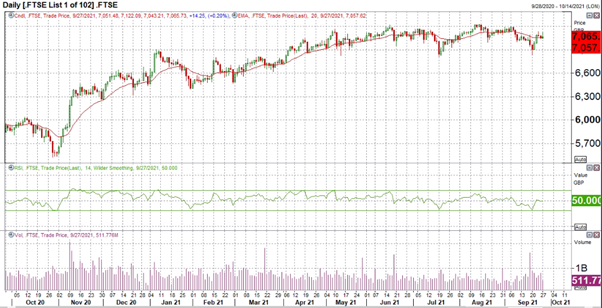 1 Year FTSE 100 Chart (Source: Refinitiv)
Top 3 Volume Stocks in FTSE 100*: Lloyds Banking Group PLC (LLOY); Rolls-Royce Holdings PLC (RR); BP PLC (BP).
Top 3 Sectors traded in green*: Energy (+3.46%), Financials (+0.79%), Technology (+0.41%).
Top 3 Sectors traded in red*: Healthcare (-1.54%), Industrials (-1.06%), Utilities (-0.74%).
London Stock Exchange: Stocks Performance (at the time of writing)

Crude Oil Future Prices*: Brent future crude oil (future) price and WTI crude oil (future) price were hovering at $78.80/barrel and $75.56/barrel, respectively.
Gold Price*: Gold price was quoting at US$ 1,751.80 per ounce, up by 0.01% against the prior day closing.
Currency Rates*: GBP to USD: 1.3712; EUR to USD: 1.1707.
Bond Yields*: US 10-Year Treasury yield: 1.475%; UK 10-Year Government Bond yield: 0.9545%.
*At the time of writing