Source: Copyright © 2021 Kalkine Media Pty Ltd.
US Markets: Broader indices in the United States traded on a mixed note - particularly, the S&P 500 index traded 22.89 points or 0.59 per cent lower at 3,847.40, Dow Jones Industrial Average Index surged by 44.13 points or 0.14 per cent higher at 31,435.65, and the technology benchmark index Nasdaq Composite traded lower at 13,176.48, down by 182.31 points or 1.36 per cent against the previous day close (at the time of writing, before the US market close at 10:30 AM ET).
US Market News: The major indices of Wall Street traded on a mixed note driven by the vaccination boost and Texas reopening updates. Among the gaining stocks, Lyft shares jumped by approximately 3.97% after the Company raised its financial outlook. Zynga shares went up by about 0.97% after acquiring the San Francisco-based game studio Echtra Games. Among the declining stocks, Dollar Tree shares plunged by approximately 2.17% after the Company's quarterly sales fell short of the consensus estimates. Shares of Nordstrom went down by about 2.10% after the Company reported a revenue drop in the fourth quarter.
US Stocks Performance*

UK Market News: The London markets traded in a green zone, as investors kept their eyes on the UK budget announcement. FTSE 100 traded higher by around 0.93%, driven by the banking stocks. Britain's Purchasing Managers' Index ("PMI") for the services sector came out to be around 49.5 during February 2021 as compared to an eight-month low of 39.5 recorded during January 2021.
FTSE-100 listed banking stocks such as Barclays, HSBC Holdings, and Standard Chartered surged by around 3.79%, 1.49% and 3.13%, respectively, on the day of the UK's budget announcement.
Housebuilder Persimmon shares surged by approximately 4.91% after it had reported a 15% increase in forward sales during 2020. However, it had reported a significant decline in the annual profit.
Mining giant Polymetal International had reported a 28% increase in full-year revenue and a 57% rise in the adjusted EBITDA during 2020, benefitted by higher commodity prices and rising production volumes. Moreover, the shares went up by approximately 1.22%.
Britain's Daily Mail & General Trust shares jumped by about 0.11% after it had acquired the science & technology magazine New Scientist for 70 million pounds.
Software Company Micro Focus International had signed a commercial agreement with Amazon Web Services. Meanwhile, the shares went up by about 13.61%.
European Indices Performance (at the time of writing):

FTSE 100 Index One Year Performance (as on 3 March 2021)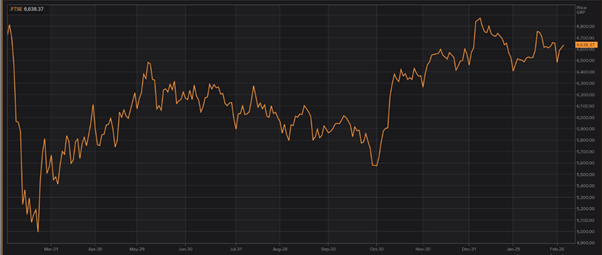 1 Year FTSE 100 Chart (Source: Refinitiv, Thomson Reuters)
Top 3 Volume Stocks in FTSE 100*: Lloyds Banking Group Plc (LLOY); Barclays Plc (BARC); International Consolidated Airlines Group SA (IAG).
Top 3 Sectors traded in green*: Consumer Cyclicals (+1.78%), Financials (+0.88%) and Industrials (+0.77%).
Top 3 Sectors traded in red*: Utilities (-1.36%), Basic Materials (-0.73%) and Healthcare (-0.67%).
London Stock Exchange: Stocks Performance (at the time of writing)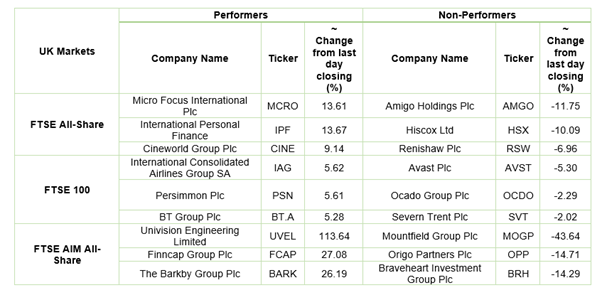 Crude Oil Future Prices*: Brent future crude oil (future) price and WTI crude oil (future) price were hovering at $64.52/barrel and $61.76/barrel, respectively.
Gold Price*: Gold price was quoting at US$1,716.00 per ounce, down by 1.02% against the prior day closing.
Currency Rates*: GBP to USD: 1.3963; EUR to GBP: 0.8646.
Bond Yields*: US 10-Year Treasury yield: 1.470%; UK 10-Year Government Bond yield: 0.778%.
*At the time of writing