US Markets: Broader indices in the United States traded in green - particularly, the S&P 500 index traded 37.63 points or 0.91 per cent higher at 4,172.61, Dow Jones Industrial Average Index surged by 163.11 points or 0.48 per cent higher at 33,979.01, and the technology benchmark index Nasdaq Composite traded higher at 13,992.20, up by 173.79 points or 1.26 per cent against the previous day close (at the time of writing - 11:30 AM ET).
US Market News: The major indices of Wall Street traded in a green zone after the reports that the Biden administration would increase capital gains tax to fund education and childcare. Among the gaining stocks, Silicon Laboratories shares surged by around 10.37% after Skyworks Solutions agreed to buy its infrastructure and automotive business for a cash consideration of around USD 2.75 billion. Mattel shares rose by about 2.01% after the Company had reported around 47% sales growth for the latest quarter. Boston Beer Company shares went up by approximately 0.33% after the Company had delivered impressive quarterly results driven by a jump in sales for the Truly hard seltzer brand. Among the declining stocks, Honeywell International shares went down by about 1.98% after the Company had reported a 9.7% drop in quarterly profit.
US Stocks Performance*
UK Market News: The London markets traded on a flat note after the media reports that the Democrats in Congress wanted to double the capital tax gains tax to around 39.6%. FTSE 100 ended on a flat note even after an impressive UK retail sales data. According to the Office for National Statistics ("ONS"), the UK retail sales had shown a month-on-month surge of around 5.4% in March 2021 against an increase of around 2.2% during February 2021. Moreover, the public sector net borrowings had reached 303.1 billion pounds for the fiscal year ended on 31 March 2021, around 14.5% of UK GDP, the highest level since the year after the end of the 2nd world war.
FTSE 250 listed FirstGroup shares climbed by about 5.33% after it had sold First Student and First Transit to EQT Infrastructure for an enterprise value of around 3.30 billion pounds. Moreover, it remained the top performer on the index.
GlaxoSmithKline had received approval for Jemperli', or dostarlimab-gxly, based on its Biologics License Application from US FDA (Food and Drug Administration). However, the shares dropped by around 0.89%.
LondonMetric Property shares went down by about 0.97% after the Company had sold the two long income assets let to Marks & Spencer and Wickes in Derby for a combined consideration of 11.1 million pounds.
European Indices Performance (at the time of writing):
FTSE 100 Index One Year Performance (as on 23 April 2021)
1 Year FTSE 100 Chart (Source: Refinitiv, Thomson Reuters)
Top 3 Volume Stocks in FTSE 100*: Barclays Plc (BARC); Lloyds Banking Group Plc (LLOY); Rolls-Royce Holdings Plc (RR.).
Top 3 Sectors traded in green*: Basic Materials (+1.27%), Consumer Cyclicals (+0.24%) and Financials (+0.09%).
Top 3 Sectors traded in red*: Utilities (-1.34%), Consumer Non-Cyclicals (-1.22%) and Healthcare (-1.19%).
London Stock Exchange: Stocks Performance (at the time of writing)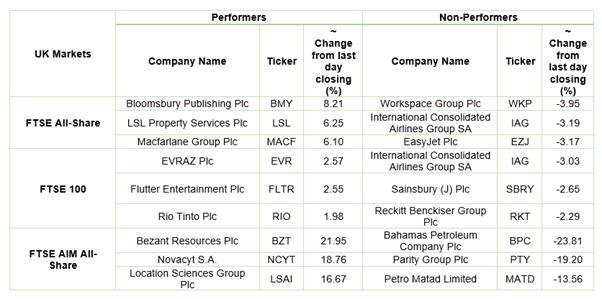 Crude Oil Future Prices*: Brent future crude oil (future) price and WTI crude oil (future) price were hovering at $66.01/barrel and $62.07/barrel, respectively.
Gold Price*: Gold price was quoting at US$1,776.95 per ounce, down by 0.28% against the prior day closing.
Currency Rates*: GBP to USD: 1.3868; EUR to GBP: 0.8716.
Bond Yields*: US 10-Year Treasury yield: 1.5630%; UK 10-Year Government Bond yield: 0.7450%.
*At the time of writing