US Markets: Broader indices in the United States traded on a mixed note - particularly, the S&P 500 index traded 3.26 points or 0.08 per cent lower at 4,235.92, Dow Jones Industrial Average Index dipped by 99.90 points or 0.29 per cent lower at 34,366.34, and the technology benchmark index Nasdaq Composite traded higher at 14,034.05, up by 13.72 points or 0.10 per cent against the previous day close (at the time of writing - 12:15 PM ET).
US Market News: The major indices of Wall Street traded on a mixed note after investors' worries regarding inflation figures started fading away. Among the gaining stocks, American Airlines Group (AAL) shares rose by about 0.13% after the Company plans to invest significantly in an electric flying taxi startup Vertical Aerospace. Among the declining stocks, Vertex Pharmaceuticals (VRTX) shares plunged by about 9.92% after the drugmaker had stopped the development of a generic drug used to cure a genetic disease called AAT Deficiency. Snowflake (SNOW) shares dropped by around 4.42% after the Company had set a target of reaching annual product revenue of USD 10 billion by 2029. Dave & Buster's (PLAY) shares went down by about 1.72% after the Company had reported first-quarter earnings of 40 cents per share.
UK Market News: The London markets traded in a green zone after the release of major macroeconomic indicators today. Moreover, the Office for National Statistics had reported a month-on-month increase of around 2.3% in GDP during April 2021, while it was about 2.1% for March 2021. Furthermore, the UK construction output had shown a month-on-month drop of around 2.0% in April 2021 as compared to an increase of 5.8% during March 2021. The UK manufacturing production figured had also shown an unexpected month-on-month decline of about 0.3% during April 2021.
Frontier Developments shares plunged by about 13.11% after the Company had expected FY21 revenue lower than the consensus estimates. Nonetheless, the Company had anticipated solid revenue growth for FY22 and FY23. Moreover, it had also announced the launch of Jurassic Park Evolution 2.
Asset Management Service provider Sanne Group had received an offer of 875 pence per share for the buyout firm, Cinven. Moreover, the shares grew by approximately 9.59% and remained the top performer on the FTSE 250 index.
Equipment Rental firm Ashtead Group shares went down by around 0.87% after Deutsche Bank had downgraded the Company's investment stance from "Buy" to "Hold".
European Indices Performance (at the time of writing):
FTSE 100 Index One Year Performance (as on 11 June 2021)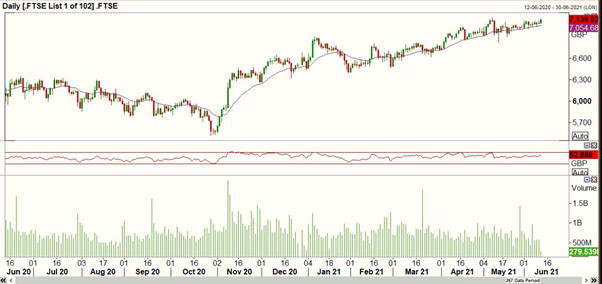 1 Year FTSE 100 Chart (Source: Refinitiv)
Top 3 Volume Stocks in FTSE 100*: Lloyds Banking Group Plc (LLOY); Glencore Plc (GLEN); Melrose Industries Plc (MRO).
Top 3 Sectors traded in green*: Basic Materials (+1.59%), Energy (+1.13%) and Industrials (+0.98%).
Top 2 Sectors traded in red*: Consumer Non-Cyclicals (-0.09%) and Technology (-0.06%).
London Stock Exchange: Stocks Performance (at the time of writing)
Crude Oil Future Prices*: Brent future crude oil (future) price and WTI crude oil (future) price were hovering at $72.67/barrel and $70.92/barrel, respectively.
Gold Price*: Gold price was quoting at US$ 1,878.05 per ounce, down by 0.97% against the prior day closing.
Currency Rates*: GBP to USD: 1.4098; EUR to GBP: 0.8582.
Bond Yields*: US 10-Year Treasury yield: 1.460%; UK 10-Year Government Bond yield: 0.6990%.
*At the time of writing