London Stock Exchange Group Plc (LSE)
London Stock Exchange Group Plc (LSE) is engaged in financial market infrastructure business; headquartered in London, the United Kingdom. The group operates worldwide in the United Kingdom, Italy, France and the United States. It provides services for investors, corporate and trading firms related to equities, fixed income, financial derivatives and other products. The company organises its business units based on its services and has six reported segments being Post Trade LCH, CC&G and Monte Titoli, Information, Services, Capital Markets, Technology and other services. The company also provide after trading services, risk management and balance sheet management solutions.
Recent Developments
July 27, 2019
London Stock Exchange Group plc announced that it has entered into negotiation with a consortium of investment funds led by The Blackstone Group Inc. (NYSE:BX). The consortium consists of Thomson Reuters Corporation (NYSE: TRI); The Canada Pension Plan Investment Board; GIC Special Investments Pte Ltd.; and others. The negotiation is related to London Stock Exchange Group plc's proposal to buy Refinitiv. As of now, Refinitiv is majorly owned by Blackstone Group LP which has a 55 per cent stake, and Thomson Reuters owns the rest 45 per cent stake. London Stock Exchange Group plc offered to acquire the provider of the data company, Refinitiv for $27 billion. Management estimates that after completion of the deal, Refinitiv Shareholders would hold a roughly 37 per cent stake in London Stock Exchange Group plc.
July 17, 2019
London Stock Exchange Group plc announced that in its board it had made a new appointment. The new appointee is Mr Dominic Blakemore. Mr Dominic as of now is working in Compass Group PLC in the role of Group Chief Executive. With effect from January 1, 2020, the new appointee Mr Dominic Blakemore would join the board in the position of a Non-Executive Director. The new incumbent will take charge from Mr Paul Heiden after the conclusion of the annual general meeting on April 2020. Mr Dominic Blakemore will join the Audit Committee as the Chairperson.
May 1, 2019
Trading Update – Q1 FY 2019 (£ million)
 (Source: Quarterly filings, company website)
London Stock Exchange Group plc provided a trading update for Q1 FY 2019 (for the three months ending March 31, 2019). The company performance remained good despite macroeconomic uncertainty. In the reported period, total revenue increased three per cent year over year to £ 486 million. The upside came from the company's focus on diversification by introducing new services and acquisition of Euroclear (Brussels, Belgium - based settlement house) stake. Segment-wise, revenue from the company's information services segment surged by six per cent to £ 214 million. It reflects an increase in the growth of FTSE Russell by seven per cent year over year.  The company's Post Trade services – LCH segment revenue surged by 14 per cent year over year to £ 134 million. The Post Trade Services - CC&G and Monte Titoli's revenues, however, fell 10 per cent year over year to £ 25 million. The company's revenue from Capital Markets segment declined by nine per cent year over year to £ 97 million, reflecting low equity trade volumes. The company's Technology Services segment delivered growth of nine per cent year over year and reported a revenue of £ 14 million. Finally, Other, segment, fell 31 per cent year over year to £ 2 million. Overall, total income for Q1 FY 2019 surged by five per cent year over year to £ 546 million. Cost of sales of £ 56 million remained constant year over year. Gross Profit improved six per cent year over year to £ 490 million.
Refinitiv - Background
Refinitiv with an annual turnover of USD 6 billion is a leading provider of infrastructure and data associated with financial markets worldwide. As of now, the company is majorly owned by The Blackstone Group Inc., which has a 55 per cent stake in the company. The minority stakeholder is Thomson Reuters Corporation owning the remaining stake. The company's network is spread over one hundred and ninety countries across the globe among more than forty thousand client companies.
Bloomberg to watch Refinitiv deal
London Stock Exchange Group plc is steadily progressing to acquire Refinitiv for approximately USD 27 billion. The move to acquire the financial data play is a smart move on the part of the London Stock Exchange Group plc, which currently has a market capitalisation of approximately £ 19 billion. At one stroke, the acquisition would transform the company from its current image of derivatives clearing and running stock exchanges. Then a new entity would be a diversified data and exchange epicentre worldwide with an estimated turnover of more than £ 6 billion. Media reports are speculating, that the new entity, would throw the biggest challenge to the financial data and news behemoth, Bloomberg L.P. As per media estimates, the privately held company, Bloomberg L.P., has a valuation of approximately USD 20 billion. Also, in house projections at London Stock Exchange Group plc points that within five years cost savings would shoot up to £ 350 million yearly.
Terms of the Deal
London Stock Exchange Group plc announced that the acquisition transaction would be financed solely with its new share issuance. The trade shows the financial genius of the buyers as they are expected to issue approximately only USD 14.5 billion in new shares to pocket the company. It is because Refinitiv already holds around USD 12.5 billion in net debts. It effectively slashes its enterprise value of USD 27 billion, making the road smoother for London Stock Exchange Group plc's pocket. Also, there would be no changes at the helm at London Stock Exchange Group plc. The company Chairman - Don Robert; Chief Executive Officer - David Schwimmer; and Chief Financial Officer - David Warren; all would retain their positions.
Post completion of the transaction, almost 37 per cent stake in the new company would belong to the former owners of Refinitiv. However, Refinitiv shareholders would have no more than thirty per cent of the voting right.
London Stock Exchange Group plc Share Price Performance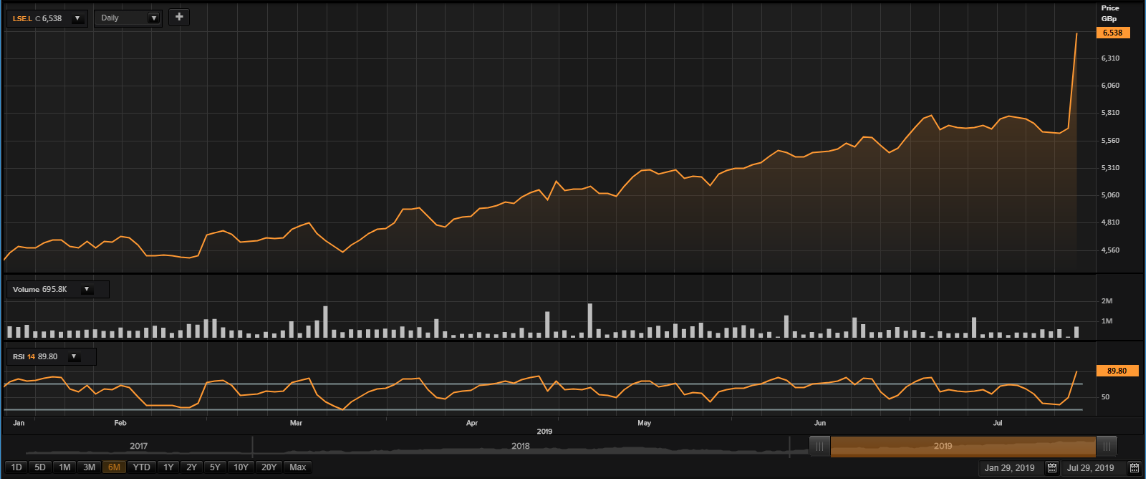 Daily Price Chart (as on July 29, 2019), before the market close. (Source: Thomson Reuters)
On July 29, 2019, at the time of writing (before the market close, GMT 12:41 PM), London Stock Exchange Group plc shares were trading at GBX 6,538, up by 15.27 per cent against the previous day closing price. The stock has already breached its 52-week high at the time of writing and is cruising further. The outstanding market capitalisation was around GBP 19.84 billion.
Rationale Behind the Deal
Given the changing market conditions, the move by London Stock Exchange Group plc to acquire Refinitiv comes in tandem with its future growth plan. Given the fact that the current onus for customer demand is for up to date, financial data and company analytics passed through an easily accessible source. The management of the company's move to incorporate a foremost financial market information provider within its purview is the right move. Refinitiv fits the bill ideally given its omnipresent reach providing diverse services ranging from analytics, data management, and unparalleled distribution network. It would enable London Stock Exchange Group plc to benefit in its entire range of product and services.
On the one hand, the acquisition would expand its data cum distribution capabilities. On the other, it would expand its worldwide presence and boost its customer count. The onus would go to London Stock Exchange Group plc's men at the helm. In sharp contrast to the company's business model a decade ago, the focus now is more on information services. It is clear from the simple fact that information services revenue now accounts for almost four-tenths of the company's turnover in FY 2018. The shift is more prominent when one looks at traditional businesses of the company viz. stock trading and initial public offerings. A decade ago, they accounted for almost half of the revenue pie while at the end of FY 2018 it just came in at one-fifth of the topline.
Finally, the transaction comes at a time when the long shadow of Brexit is affecting United Kingdom's viability in the eyes of global investors. In this troubled time, the new entity would be a United Kingdom-based financial giant.
Bottlenecks to be Breached for the Acquisition Deal
However, the road is not yet smooth for the creation of the USD 6 billion turnover giant. As of now, media speculation is ripe that by the end of this week, the deal would be finalised. However, before that, the transaction would be going through an extensive review by all parties concerned. Also, as per media reports, the finalisation of the acquisition deal would be followed by a thorough antitrust review of up to 18 months in Europe and the United States.
With Bank of England reducing the interest rates to a historic low level, the spotlight is back on diverse investment opportunities.
Amidst this, are you getting worried about these falling interest rates and wondering where to put your money?
Well! Team Kalkine has a solution for you. You still can earn a relatively stable income by putting money in the dividend-paying stocks.
We think it is the perfect time when you should start accumulating selective dividend stocks to beat the low-interest rates, while we provide a tailored offering in view of valuable stock opportunities and any dividend cut backs to be considered amid scenarios including a prolonged market meltdown.


CLICK HERE FOR YOUR FREE REPORT!