Fixed-line telecommunication service provider BT Group Plc headquartered in London; the UK is likely to see further pressure on its dividend from a potential surge in full-fibre broadband competition from the Liberty Global owned company Virgin Media.
Liberty Global is preparing to launch a vast expansion of its Virgin Media network in Britain by creating a new company backed by infrastructure funds to build high-speed full-fibre lines outside of urban areas. Liberty Global, has selected investment bank LionTree to create a joint venture business to build the fibre networks to millions of British homes across its existing network. The new company would compete with BT Group Openreach segment and new alternative networks.
The push to increase the Virgin Media network would see potentially billions of pounds pumped into new full-fibre lines and it has come at a time when the political burden to connect more homes to full-fibre network is increasing. The designated UK prime minister, Boris Johnson, had promised that all homes should be associated with a full-fibre broadband line by the year 2025.
The company, Virgin Media, which only covers half the country due to its historical focus on suburban and urban regions, had already extended its network under the £3 billion "Project Lightning" launched in 2015. That has expanded its network by 1.7 million premises, as part of a plan to add 4 million homes to its footprint. The new project is distinct to Project Lightning and could increase the Virgin Media footprint by an extra 2 million homes or more in lower-population areas across time.Â
On its part BT has announced its plan to roll out FTTH to 15 million homes by 2025 through Openreach, which would cost an extra investment of around £400-600 million, subsequently putting pressure on the dividend payout.
BT Group Plc
BT Group Plc (BT. A) services portfolio comprises, managed networked IT services, fixed voice and data, mobility, television, connectivity, and broadband services. The company has a business presence across Asia-Pacific, Europe, the Middle-East, Africa and the Americas.
The company's business is differentiated into four segments: Enterprise, Openreach, Global Services, and Consumer. The company's Global Services segment is involved in offering managed networked information technology services. The company's Enterprise segment offers IT and communications services in the RoI (Republic of Ireland) and the United Kingdom. The company's Consumer division is a provider of broadband and fixed-voice services in the United Kingdom. The company's Openreach division operates and builds a fixed network that connects the businesses and homes.
Recent News
On 22nd July 2019, the company agreed to move its global headquarters to a new site in the city's Aldgate area from the St Paul's area of London. The plan is an important part of 'The Better Workplace Programme', its three-to-five-year programme to consolidate and improve its workplaces over the UK.
On 17th July 2019, BT group agreed to sell BT centre, BT global headquarters for £209.55 million to Orion Capital Managers. 30 months Leaseback agreement is the part of the deal, during which the company will shift to its new head office in London. The sale of headquarter is a part of the transformation programme announced previously. The new headquarters will be announced shortly by the group.
On 27th June 2019, Orange, one of the shareholders of the company, announced its intention to offer around 248 million shares in BT Group plc to institutional investors, through an enhanced bookbuild offering. This represents around 2.5 per cent of the company's issued share capital.
Financial Highlights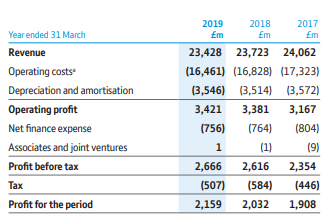 (Source: Annual Report, Company Website)
For the financial year ending 31st March 2019, the company's reported revenue stood at £23,428 million as against £23,723 million in FY2018. The weak performance of enterprise business reflected the decline in revenue. Reported operating costs decreased by 2 per cent to £16,461 million and adjusted operating costs before depreciation and amortisation declined by 1 per cent. This was impacted by restructuring-related cost savings and lower payments to telecommunications operators driven by International Services strategy to de-emphasise low margin business, partly offset by higher costs of recruiting and training engineers to support Openreach's 'Fibre First' programme and help deliver improved customer service.
In the FY2019, the company's reported operating profit stood at £3,421 million versus £3,381 million in FY2018. The company's reported PBT (profit before tax) stood at £2,666 million in FY2019, an increase of 2 per cent against the £2,616 million in FY2018, due to one-off EE acquisition warranty costs in the previous year. Adjusted profit before tax decreased by 6 per cent to £3,230 million, reflecting the decrease in revenue, partly offset by the higher net finance expense and lower costs from increased net debt.
Adjusted EBITDA decreased 2 per cent at £7,392 million, in line with the expectations. This was mainly driven by revenue decrease partly offset by the lower costs. The profit for the year in FY2019 was reported at £2,159 million in FY2019 versus £2,032 million in FY2018. The company's basic adjusted earnings per share stood at 26.3 pence in FY2019 against 27.9 pence in FY2018. The company's basic reported earnings per share rose to 21.8 pence in FY2019 against 20.5 pence in FY2018.
Capital expenditure stood at £3,963 million in FY2019, an increase from the previous year data. The company generated a net cash inflow from operating activities at £4,256 million, a decrease of £671 million as compared with the previous year data, primarily driven by £2 billion contributions to the BT Pension Scheme, offset by favourable working capital movements. In line with the outlook, normalised free cash flow stood at £2,440 million, a decrease of £533m or 18%, due to an increased cash capital expenditure, decline in EBITDA and higher tax payments.
The Board proposed a dividend per share to shareholders of 10.78 pence bringing the full year 2019 dividend per share to 15.40 pence, which remains the same against the previous year data. On 9th September 2019, dividend will be paid to the shareholder on the register date at 9th August 2019.
Net debt surged by £1,408 million to £11,035 million as compared with the previous year data, primarily reflecting the £2 billion of contributions to the BT Pension Scheme in June 2018. In June 2018, the company issued £2 billion of bonds to the BT Pension Scheme.
Outlook
The company's growth prospects look favourable with an increase in the profit and surge in the margins in the current financial year. The company's outlook for dividend remains unchanged for the fiscal year 2020.
Passing March 2021, FTTP's target has increased to 4 million premises. In FY19/20, capex guidance has been increased to £3.7-3.9 billion. In FY19/20, EBITDA will be in between £7.2-7.3bn, and Normalised FCF to be in between £1.9-2.1 billion.
The Board is convinced that the BT Group will earn extra value from more or faster investment near term in new customer propositions; fair, predictable and competitive pricing; accelerating migration from ADSL; a step-change in customer service; accelerating FTTP build, and accelerating 5G coverage.
As per the Philip Jansen (Chief Executive Officer), the company is well-positioned to face the challenges and competition in the UK market, but they had lot of unfinished work to do to remain positive and deliver long term growth to the shareholders.
Share Price Performance
Daily Chart as at 24th July 2019, after the market closed (Source: Thomson Reuters)
On 24th July 2019, BT Group PLC shares closed at GBX 189.84, down by 0.126 per cent against its previous day closing price. Stock's 52 weeks High and Low is GBX 268.30 /GBX 185.86. At the time of writing, the share was trading 29.32 per cent lower than its 52w High and 2.14 per cent higher than its 52w low. Stock's average traded volume for 5 days was 16,456,237.00; 30 days - 23,549,491.77 and 90 days - 21,436,353.20. The average traded volume for 5 days was down by 30.12 per cent as compared to 30 days average traded volume. On the valuation front, the stock was trading at a trailing twelve months PE multiple of 7.4x as compared to the industry median of 12.1x. The company's stock beta was 0.81, reflecting lower volatility as compared to the benchmark index. Total outstanding market capitalisation was around £18.69 billion and a dividend yield of 8.11 per cent.
From the simple moving average standpoint, shares of the BT Group Plc were trading considerably below its 200-day, 60-day and 30-day simple moving average prices, a technical measure that indicates a long-term downtrend in the stock.
On a YoY basis, the stock of BT Group Plc has delivered a price return of negative 15.21 per cent, on a year-to-date basis, it was down by 20.27 per cent, and in the past three months, the stock has fallen off by approximately 15.72 per cent. The company's stock price was down by 2.55 per cent in the past one month. Also, the stock was down by approximately 0.03 per cent in the past five trading sessions.
From the RSI standpoint, the 30-day, 14-day, and 9-day relative strength of the stock stood at 37.89, 36.99 and 37.94, and the stock has entered an oversold zone.
The company faces various risks, including technology changes, Communications industry regulation, Political risk, Pensions risk, Financial risk, Significant financial control failure, Privacy, data protection and data governance, Health, safety and wellbeing, Ethical Culture, Cyber and information security, and change management. But the latest risk of competition from Virgin Media has increased its financial woes. In its plan of global restructuring, it was reported that the company was seeking a buyer for its Ireland unit. The move was not only being considered the one linked with issues in Italy but is also touted as an effort to cope up with the rising cost and competition in its core market. The company has committed to connect 4 million homes to a full-fibre network by 2021 and roll-out of FTTH to 15 million homes by 2025, which in the near term could turn out to be negative for the investors, as it would entail extra investment. The company's Board also sees holding the dividend per share unchanged in respect of the financial year 2020 and has even warned that it may cut its dividend in future.