Highlights

Cybersecurity company Softline's shares fell after making its conditional dealing trading debut after launching its IPO on 27 October.
The group raised US$ 400 million in its IPO and had a market valuation of about US$ 1.5 billion.
UK-headquartered multinational cybersecurity firm Softline Holdings (LON: SFTL) shares dropped after making the trading debut on the London Stock Exchange on Wednesday.
The company, which was founded by Russian businessman Igor Borovikov in 1993, launched its initial public offering (IPO) worth US$ 400 million.
Softline Holdings' trading debut
The group had a market valuation of about US$ 1.5 billion based on the issue price and IPO size. The group's shares fell despite the IPO issue price being set at the bottom of its issue price range. Softline's issue price was set at USD 7.50 per global depositary receipt (GDR).
Softline's shares ended at USD 7.33, down by 2.31 per cent in the conditional dealings on the LSE on 27 October.
Softline's FY 2021 sales stood at US$ 1.79 billion, and its FY 2021 adjusted earnings before interest, taxes, depreciation and amortization (EBITDA) stood at $52 million.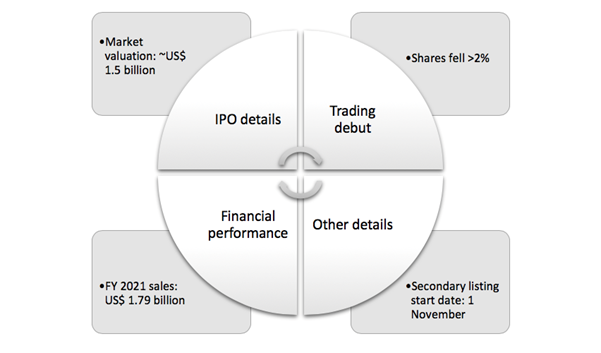 © 2021 Kalkine Media
Softline Holdings' IPO
The group started off as a Microsoft products reseller with only 10 employees. It has since expanded to other product lines and regions and has about 6,000 staff workers in over 50 nations at present.
The group issued 53.33 million GDRs, which represent newly issued ordinary shares of the company. Additionally, a further 8 million GDRs, representing existing shares held by some existing stakeholders, will be available as part of Softline's over-allotment option.
The group plans to use its gross proceeds from the IPO to help fund acquisitions as part of Softline's M&A strategy. The proceeds will also be used for the group's future organic and inorganic investments as well as for its other corporate requirements.
Investment banks Credit Suisse, J.P. Morgan and VTB Capital, were the joint global coordinators and joint bookrunners for the IPO.
Asset management firm Alfa Capital Markets, banking major Citigroup, private banking firm Gazprombank and Sberbank subsidiary, Sber CIB were the joint bookrunners.
The group is also going to have a secondary listing on the Moscow Stock Exchange, with trading expected to commence from 1 November.
Bottom Line
The IPO comes after several technology companies chose to float on the market. Cyber security has gained prominence amid the pandemic. Businesses have made cyber security a key priority as several companies have had to look at the vulnerability of their digital platforms and identify available upgrade options amid covid-19 related restrictions driving higher tech adoption.