Highlights

Fast food joint Burger King UK is planning an IPO next year, according to Sunday Times report
The chain may have a £600 million float size on the LSE
Burger King UK's sales rose to £117 million in FY 2020, compared to £101 million in sales in the previous year.
US-based multinational fast food restaurant chain Burger King is said to be planning an initial public offering (IPO) for its UK division known as Burger King UK, according to some media report.
The UK chain plans to list on the London Stock Exchange (LSE) in 2022. The report comes amidst a rebound in demand from the ongoing pandemic.
Burger King UK IPO highlights
The UK division is reportedly considering its IPO to be valued at £600 million.
Private equity firm Bridgepoint, which had bought Burger King UK in 2017, is said to be in advanced discussions with several financial advisors for the potential offering.
As per the Sunday Times report, Bridgepoint held talks with investment banks and brokerage firms, Investec PLC and Numis Corp PLC.
Bridgepoint, however, is also looking into possibly selling off the Burger King UK franchise in an auction. The potential sale is expected to be around £500 million to £600 million.
No specific details regarding a possible IPO have been confirmed as yet, neither has Bridgepoint indicated which exit route it intends to take.
Both Bridgepoint and Burger King UK are expected to ascertain their listing plans in the coming week.
In addition to the Burger King master franchise, Bridgepoint also bought the Caspian UK Group in 2017. The Caspian UK group is one of the biggest Burger King local franchises in the country, with a total of 74 restaurants.
Burger King UK financial performance
The fast-food chain witnessed a jump in sales of £16 million in FY 2020, and its sales rose to £117 million in FY 2020, from 530 restaurants.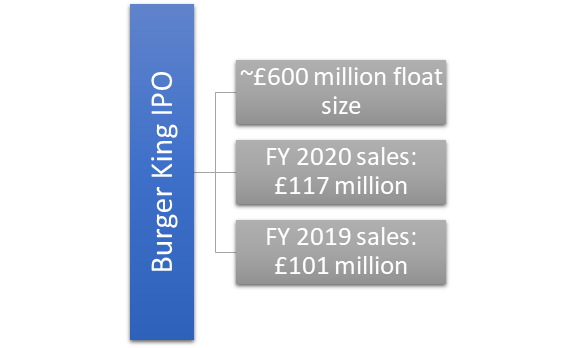 © 2021 Kalkine Media
Comparatively, its FY 2019 total sales had stood at £101 million prior to the onset of the pandemic. The rise in sales comes despite several branches being temporarily closed due to lockdown related restrictions.
The company stated deliveries have gained importance amid the pandemic and has focused on boosting its delivery business. The company had reported its plans to launch so-called 'dark kitchens', which will only focus on deliveries, in early 2021.
Bottom Line
Burger King UK's potential LSE IPO plans come amidst a rise in restaurant listings recently, as the food chains which have withstood covid-19 and other headwinds seek to maximise their opportunities amidst reduced competition.
Last week, Mexican fast-food restaurant and chain business Tortilla made a £70 million IPO debut on the LSE's submarket AIM. Also, restaurant chain TGI Fridays is expected to list on the LSE later in 2021.