Highlights

LSE listed crypto mining company Argo Blockchain set its NASDAQ listing terms on 14 September and started trading on Thursday
Argo's NASDAQ IPO price was set at US$ 15 per American Depositary Shares, and the offering is expected to close on 27 September
London Stock Exchange (LSE) listed cryptocurrency mining company Argo Blockchain PLC (LON: ARB) started trading on the US NASDAQ exchange on 23 September 2021.
Argo had announced the pricing of its NASDAQ listing on Wednesday, setting a price of US$ 15 per American Depositary Shares (ADS). The offering is likely to close on 27 September, subject to required closing conditions. Argo is listed under the ticker symbol ARBK on NASDAQ.
Argo Blockchain's NASDAQ IPO details
Its an uplisting for Argo Blockchain as it was already available for the US investors, trading on the OTC for some time (OTCMKTS: ARBKF).
The company had filed for a NASDAQ listing on 19 August and had set its terms on 14 September.
The company issued 7,500,000 ADS and raised a gross amount of $112.5 million from the listing. The 7.5 million ADS is equivalent to 75 million ordinary shares.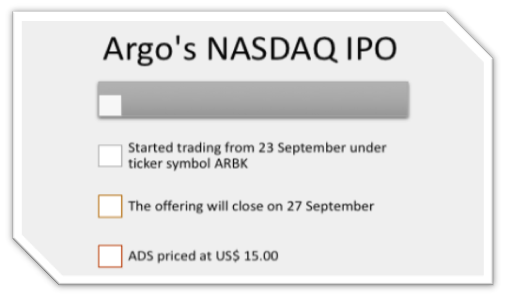 © 2021 Kalkine Media
Argo was earlier expecting an IPO price range of US 18.40, which would have valued the deal at around US$ 138 million. The listing price range implied Argo would have had a market value of US$ 855 million.
Investment banks Jefferies and Barclays are the joint lead book-runners for the IPO.
Related Article: London-listed crypto miner Argo Blockchain files for $75M US IPO
Argo Blockchain's financial performance
The company had mined 225 Bitcoin and Bitcoin Equivalent in July 2021 and though it reduced to 206 Bitcoin and Bitcoin Equivalent in August 2021.
Argo's mining revenue in July and August thus stood at about £5.6 million and £6.8 million, respectively. Company's mining revenue are based on daily forex rates (foreign exchange rates) and Bitcoin and other cryptocurrencies' prices in the month of July and August respectively.
Argo's gross margin was at 155 per cent in July and 145 per cent in August 2021, respectively.
The company's general administrative expenses as a percentage of total revenue fell to 3.7 per cent in H1 2021, compared to 9.7 per cent in the previous year, while its efficiency rate rose to 17.7x in H1 2021, from 5.7x in the year before.
Argo is a leading crypto miner and has a fleet of 21,000 machines operating in North America. The company is focused on mining using renewable energy and efficient mining infrastructure to drive growth.
Bottom Line
As the digital assets and cryptocurrency space have risen in prominence and market cap in recent times, there is no denying that it is increasingly becoming a major market for investors.
However, the environmental impact of crypto mining and new regulations had caused the market to crash earlier this year.
Notably, with Argo's commitment to low carbon emissions and efficiency focus, it stands to gain from the recent shift towards sustainability.
Argo's LSE shares were trading at GBX 132.50, down by 6.69 per cent today at 08:21 AM BST, following the company's NASDAQ ADS listing yesterday. The company has netted shareholders a return of 2,485.27 per cent as of 24 September 2021.