The rising cases of coronavirus cases worldwide restrained the FTSE-100 index for the second straight day as the index opened in red, and it was trading down by 0.34 per cent at 6,102.61 (as on 25th June 2020 before the market close at 1.21 PM GMT+1).
The other critical factors to watch out were:
As per the IMF's World Economic Outlook June 2020 report, the Global GDP will shrink by 4.9 per cent in 2020 before expanding by 5.4 per cent in 2021.
The GDP of the UK and the Euro Area will contract by 10.2 per cent each, in 2020.
The European Central Bank will provide Euro loan to the central banks outside the Euro region against collateral. The new facility is called the Eurosystem repo facility for central banks (EUREP).
Given the above market conditions, we will discuss two stocks in online retail business - Boohoo Group PLC (LON: BOO) & Asos PLC (LON: ASC). As on 25th June 2020, (before the market close at 1.06 PM GMT+1), (LON: BOO) was up by 0.87 per cent whereas (LON: ASC) was down by 0.98 per cent. Let's walk through their operational and financial updates.
Boohoo Group PLC (LON: BOO) – Expects revenue growth in FY21
Boohoo Group PLC is a Jersey, UK based online fashion group. The Group was incorporated in 2013. It operates in the global market and owns several brands such as Boohoo, Misspap and Karren Miller under the broader portfolio.
Q1 FY2021 Trading Update (three months period ended 31st May 2020) as reported on 17th June 2020
The Group generated revenue of GBP 367.8 million, up by 45 per cent year on year on constant currency. The UK region reported revenue grew by 30 per cent year on year on constant currency to GBP 183.0 million. Likewise, the revenue in other operating areas zoomed as the US and Rest of Europe (ROE) revenue grew by 83 per cent and 65 per cent year on year, respectively to GBP 92.0 million and GBP 63.4 million. In Q1 FY21, the reported gross margin was 55.6 per cent as it improved by 60 basis points year on year. As on 31st May 2020, the Group had a net cash balance of little over GBP 350 million.
The revenue growth was driven by the excellent performance of Pretty Little Things, Nasty Gal and new brands such as MissPap, Karren Millen and Coast. The Group entered the first quarter following the strong growth witnessed in FY20. However, it faced low demand in the mid-March and April as the impact of the pandemic started to unfold, the order was upbeat in May. In the wake of the lock-down, the demand for loungewear and athleisure were up as customers stayed indoor. Amid the lock-down, the Group managed the supply-chain well and deployed resources prudently.
FY2020 Financial Performance
(Source: Company Website)
Acquisition of new businesses
The Group acquired two e-commerce companies Oasis and Warehouse from Hilco Capital for a cash payment of GBP 5.25 million, all the businesses and the intellectual properties of both companies will now be part of the Boohoo Group. Oasis and Warehouse as per their recent filings ending February 2020 generated annual revenue close to GBP 46.8 million through direct online sales.
On 28th May 2020, Boohoo Group acquired the minority stake of 34 per cent in PrettyLittleThing for an initial amount of GBP 269.8 million with a further contingent consideration of GBP 54.0 million. As on 15th May 2020, the Group raised GBP 197.7 million at 340 pence per share by placing 58,140,591 new shares.
Share Price Performance
1-Year Chart as at June-25-2020, before the market close (Source: Refinitiv, Thomson Reuters)
The shares of Boohoo Group PLC were up by 1.11 per cent and trading at GBX 409.90 per share (as on 25th June 2020 before the market close at 12.56 PM GMT+1). Stock 52 week High and Low were GBX 433.50 and GBX 133.10, respectively. The Group had a market cap of GBP 5.10 billion.
Business Outlook
It believes the recent acquisition of the e-commerce business will be value additive for overall business performance. The revenue is expected to grow by 25 per cent in FY21, with an adjusted EBITDA margin in the range of 9.5-10 per cent. The Group vision is to be a market leader in the online retail industry. Thus, it will make capital expenditure of close to GBP 60-80 million to expand infrastructure and operation to support the business.
Asos PLC (LON: ASC) – Targeting new customer acquisition through promotional activity
Asos PLC is a global fashion retailer and operates in the online retail space. The Group operates globally; through the website, Asos.com boasts more localized features and offers 12 languages and 19 currencies to cater to a diverse customer base. The Group is domiciled in the UK and listed on the Alternative Investment Market (AIM).
H1 FY2020 Interim Result (six months period ended 29th February 2020) as reported on 7th April 2020
The Group revenue grew by 21 per cent year on year on constant currency to GBP 1,596.8 million as 41.1 million orders were placed in the period. The UK retail sales added GBP 577.1 million and grew by 20 per cent year on year whereas the International sales contributed GBP 974.3 million and increased by 22 per cent year on year. The International sales comprise of Europe, the US and Rest of the World which grew by 21 per cent, 25 per cent and 20 per cent, respectively. The EBITDA margin, excluding the IFRS-16 impact in H1FY20, grew by 4.9 per cent. The profit before tax was GBP 30.1 million. The Group added more than 100 brands on the platform. The new instalment payment methods, 'Klarna Pay in 3' and 'Clearpay Pay in 4', launched in the UK market led to new customer growth. The Group had a net debt of GBP 163.6 million, and it had a revolving credit facility of GBP 350 million and proposal to increase it further by GBP 60-80 million is under final discussion.
In the last three weeks, before the results were reported, sales declined by close to 20-25 per cent due to the pandemic. It was operating all the warehouses; however, with a reduced capacity. The Group witnessed an initial demand shock in economies which underwent lock-down with demand improving later; however, the order was still below the pre-COVID level. There was some disruption in the supply chain. The Group has cut all the discretionary expenses, and it will make future investments as per the demand needs.
KPIs of the Group in H1 FY20
The average basket value grew by 4 per cent to GBP 73.4 from GBP 70.7 a year ago. The average units per basket grew by 5 per cent to 3.05, notwithstanding the average selling price per unit (including VAT) declined by 1 per cent to GBP 24.1. The total visitor traffic on the platform was 1,333.9 million, of which 3.1 per cent converted to buying customers.
Regional Performance KPIs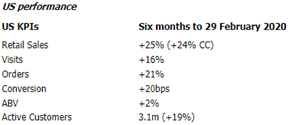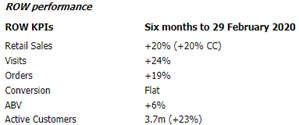 (Source: Company Website)
Issued New Ordinary Shares
On 7th April 2020, the Group placed 15,805,943 new ordinary shares at 1,560 pence per share. The placed shares represented close to 18.8 per cent of the existing share capital. The issue of new shares raised approximately GBP 247 million.
Share Price Performance
1-Year Chart as at June-25-2020, before the market close (Source: Refinitiv, Thomson Reuters)
The shares of Asos PLC were down by 1.58 per cent and trading at GBX 3,310.00 per share (as on 25th June 2020 before the market close at 1.10 PM GMT+1). Stock 52 week High and Low were GBX 3,773.00 and GBX 975.20, respectively. The Group had a market cap of GBP 3.36 billion.
Business Outlook
With lock-down in place and restriction over people movement, the Group has witnessed a surge in visitor traffic on their website and an increased conversion rate. The promotional activity has been impacting in gaining new customers, and it will continue the promotional activity to increase sales and customer traffic on their website. The Group expects the global warehouse capacity, and technology capabilities will support business performance.
---
Disclaimer
The website https://kalkinemedia.com/uk is a service of Kalkine Media Ltd, Company Number 12643132. The article has been prepared for informational purposes only and is not intended to be used as a complete source of information on any particular company. Kalkine Media does not in any way endorse or recommend individuals, products or services that may be discussed on this site. Our publications are NOT a solicitation or recommendation to buy, sell or hold the stock of the company (or companies) or engage in any investment activity under discussion. We are neither licensed nor qualified to provide investment advice through this platform.
With Bank of England reducing the interest rates to a historic low level, the spotlight is back on diverse investment opportunities.
Amidst this, are you getting worried about these falling interest rates and wondering where to put your money?
Well! Team Kalkine has a solution for you. You still can earn a relatively stable income by putting money in the dividend-paying stocks.
We think it is the perfect time when you should start accumulating selective dividend stocks to beat the low-interest rates, while we provide a tailored offering in view of valuable stock opportunities and any dividend cut backs to be considered amid scenarios including a prolonged market meltdown.


CLICK HERE FOR YOUR FREE REPORT!