Overview
Whitbread PLC (WTB) is a Dunstable, the United Kingdom-headquartered leading hotel operator in the country, with over 1,200 hotels and restaurants across the UK, along with hotels in the Middle East, and Germany, with more hotels in the pipeline. In addition to various restaurant brands, Beefeater, Brewers Fayre, Table Table and Bar + Block, it is the owner and operator of Premier Inn, which is one of the most successful hospitality brands in the United Kingdom. It operates a unique joint site model, which means that more than half of its hotels are located alongside its own restaurant brands, which complements the Premier Inn network, which serves over five million customers every month and employs over 35,000 people to help grow and innovate its core UK businesses.
By delighting its guests with great quality at the best value for money, the company aims to be the best budget hotel business in the world. The consistency of the company in delivering customer satisfaction is a core strength, and it has 40% more sites than its nearest competitor. While Premier Inn currently operates one hotel in Frankfurt, the group plans to grow the brand to over 30 hotels in Germany by 2020/21, and it is currently opening around 4,000 UK rooms per year, which roughly translates to three new hotels every month, and remains on track for its 2020 milestone. The group is able to offer high-quality rooms in great locations and great customer value, along with a good return on capital, through its compact city centre hotel concept 'hub by Premier Inn', which has given it access to profitable city centre locations with high property costs.
Recent Development
The company on 23 September 2019 announced the acquisition of a portfolio of three independent hotels in Germany, which was part of the strategic priority to focus on its strengths to grow internationally and marked another important step in its ambitious growth plan for Germany. The hotels were acquired from a private individual operating under the brand Acomhotel, and all three hotels are in strong locations in German tier one cities. The three locations together comprise 482 rooms, with one leasehold hotel under construction, in Stuttgart, and two leasehold hotels that are open and trading, in Nuremburg and Munich.
Financial Highlights (H1 2020, in £m)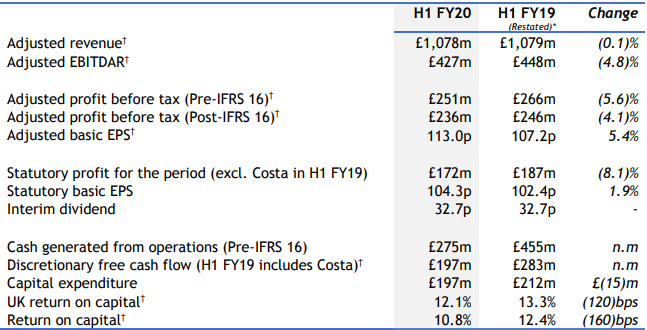 (Source: Company Filings)
Driven by new capacity additions, London accommodation total sales grew by 4.5% and 7.6% in the second quarter, while adjusted revenue declined by 0.3%. The revenue held broadly flat at £1,078 million, reflecting declines in business and consumer confidence, which led to lower demand for short-stay, domestic travel in the United Kingdom, while statutory revenue rose to £1,084 million. In the regions, Premier Inn total accommodation sales decreased by 2.0% in the first half of the financial year, the contribution of around 4,000 new rooms added in London over the last three years assisted in reporting an increase in total accommodation sales in London. Reflecting the short-term impact that significant capacity addition has on the current estate and the greater weighting Premier Inn has in the weaker regional and higher rate business market, compared to the midscale and economy market RevPAR which was down 2.4%, total Premier Inn like-for-like RevPAR declined by 5.0% in the half. Due to the high inflation in the sector and the weak market conditions, return on capital for the UK was down 120bps year on year to 12.1%, while declines in like-for-like RevPAR was a combination of both occupancy and average room rate. Due to a continuing subdued casual dining market, total revenue from food and beverage grew by 0.6% year-on-year, but like-for-like sales declined by 1.2% (H1 FY19: a decline of 2.6%) and adjusted EBITDA from the UK decreased by 7.2% to £343 million. Adjusted operating profit before joint ventures declined to £298.7 million from £321.8 million in H1 2019 while the statutory figure reported a decrease to £283 million from £313 million in H1 2019. Driven by the weaker UK travel market conditions, the sustained high rate of industry-wide inflation and investment in Germany, adjusted profit before tax (excluding Costa) decreased 4.1% to £236 million, while statutory profit before tax declined to £219.9 million. In line with adjusted profit before tax and due to the sale of Costa, statutory profit for the period (including Costa in H1 FY19) decreased from £234 million by 26.3% to £172 million, while adjusted profit for the period (excluding results from Costa) declined to £186.6 million from £240.1 million in H1 2019. Benefitting from the reduction in the weighted average number of ordinary shares, adjusted basic earnings per share increased 5.4% to 113.0p, while the group declared an interim dividend of 32.7 pence per share (H1 FY19: 32.7p), flat versus last year, amounting to £44 million. Following the completion of £2.5 billion capital return programme, the group retained a strong balance sheet and reported discretionary free cash flow of £197 million.
Share Price Commentary

Daily Chart as at 22-October-19, before the market closed (Source: Thomson Reuters)
On 22 October 2019, at the time of writing (before the market closed, at 2:26 pm GMT), WTB shares were trading at GBX 4,232, up by 0.7 per cent against the previous day closing price. Stock's 52 weeks High and Low is GBX 5,162.00/GBX 3,927.00. The company's stock beta was 0.83, reflecting less volatility as compared to the benchmark index. The outstanding market capitalisation was around £5.62 billion, with a dividend yield of 2.37 per cent.
Conclusion
A disciplined approach to capital allocation and strong balance sheet has allowed the group to capitalise on various structural opportunities and the company is confident of its plans, considering the significant structural growth opportunities in the UK and internationally, including the total new capacity of approximately 5,000 new rooms in the financial year 2019. The group has been able to offset part of the ongoing industry-wide inflation with the help of progress it had made on its efficiency targets and disciplined deployment of capital, which will deliver growth over the longer term. The company has also shown confidence in the long-term opportunities in the domestic budget travel markets in the UK and Germany and aims approximately 3,000 gross new rooms in the UK and approximately 2,000 new rooms in Germany by the end of the year. The company reported that capital investment this year is expected to be £600-700 million as the company continue to look for ways to accelerate its ambitions. The company is making good progress in preparation for completing the 19 hotels acquisition in February 2020 and its German pipeline has increased 25% to 7,280 rooms over the last year, indicating that its expansion plans are firmly on target.
However, the company noted that it remains difficult to know how business confidence and its impact on the market will evolve as UK environment has been increasingly challenging, and sustained industry inflation continued, which coincided with heightened political and economic uncertainty. Though the company expects to increase its presence with the acquisitions significantly it has undertaken, the risk that the company would not be able to manage increased volume also persists, which might severely impact the operations. Growth plans of the company can be impacted by a fall in RevPAR and inflation pressure, a decline in GDP, consumer and business spending due to uncertain/volatile political and economic climate.
With Bank of England reducing the interest rates to a historic low level, the spotlight is back on diverse investment opportunities.
Amidst this, are you getting worried about these falling interest rates and wondering where to put your money?
Well! Team Kalkine has a solution for you. You still can earn a relatively stable income by putting money in the dividend-paying stocks.
We think it is the perfect time when you should start accumulating selective dividend stocks to beat the low-interest rates, while we provide a tailored offering in view of valuable stock opportunities and any dividend cut backs to be considered amid scenarios including a prolonged market meltdown.


CLICK HERE FOR YOUR FREE REPORT!