The TerraUSD – the algorithmic stablecoin – wipeout story is one of a kind. It is quite interesting to see how the crypto, which had achieved its all-time high on 5 April 2022, fell to an all-time low of US$0.000000999967 on 13 May, sending shockwaves among the investors and enthusiasts.
The TerraUSD (UST) and Luna so far have lost more than US$270 billion in the recent crypto crash. However, over the weekend, Terra shot signs of the rally after weeks of red, giving investors hope that revival is on the way.
Also read: 3 times Bitcoin bounced back after a dip. Is there a ray of hope?
What resulted in the brief hike?
For a very brief moment, Terra saw a rally after Terra Luna's founder Do Kwon released its revival plan on 14 May. In a blog posted on Kwon's Twitter handle, he emphasised that even though the recent events have jolted the community's faith in decentralised stablecoin TerraUSD, he felt that UST remains the central narrative of Terra's growth. He was of Terra's ecosystem and its community is a critical component and needs preserving.
Kwon opined that Terra community aims to rebuilding the chain with validators focussing on resetting the network back to one billion tokens. He added that the Terra community must reconstitute the chain to preserve the developer's ecosystem.
But many are still skeptical of this revival plan. Binance CEO Changpeng Zhao said despite Kwon's best interests, Terra's revival plan might not work. Zhao said that forking does not give the new fork any value in a tweet. That's wishful thinking.
Also read: CLT, SAPP, BNX, AXEL, MKR: 5 cryptos that gained despite market dip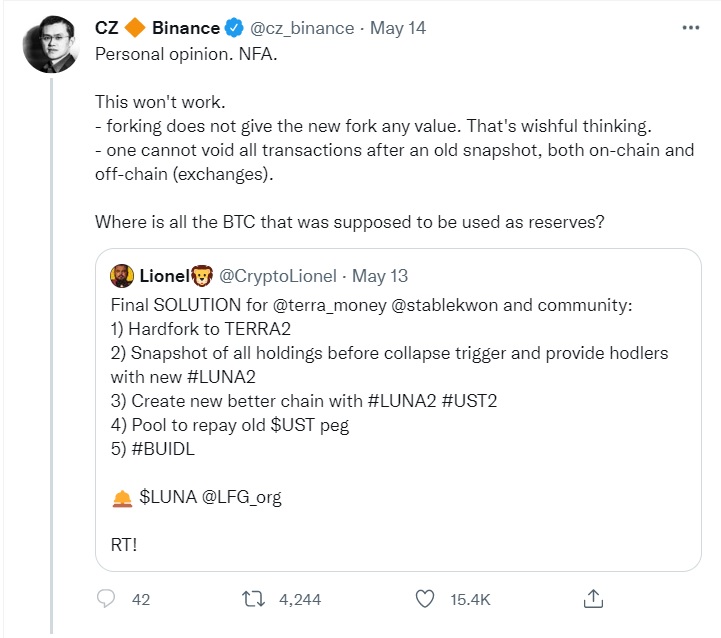 Image Credit: Twitter @cz_binance ( CZ Binance)
He added that one could not void all transactions after an old snapshot, both on-chain, and off-chain (exchanges). He also quashed all rumours that Binance is helping Luna in fundraising. He categorically said that Binance did not participate in Luna's fundraising, nor did it acquire any UST.

Image Credit: Twitter @cz_binance ( CZ Binance)
Signs of revival?
The 211th ranked Terra (LUNA) is currently trading at US$0.000196 with a 24-hour trading volume of US$3,17,30,81,942, according to CoinMarketCap. At the time of writing (2:30 PM), LUNA was down by 31.76% in the past 24 hours. However, the question on everyone's mind is there a revival any time soon?
The charts indicate that it will take a significant effort from the Luna bulls to pull itself out of the rut. The UST losing its dollar peg has undoubtedly made investors doubt its future path confidence, and they are keen to withdraw their LUNA tokens.
Image Credit: Trading View
The Relative Strength Index (RSI) is at its lowest at 8.60 and coincides with the fear index prevailing in the market, which is at 14. The RSI chart also indicates that despite showing signs of a V-shaped recovery, it was short-lived and is now back to its sell-off mode.
Even the MACD (Moving Average Convergence Divergence line) indicates that the MACD line (in blue) is way below the signal line (in orange), and both of them are on the decline indicating a further meltdown of the token.
If one were to look at LUNA's 50, 100 & 200 EMA (exponential moving averages), then it does indicate it may rise to US$0.0.9502867, US$0.021551649, and US$0.012048782 going forward.
Conclusion
The recent turn of events, along with leading exchanges such as Binance and Crypto.com's decision to temporarily stop Luna's services, hasn't gone well with the investors. The market participants will be hoping for a drastic change in the scene, and Luna followers will hope that this revival plan can pull it back on track and regain the lost confidence of the investors.
Risk Disclosure: Trading in cryptocurrencies involves high risks including the risk of losing some, or all, of your investment amount, and may not be suitable for all investors. Prices of cryptocurrencies are extremely volatile and may be affected by external factors such as financial, regulatory, or political events. The laws that apply to crypto products (and how a particular crypto product is regulated) may change. Before deciding to trade in financial instruments or cryptocurrencies you should be fully informed of the risks and costs associated with trading in the financial markets, carefully consider your investment objectives, level of experience, and risk appetite, and seek professional advice where needed. Kalkine Media cannot and does not represent or guarantee that any of the information/data available here is accurate, reliable, current, complete, or appropriate for your needs. Kalkine Media will not accept liability for any loss or damage as a result of your trading or your reliance on the information shared on this website.