Barclays PLC (BARC) is a London, United Kingdom-headquartered is a global financial services provider, which is anchored in the two financial centres of the world, London and New York. The group offers personal and business banking, wholesale and commercial banking, and private and investment banking solutions to individuals, SMEs, corporates, and high-net-worth clients through its separate Consumer, Corporate and Investment Bank. It offers deposits and accounts, cards, loans, and investment solutions. The bank also offers services such as foreign exchange, transactional lending, mobile banking, premier banking, international banking, and online banking around the world. It caters to retail customers, small to medium-sized enterprises, and large corporates, and operates across Europe, Asia, Africa, the Middle East, and the Americas.
Nigel Higgins, Barclays' new chairman, formally assumed his role barely a month ago, on 2nd May 2019. The 58-year-old has wasted no time trimming excess at the UK lender and avoiding the costly quirks that characterised his predecessor's start in the job. While there were rumours in the market that the new chairman had shrunk the pool drivers for senior executives, apparently hitting at the costly perks of management, these rumours were later founded to be not backed by fact. While Mr Higgins hasn't abstained from using carpool, he can often be found taking the London Underground. The chairman is grounded in reality and is not seeking any sainthood, unlike Antony Jenkins, former chief executive, who was famous for his holier-than-thou rhetoric about bankers' behaviour.
When John McFarlane joined the bank in 2015 as the chairman, the whole Mercedes fleet was changed from blue to silver as he was told by his feng shui consultant that he should only be driven around in a silver car. However, such extravagance is not seen in Higgins' conduct as he has more of a man-of-the-people approach. The cerebral, extremely bright and conservative banker shrunk McFarlane's corner office to a less grand size and carved out a meeting room alongside it; a perfect metaphor for the cost saving and efficiency which the bank is in dire need of.
The company's decision to choose Nigel Higgins, who is described by his colleagues as tactful and unassuming, yet convincing and authoritative, was announced in November last year. Subject to relevant approvals, he is also Interim Chairman of Barclays Bank PLC and chairs the Board Nominations Committee. Nigel has an extensive understanding of, and experience in, banking and financial services industry, as he worked at Rothschild & Co for almost 36-years, going on to become the Deputy Chairman of the insurance group. He is a seasoned business leader with a strong track record in leading and chairing a range of organisations, including holding the positions of Chairman of the Group Executive Committee and Managing Partner of Rothschild & Co. In his previous roles, he has acted as a strategic adviser to multiple major international corporations and Governments, including the through tricky political and economic process of merger of Royal Dutch Shell into one firm in 2005.
Mr Higgins' appointment at Britain's third-largest bank by market value came at a challenging time for Barclays and the wider European banking sector, including a campaign for disposals by an activist investor. The move to a new company marks a big change for Mr Higgins, who has spent his entire career at Rothschild and was the first non-family member to lead the group in 2010. One of the first challenges for him would be to fend off greater scrutiny and pressure to shrink the investment bank from Edward Bramson, who emerged as one of the lender's largest shareholders earlier in 2017. However, the market believes Higgins could back the plan as he is very supportive of the existing strategy.
Financial Highlights (Q1 FY2019, £m)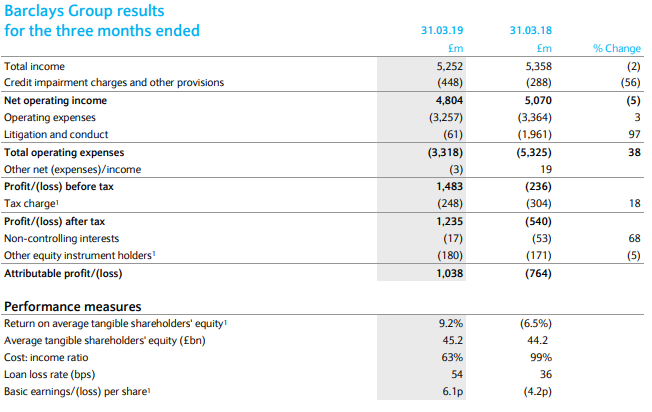 (Source: Company Filings)
Total income decreased by 2% to £5,252m, driven by a 1% decrease in the Barclays UK income and 6% decline in the Barclays International income, reflecting the challenging macro environment. Operating expenses were reduced by 3% to £3,257m, leading to a cost: income ratio of 62% (Q1 2018: 63%). Barclays Group's profit before tax was £1.5bn (Q1 2018: loss of £0.2bn), while attributable profit was £1,038m (Q1 2018: loss of £764m).
Share Price Commentary
Daily Chart as at June-07-19, before the market closed (Source: Thomson Reuters)
On June 07, 2019, at the time of writing (before the market closed, at 10:55 am GMT), BARC shares were trading at GBX 151.26, up by 0.04 per cent against the previous day closing price. Stock's 52 weeks High and Low is GBX 201.77/GBX 144.99. On the valuation front, the stock was trading at a trailing twelve months PE multiple of 7.0x, against the industry's median of 9.1x. The company's stock beta was 0.70, reflecting less volatility as compared to the benchmark index. The outstanding market capitalisation was around £26.05 billion, with a dividend yield of 4.30 per cent.
With Bank of England reducing the interest rates to a historic low level, the spotlight is back on diverse investment opportunities.
Amidst this, are you getting worried about these falling interest rates and wondering where to put your money?
Well! Team Kalkine has a solution for you. You still can earn a relatively stable income by putting money in the dividend-paying stocks.
We think it is the perfect time when you should start accumulating selective dividend stocks to beat the low-interest rates, while we provide a tailored offering in view of valuable stock opportunities and any dividend cut backs to be considered amid scenarios including a prolonged market meltdown.


CLICK HERE FOR YOUR FREE REPORT!