Introduction
EG Group is a United Kingdom domiciled independent operator of fuel station and convenience retail stores with operations across 5,200 locations in Continental Europe, the United Kingdom, North America and Australia. The company has a diversified portfolio of offerings, extending its services under three main verticals of product retailing and services; fuel retailing, convenience retail and food-to-go (FTG) categories. At the core of company's strategy is providing its customers quality service experience so that it may create a strong brand recall and also maintain a diversified offering of premium and value-added goods and services, through its business partnerships with premium third-party companies and brands. The company has entered into partnership with leading fuel brands like the ExxonMobil, BP, Shell and Texaco. It also has business associations with popular retail and grocery brands namely SPAR, Carrefour and Louis Delhaize. In Food-To-Go category it has business association with international brands such as Starbucks, Burger King, Subway and KFC and also with strong local Food-To-Go brands like Greggs and Pomme de Pain. The company also offers its own-brand fuel, convenience retail and Food-To-Go products and services at a number of its outlets. The company follows the COCO (company owned company operated) business model which gives it better control over the quality of its deliverables.
During recent times the company has been able to grow rapidly and has been able to increase its market share through the inorganic route by a series of targeted strategic acquisitions which has not only provided it with substantial financial strength but has also helped it expand its geographic footprint and cultural diversity. With its increase in scale of operations, the sharing of best practices between different territories and the continuous churning of strong convenience and Food-To-Go offerings, the company is in a strong position to deliver on its core objective of bringing about a long-term profitable growth along with creation of enhanced shareholder value.
As on 31 December 2018 the company had operations across 482 locations across United Kingdom employing over 8.436 employees. In continental Europe across 3.208 locations employing over 7,928 employees, in the United States of America and rest of North America across 998 locations employing over 12,488 employees.
The company acquired its operations in Australia in April 2019, where its operations are spread across 537 locations employing over 4,164 employees.
The company intends to continue to follow on its strategy of International acquisitions and expansion in markets which it finds attractive. The company's association with well know Fuel grands, Food-to-go brands and retail brands will help it gain traction in new locations without long gestation periods and also increase its stature among these brands as a valuable business partner. Additionally, the COCO business model followed by the company provides maximum control over product quality, pricing policy, cost control and consistency in the delivery of services.
The company distinguishes itself from its competitors through large scale, well-invested, non-fuel retail outlets and a differentiated owner-operator model, which delivers high growth through a high last-mile foot traffic resulting in higher profitability per outlet.
Financial Update
Below is the company's income statement for the financial year ending on 31 December 2018, alongside the income statement for the financial year ending on 31 December 2017.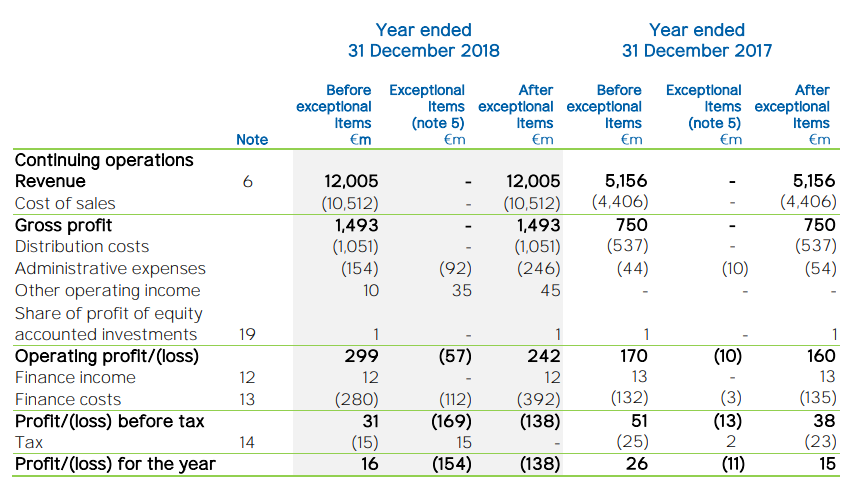 Source – Company's annual report for the financial year ending 31 December 2018.
Other select Financial parameters of the company.
  Source – Company's annual report for the financial year ending 31 December 2018.
Principal balance sheet items

Source – Company's annual report for the financial year ending 31 December 2018.
The total assets and liabilities increase during 2018 is reflective of the acquisitions completed in the Netherlands, Germany, Italy and the United States during the year.
Principal Risks and uncertainties faced by the company
The below four are the major risk factors that could affect the growth or profitability of the company.
Politico-economic environment – The company's performance is directly related to the politico-economic climate of the geographies where its outlets are located. The systemic impact of a protracted and widespread recession, a fall in the gross domestic product or its rate of growth, higher energy costs, volatility in commodity prices (including recent adverse movements in fuel prices), strong currency movements, strong inflationary pressures (including those resulting from the recent depreciation of pound sterling), the availability and cost of credit, diminished business and consumer spending and increased or persistent unemployment in its countries of operation could have a material adverse effect on the company's business, financial condition, liquidity, results of operations and prospects.
The management of the company continuously monitors the macroeconomic environment of the geographies and re-evaluates its strategy to best adapt to the evolving situation.
Competitors- The company operates in a highly competitive sector. The company's main competition is from existing forecourt retailers, convenience stores, food retailers, grocery stores, supermarkets and fast food concessions drawn from local and large-scale multinational corporations, as well as from new competitors entering the markets that it serves. These competitive pressures could cause the company to lose market share and may require it to lower its prices, increase its capital expenditure, its marketing and advertising expenditures or increase the use of discounting or promotional campaigns. This may also restrict the company's ability to increase prices, including a response to commodities or other cost increases.
The management of the company continually accesses the situation and takes remedial measures as and when required.
Technology – The company's main competition on the technological front is from the online retailing and food delivery companies which not only effects its retail division and Food-to-go divisions but also prompts consumers to travel less resulting in less expenditure on fuel.
The company has to take a strategic view about this risk factor and take suitable measures to protect its business and profitability.
Acquisitions with good synergy value –
The company is currently following a strategy of inorganic growth by making strategic acquisitions in geographies where its sees high growth and margins. The company faces the risk of not being able to correctly access the synergy value of its future acquisitions which will have a bearing on its profitability.
The management of the company continues to be rigorous it its due diligence process in identifying its potential acquisition targets. All acquisitions are approved by the Board and the company uses a mix of external experts and internal resources to undertake appropriate and thorough due diligence on all potential acquisitions.
Outlook
The company intends to bring its IPO (Initial Public Offer) during the second half of 2020. The company is currently 50 per cent co-owned by Mohsin Issa and Zuber Issa, two British businessmen siblings and TDR capital LLP, a leading international private equity firm, managing capital on behalf of institutional, governmental and private investors worldwide.
The IPO could value the company in billions of dollars. It is unclear which of the two promoters' group equity would be diluted, but the exercise would surely increase the value of the shareholdings manifold.
The IPO would also bring the much-needed funds to the company which is currently following the strategy of rapid international expansion via acquisitions in select, high-value markets. However, the risk with the current IPO would be the prevailing global uncertain macro-economic environment, which may not allow the company to realize a value its businesses would get during better times.
What makes the company attractive is not only the scale and quality of operations, but its strong business associations with global majors like ExxonMobil company, BP, Shell, Texaco, SPAR, Carrefour, Louis Delhaize, Starbucks, Burger King, Subway and KFC. These associations will not only ensure a good IPO offtake but will also help it beat macro-economic blues it might face in garnering investor support.
The company could be looking at listing its shares at the London Stock Exchange or the New York Stock Exchange or both.
With Bank of England reducing the interest rates to a historic low level, the spotlight is back on diverse investment opportunities.
Amidst this, are you getting worried about these falling interest rates and wondering where to put your money?
Well! Team Kalkine has a solution for you. You still can earn a relatively stable income by putting money in the dividend-paying stocks.
We think it is the perfect time when you should start accumulating selective dividend stocks to beat the low-interest rates, while we provide a tailored offering in view of valuable stock opportunities and any dividend cut backs to be considered amid scenarios including a prolonged market meltdown.


CLICK HERE FOR YOUR FREE REPORT!