Overview
Digitalbox PLC (DBOX) is a digital media company based in the United Kingdom. The company is a 100 per cent digital company and is focused on providing mobile related content. The company specialises in providing emerging publishing technologies to its customers. Polemos Plc had been re-named Digitalbox Plc, with effect from 28 February 2019.
The company works with the world's leading advertisers which include Tesco, O2, Vodafone, P&O Cruises, Mini Copper, British Gas, Thomas Cook, Sky, Unilever, Virgin Media, M&S and John Lewis Etc. The company's Entertainment Daily business targeting 30 + audience mainly females provides entertainment news related to TV shows, celebrity gossip and soaps. Daily Mash, Digitalbox's other offering is the UK's leading satirical website. Daily Mash provides digital content related to politics, news and sports in a unique way.
DPL Trading Update
The company wholly owned subsidiary, Digitalbox Publishing Limited (DPL) operates the Company's trading brand, Entertainment Daily. The Entertainment Daily performed better than expected with a decent advertising and audience growth in the fourth quarter. The DPL posted revenue of £1,988,533 and an underlying EBITDA of £433,000 for the period.
 In the Q1 of the financial year 2019, the company's Entertainment Daily was able to attract a large audience with robust revenue. The company acquired Daily Mash and integrated Digitalbox ad stack into it. The trading results were in line with the management forecasts.
Financial Highlights – Financial Year 2018 (£, thousand)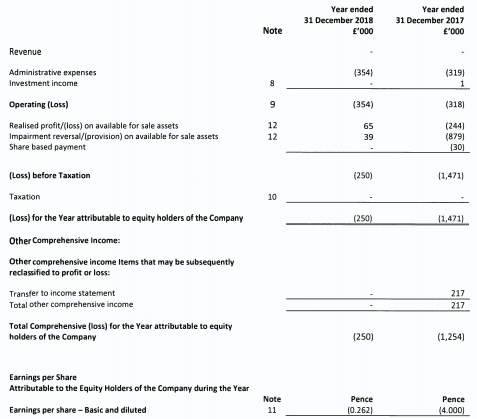 (Source: Annual Report, Company Website)
The operating loss for the FY2018 stood at £354 thousand against a loss of £318 thousand in FY2017. The loss (before and after tax) stood at £250 thousand in the financial year 2018 versus a pre-tax loss of £1,471 thousand in FY2017.
The basic and diluted loss per share for FY2018 stood at 0.262 pence versus a loss per share of 4 pence in FY2017. The company's cash and cash equivalents for FY2018 stood at £231 thousand against £46 thousand in FY2017.
As at 31st December 2018, total net assets reported at £285 thousand as compared to negative £113 thousand reported last year in FY2017.
Digitalbox PLC Share Price Performance
Daily Chart as at May-31-19, after the market closed (Source: Thomson Reuters)
On May-31-2019, Digitalbox Plc shares closed at GBX 7.75, down by 3.13 per cent as compared to the previous day closing price. Stock's 52 weeks High and Low is GBX 25.22/GBX 5.80.
At the time of writing, the share was trading 67.71 per cent lower than the 52w High and 33.62 per cent higher than the 52w low. Stock's average traded volume for 5 days was 22,040; 30 days - 200,163.77 and 90 days – 197,493.49. The average traded volume for 5 days was down by 88.99 per cent as compared to 30 days average traded volume.
In the past one year, the stock has delivered a negative price return of 64.77 per cent and on a year to date basis, the stock has registered a negative price return of 44.64 per cent.
The company's stock beta was 0.78, reflecting lower volatility as compared to the benchmark index. The outstanding market capitalisation was around £6.98 million.
With Bank of England reducing the interest rates to a historic low level, the spotlight is back on diverse investment opportunities.
Amidst this, are you getting worried about these falling interest rates and wondering where to put your money?
Well! Team Kalkine has a solution for you. You still can earn a relatively stable income by putting money in the dividend-paying stocks.
We think it is the perfect time when you should start accumulating selective dividend stocks to beat the low-interest rates, while we provide a tailored offering in view of valuable stock opportunities and any dividend cut backs to be considered amid scenarios including a prolonged market meltdown.


CLICK HERE FOR YOUR FREE REPORT!