Frontier IP Group Plc (FIPP) is a UK based company focused on intellectual property (IP) commercialisation. The company's primary focus is on creating a group of companies through establishing a relationship with universities as sources of IP and deal flow. The company identify IP and helps to create and grow companies built around IP and strategic support. The company also provides active, hands-on support, and building a network of different capital sources. The Company's portfolio consists of various sectors which include materials, information technology (IT), life sciences, energy and healthcare. The company earned revenue and equity by helping other businesses to grow.
Financial Highlights – H1 Financial Year 2019 (£, thousand)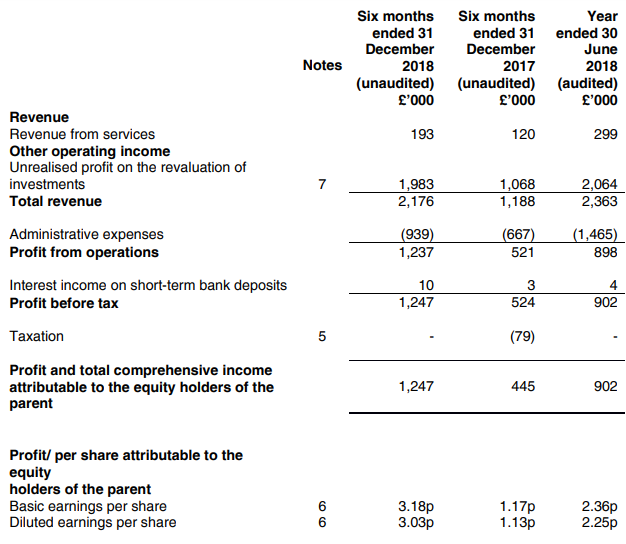 (Source: Interim Report, Company Website)
In the first half of the financial year 2019 ending 31st December 2018, the company's reported revenue was £2,176 thousand against £1,188 thousand in H1 of FY2018. There was an increase of 83 per cent due to the higher investment revaluations, while revenue from services increased to £193 thousand in H1 FY2019 versus £120 thousand in H1 FY2018. In H1 FY2019, the profit from operations was up by 137.42 per cent to £1,237 thousand from £521 thousand in H1 FY2018. The PBT (Profit before tax) was up by 138 per cent to £1,247 thousand in H1 FY2019 against £524 thousand in H1 FY2018, reflecting the higher gain on revaluation of investments and accounting for greater administrative costs. The profit after tax for H1 FY2019 was £1,247 thousand against £445 thousand in H1 FY2018. Basic earnings per share increased by 172 per cent to 3.18 pence in H1 FY2019 versus 1.17 pence in H1 FY2018. The diluted earnings per share for H1 FY2019 stood at 3.03 pence versus 1.13 pence in H1 FY2018. The net assets per share surged to 38.8 pence in H1 FY2019 against 33.2 pence in FY2018 and 32 pence in H1 FY2018. The company cash balance increased by £679 thousand to £2,528 thousand in H1 FY2019 from £1,849 thousand in H1 FY2018.
Frontier IP Group Plc Share Price Performance

Daily Chart as at May-30-19, after the market closed (Source: Thomson Reuters)
On May 30, 2019, Frontier IP Group Plc shares closed at GBX 79.50, down by 2.45% against the previous day closing price. Stock's 52 weeks High and Low is GBX 89.00/GBX 53.00. At the time of writing, the share was trading 10.67 per cent lower than the 52w High and 50 per cent higher than the 52w low. Stock's average traded volume for 5 days was 20,678.40; 30 days - 30,008.10 and 90 days – 41,022.22. The average traded volume for 5 days was down by 31.09 per cent as compared to 30 days average traded volume. The company's stock beta was 0.91, reflecting slightly lower volatility as compared to the benchmark index. The outstanding market capitalisation was around £33.78 million.
On 28th May 2019, Fieldwork Robotics, Frontier IP's portfolio company, had successfully completed initial field tests of robot-based harvesting system. The data from the trials will be used to improve the prototype system. The further trials will be held later this year, and after successfully completing the trials, the company will begin manufacturing in the year 2020.
With Bank of England reducing the interest rates to a historic low level, the spotlight is back on diverse investment opportunities.
Amidst this, are you getting worried about these falling interest rates and wondering where to put your money?
Well! Team Kalkine has a solution for you. You still can earn a relatively stable income by putting money in the dividend-paying stocks.
We think it is the perfect time when you should start accumulating selective dividend stocks to beat the low-interest rates, while we provide a tailored offering in view of valuable stock opportunities and any dividend cut backs to be considered amid scenarios including a prolonged market meltdown.


CLICK HERE FOR YOUR FREE REPORT!