Summary

Number of workers on the UK payrolls fell by more than 0.6 million in May 2020
Britain's Claimant Count level has shot up sharply to 2.8 million during the month
There was largest quarterly drop in the number of job vacancies generated
Workforce salaries fell in real terms, by minus 0.4 percent for the three-month period to April
The latest monthly data on employment from ONS (Office of National Statistics), UK suggests that the total number of workers on the UK payrolls fell by more than 0.6 million in May 2020, as compared to March this year, which is a cause for concern for the British economy.
In addition to this, the monthly data has also calculated a few other parameters, which also resonate with a reduction in overall economic activity in Britain. For instance, the country's Claimant Count level had shot up sharply in May this year, to 2.8 million, up by 126 percent, since March this year, when it was recorded at 1.6 million.
UK Claimant Count Data (between January 2008 and May 2020)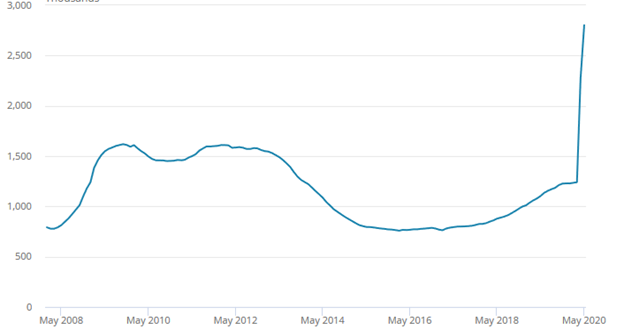 (Source: Department of Works and Pensions, Government of UK)
Neil Carberry, chief executive of the Recruitment and Employment Confederation commented that the unemployment rate is expected to rise at a fast pace, and the numbers for April and May 2020 will turn out to be much higher than the 4 per cent observed during January to March this year. In fact, Oxford Economics had predicted that the UK unemployment level would reach a figure of 7 percent during Q2 2020. Once the lockdown is completely lifted, and unemployed people begin to go out and actively look for jobs, Government data will be able to capture the status on a real-time basis. Britain's leading think tank Resolution Foundation has suggested that the country is expected to undergo a deep job crisis during the next few months. Frances O'Grady, Secretary-General, Trades Union Congress opined that the job market was on a red-alert and needed strong interventions to prevent continuing injury to the UK economy.
ONS had released its GDP estimates last week which showed that the British economy had shrunk by one fifth during April this year, with a negative growth of 20.4 percent. This was the first full month when Britain remained completely under lockdown after it began on March 23 this year.
To further add to the problem, the new jobs creation scene in the UK also paints a gloomy picture, with the period of March to May 2020 witnessing the largest quarterly drop in the number of job vacancies generated, to the tune of 476,000 for the period, which fell short of the previous quarter's (Dec 2019 to Feb 2020) figures by 342,000, which is a large gap. This is the biggest quarterly slowdown in job vacancies ever witnessed in British history. The largest contribution to this fall came from the sectors listed under the "wholesale, retail trade and repair of motor vehicles" and "accommodation and food service activities" categories. Hotels, food joints and retail shops were worst affected and stopped hiring, due to social distancing measures in place, because of the COVID-19 pandemic spread in the country.
The Government data indicated that total pay of employees fell in real terms, by minus 0.4 percent for the period of February to April 2020. Pay fall was most prominent in the industries using the Government's furlough scheme and was led by hospitality and restaurant businesses. The earnings data is a short-term indicator of variations in levels of pay in the UK economy. In general, if there is a growth in total earnings, it means a flourishing economic outlook, and vice-versa.
Government's data on consumption and expenditure trends in the United Kingdom are also reflecting a downward movement, with retail sales volume falling by a record 18.1 percent during April 2020. It was higher than the drop of 5.2 percent, which was observed during the previous month of March this year.
The UK hospitality sector is slated to open up gradually, beginning July 4 this year. Jonathan Downey, Founder of the Hospitality Union, has requested Rishi Sunak for a year-long time out for companies operating in the sector. Many companies in the sector are unable to pay their rent bills and are asking for a waiver. More than 2 million jobs in the sector, are at the risk of being wiped out with bars, eating joints and pubs remaining closed at present. Government is mulling over the option that if the date of opening up the sector is prolonged by a week or 10 days; it might avoid mass layoffs.
With non-essential shops back into business since June 15, and more relaxations in place with respect to the free movement of people, hiring is likely to pick pace soon. The demand uptake in the economy will determine the rate of new hiring by employers, more so once the furlough comes to an end. The Government furlough scheme, which is supporting wage bill for many firms, by paying up to 80 percent of their salaries, will be concluding in the month of October this year.
The number of total coronavirus cases detected was 296,857 in Britain, as of 9 am on 15 June, out of which 41,736 have died. With new cases being detected every day (1056 lab-confirmed UK cases on June 15), it is yet to be seen when exactly this number will come close to zero. Until then, recovery is going to be sluggish, with strict social distancing norms in place, and consumer confidence at record low levels, which ultimately determines the spending habit of people.
To sum it all, coronavirus pandemic has posed a significant challenge in front of the British Government, in terms of falling employment levels in the economy. With the government support in the form of schemes like furlough, the damaging impact has been considerably mitigated till now. The reversal of consumption and expenditure patterns across the country will determine the pace of economic growth in the months to come, which will enable employers to hire more staff and pay them good salaries.