Highlights

The airline industry is under the impact of lockdowns and travel bubble suspension amid delta variant outbreaks in Auckland.
Air NZ provided estimations of the impact of different alert levels on the financial performance of the Company.
Auckland International Airport total passenger volumes rose by 59.7% in July compared to the same month in 2020.
The airline industry was amongst the worst affected sectors due to COVID-19. The opening of the trans-Tasman bubble had given some hopes to the industry in April. However, NZ had to announce the closure of the travel bubble on 23 July amid a delta outbreak in NZ.
With the suspension of the trans-Tasman bubble and Auckland falling into Alert Level 4 lockdown, all hopes of the aviation industry came to a halt.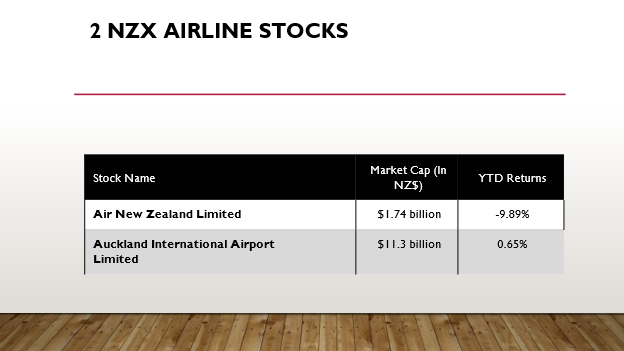 Image source: © 2021 Kalkine Media New Zealand Ltd, Data source- Refinitiv
Let's have a look at 2 NZX airline stocks' performance amid lockdown in the country.
Air New Zealand Limited (NZX:AIR)
Air New Zealand Limited (NZX:AIR), an NZ-based domestic and international passenger and cargo service provider, provided an update on its financial performance in the short term and liquidity.
Air NZ estimated the impact of lockdown and related restrictions on its financial performance. With NZ at Alert level 3 or 4 travel curb, Air NZ will likely bear an impact of roughly $45 million to $55 million, while suspending NZ-Australia travel can lead to a monthly impact of $20 million to $25 million.
RELATED ARTICLE: How is Air NZ (NZX:AIR) sustaining amid COVID-19 lockdown?
With Auckland at level 3 or 4 travel curb and the rest of NZ at Level 1 or 2, the national carrier would suffer an impact of $20 to $25 million.
On the liquidity front, Air NZ has also started drawing down further on the Crown standby loan facility and recently requested additional drawdowns equaling $435 million.
DO READ: Is hydrogen-powered Air NZ (NZX:AIR) aircraft in the offing?
Air NZ had also suspended its earnings guidance on 26 August due to uncertainty related to the introduction of Alert Level 4 in NZ and the duration of the suspension of trans-Tasman.
AIR ended the day 0.31% in green to close at $1.595.
Auckland International Airport Limited (NZX:AIA)
Auckland International Airport Limited (NZX:AIA) provided a monthly traffic update for July and a preview for August 2021. The entire boost in international passenger traffic in July represented the impact of quarantine-free travel across Tasman.
Despite the bubble being deflated on 23 July, visitors continued to flock to NZ for the rest of the month. Domestic services rose in July 2021 compared to the same month the previous year, owing to increased domestic activity caused by school holidays and increased foreign passengers shifting to domestic aircraft.
RELATED READ: What lies ahead for NZ travel and tourism sector in 2021?
Total passenger volumes rose by 68.4% in August compared to the previous year. While international passengers rose by 61%, domestic passengers increased by 74.5% over pcp.
AIA ended the day 0.39% in red to close at $7.74.
Bottom Line
Future of airline industry remains ambiguous.There still remains considerable uncertainty on international travel curbs, lockdowns and demand as restrictions get lifted gradually.
(NOTE: Currency is reported in NZ Dollar unless stated otherwise)