Highlights

GitLab filed for a US IPO on 18 September.
The Group reported a 70% rise in revenue in the six months ended 31 July 2021.
GitLab has been working remotely since its inception in 2014.
GitLab provides cloud-based software that allows organisations to boost the overall return on software development by providing software more quickly and cost effectively. Every Group in any organisation can propose, develop, secure, and install software to propel business conclusions faster.
GitLab was incorporated in 2014 and has 30 million estimated registered users. GitLab had started as an open-source project three years before the Company's inception and now has over 1,350 workforces for more than 65 countries working remotely since 2014.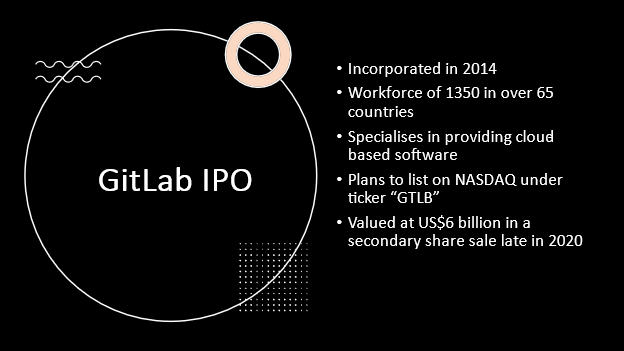 Image source: © 2021 Kalkine Media New Zealand Ltd, Data source- Refinitiv
The coding platform filed for an IPO on 18 September, joining the queue of tech firms going for IPOs. The Company plans to outstrip Atlassian and GitHub, which Microsoft purchased for US$7.5 billion 3 years ago.
DO READ: Investing in IPOs? 10 things to keep in mind
The Company had primarily intended to go public by November last year, but the pandemic halted its plans.
RELATED READ: Dutch Bros IPO: Is the US coffee chain eyeing a US$3.3 billion valuation?
GitLab plans to list on NASDAQ under the ticker "GTLB". JP Morgan, BofA Securities, and Goldman Sachs will be the lead underwriters for the Company's IPO.
GitLab's financial performance
For the six months ended 31 July 2021, the Group's revenue rose approximately 70% YOY to over US$108 million. However, a net loss of US$69 million was also incurred for the same period, compared to US$43.6 million a year before.
RELATED READ: Allbirds IPO: Would the shoe brand be able to raise US$2 billion valuation?
The Group's net revenue retention rate soared 152% in July, putting the Company amongst the top publicly traded firms. It is a key measure for subscription software firms as it reveals consumer success.
RELATED READ: 10 global IPOs to watch out for this year
The software firm had a valuation of US$6 billion in a secondary share sale in late 2020. In addition, the Company has raised over US$400 million in external funding.
Road ahead
Many cloud-software companies are lining up to take the benefit of the present bull run. Toast that sells hardware and software to assist restaurants in managing orders and move to takeout will debut next week.
Another software company set to debut in the coming week is Freshworks, which offers software for sales organisations and customer service.