Highlights

Over six billion vaccine doses have been administered worldwide.
Global efforts to create an effective COVID-19 vaccine are bearing fruit.
However, the end of the COVID-19 Pandemic still seems blurred.
Soon it will be two years since COVID-19 began. And, yet, the pandemic has still not ended. However, global endeavors to create an effective COVID-19 vaccine are bearing fruit. It's not just the rollout of a vaccine but increasing international vaccination rates also play a crucial role in global pandemic recovery. There are many hurdles, including vaccine nationalism, supply and manufacturing constraints, and new virus strains. Nevertheless, the vaccination drives are playing a significant role in controlling the pandemic globally.
Where are we as vaccination drive gains pace?
The World Health Organisation (WHO) has approved over twenty vaccines for general or emergency use in China, Russia, UK, US, and other nations. According to WHO's data, till now, over six billion vaccine doses have been administered worldwide.
Nations like Portugal, United Arab Emirates, Singapore, India, and others have made significant immunization programs. However, many others, including African nations, have vaccinated only small parts of their populations yet. Vaccine policies differ across countries. While Italy and Saudi Arabia have mandated vaccines for both government and private workforce, few others have mandates for health workers only. Children's access to COVID-19 vaccines is expanding slowly.
About 44% of the world is fully vaccinated, led by regions with the highest incomes. Countries with higher incomes are getting vaccinated over 20 times faster than their counterparts.
World's COVID-19 vaccine story till now
Governments are sidelining funds and issuing special vaccine budgets to procure the most effective and safe vaccines. Countries like US have also purchased billions of vaccine doses for donation to other countries.
Which are the most popular COVID-19 vaccines?
Most vaccines approved for global use have been developed by pharmaceutical and research groups in US, China, and Russia. However, developing countries like India have also contributed well to the vaccine development race. Globally popular vaccines include those developed by Pfizer and Moderna, alongside Russia's Sputnik, China's Sinovac, and India's Covishield.
Moderna and Pfizer have led the vaccine race till now, procuring vaccine supply contracts in millions globally. However, vaccine companies and global researchers are also fast pacing the vaccine development process with new vaccine approaches. RNA- and DNA-based vaccines are leading the way, and a few companies have also come out with nasal sprays to boost the growth of antigens.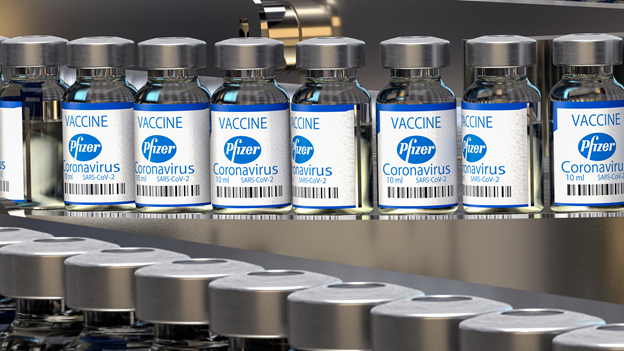 Image Source: © Mikemareen | Megapixl.com
Will vaccines aid in ending the pandemic soon?
Despite the ambitious goal to vaccinate 70 percent of the world's population by late 2022 amid all existing vaccination drives and initiatives, there is much room for improvement. For example, new virus strains of COVID-19, including delta variant, are raising concerns among scientists, researchers, and health officials over the efficacy of the vaccines. In addition, despite various immunization efforts, the risk of increased transmission, weakening immunity, and reduced vaccine effectiveness is creating doubts about whether COVID-19 will ever be eliminated.
It might take another five months to cover a significant portion of the global population to get vaccinated based on the current vaccination pace. However, WHO has conservatively set its target to vaccinate 70% by mid-2022.
Bottom line
The level of vaccination is still not enough, and at the current vaccination pace, achieving global immunity easily remains a challenging task. However, efforts won't go to waste. Manufacturing capacities are steadily increasing, and new vaccines are coming to market. Therefore, it is only a matter of time before the world enters the endemic stage, with maximum regions obtaining herd immunity.
Also Read: How is the COVID-19 pandemic impacting children?
Also Read: Australian vaccine passport system: Advantages & Disadvantages