Highlights

Jack Dorsey will step down as Twitter CEO.


Parag Agrawal has been appointed as Twitter's new CEO.


Bret Taylor has been named as the new board chairman of Twitter.
Twitter, Inc. (NYSE: TWTR) has named Parag Agrawal as the successor to outgoing CEO Jack Dorsey, who voluntarily stepped down from the role, the company said on Monday.
The company said that its board of directors has unanimously appointed Agrawal as the CEO with immediate effect. Agrawal, who has been with the company for over a decade, served as its chief technology officer (CTO) since 2017.
Earlier, media reports, citing people in the know, claimed that Dorsey, the co-founder of Twitter, is stepping down from his CEO role. Dorsey, 45, is also the founder and CEO of payment firm Square Inc. (SQ). He has been showing a keen interest in cryptocurrencies recently.
Also Read: Nuvectis Pharma (NVCT) IPO: How to buy the stock?
Twitter said Dorsey will continue to be on the company's board until the expiration of his term next year when the shareholders' annual meet has been scheduled.
Meanwhile, Bret Taylor, who has been named as the new board chair, will succeed Patrick Pichette, who will continue to be on the board and serve as the Audit Committee chair, the firm added.
Also Read: Five high-growth tech stocks to watch in 2022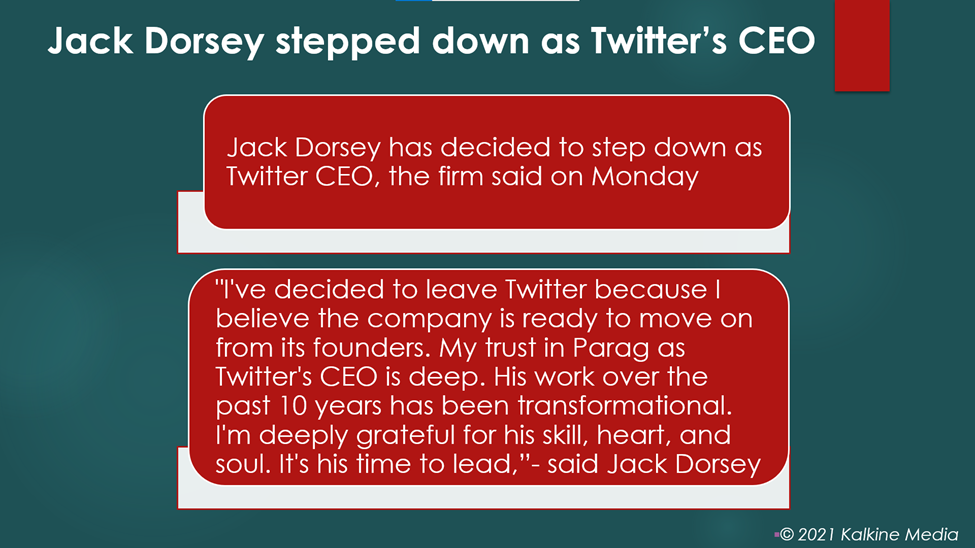 Also Read: Why is Allied Healthcare (AHPI) stock up 53% Friday?
Why did Dorsey step down?
Dorsey said Twitter should now be led by someone other than its founders.
"I've decided to leave Twitter because I believe the company is ready to move on from its founders. My trust in Parag as Twitter's CEO is deep," said Dorsey.
He lauded Parag for his skills, "heart, and soul," and how he served the firm for over a decade. "It's his (Parag) time to lead," Dorsey added.
What's next?
Taylor, the incoming board chair, thanked Dorsey for his "leadership and unrelenting dedication" to the firm. "Jack returned to Twitter and turned the company around at the most critical time. The progress since then has been nothing short of incredible. Jack has given the world something invaluable, and we will continue to carry it forward," he added.
Also Read: Civic coin (CVC) gives over 555% return YTD, but is it worth the bet?
Taylor also said that Parag understands the firm and can work with its "unique potential". He has been instrumental in tackling Twitter's most important priorities.
Bottomline
The Twitter (TWTR) stock rallied on the news. They were trading at US$47.47 at 11:29 am ET, up 0.85% from their previous close. However, the stock has fallen 13.68% YTD.