Highlights

Google Australia is investing AU$1 billion for its Digital Future.
The cash induction is to fire Australia's digital economy.
Australian PM Scott Morrison, and Google CEO Sundar Pichai, have launched Google Australia's 'Digital Future Initiative'. Google has committed to infusing AU$1 billion in the Australian digital economy. Google will partner with Australia on infrastructure, research to strengthen local capabilities, support jobs and build Australia's digital economy for the future.
Why Google believes in Australia's Digital future?
Australia has helped in Google's app developments. From Google Maps' initial progress to developments on Chromebooks, Google Photos, Google Payments (G-Pay) and even Fitbit.
Why is Google spending A$1 billion in Australia?
Australians have turned up to Google for safety and other information during the Bushfires and the COVID-19 pandemic. Google has helped Aussies continue work and learn from home and keep businesses running through critical digital services and SEO advertising support. Australian researchers also keep exploring new technological advancements with backing from Google.org. Google, therefore, seeks to help Australia shape its futuristic innovations and bring technology benefits to Australians.
It has thus announced its most significant investment in Australia- a five-year, AU$1 billion commitment to launch the Digital Future Initiative.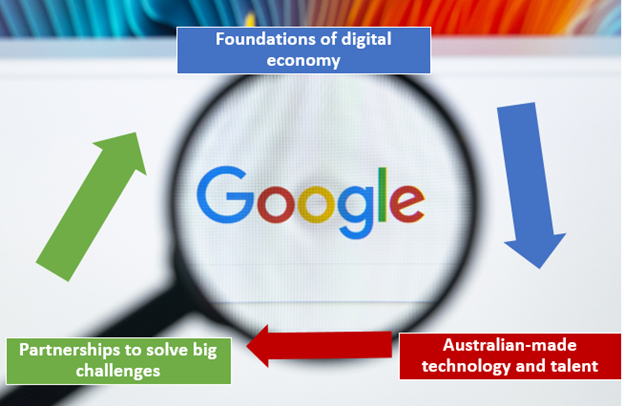 Image Source: © Bigtunaonline | Megapixl.com, Infograph: © 2021 Kalkine Media
What is Google's investment focus in Australia?
Google is targeting the billion-dollar funding towards-
Development of Australia's digital infrastructure with a focus on cloud computing. The cloud shall help Australian companies innovate and grow across the economy.
Next, it will facilitate job opportunities to provide local tech talent by launching its first research hub in Australia. Google Research Australia aims to build a team of Aussie researchers and engineers who can help tackle critical local issues.
Thirdly Google will create new technology partnerships to resolve global challenges faced. Including clean energy and protection of the Great Barrier Reef. Google aims to work with the CSIRO team and Macquarie University to advance clean energy and quantum computing initiatives.
Google's outlook on Australia's Digital future-
Google believes a solid digital future is where one and all have access to technology and skills to use it. Australia's long tradition of innovation, as claimed by Google, can grow and thrive with the internet economy push.
Also Read - Has COVID-19 pandemic derailed Australia's economic growth?