Summary

Once a multi-billion-dollar company, WeWork has dragged through the mud because of reckless leadership.
The hipster firm filed for bankruptcy in just six weeks post announcing its worth at US$47 billion.
Some experts reported that, at one stage, WeWork lender was losing US$219,000 an hour for several months.
Everyone has heard of WeWork at some stage – maybe they applied for jobs, saw their vibrant offices and millennials that work there, or have heard about the WeWork job affair from the end of last year.
With almost 800 offices across all continents in 124 cities, WeWork seemed like a stable, multi-billion-dollar business that, on the surface, possessed more than any other firm ever did. Free drinks, coffee, breakfast, even festivals and flights – those were the perks that every WeWork employee could obtain. WeWork even banned animal products in its food so the firm could show some personal values.
In reality, it was far from perfect. Some employees started noticing that all that money was spent recklessly, even though they did enjoy all the benefits that CEO Adam Neumann generously provided. Some even concluded that a mandatory festival for newcomers cost US$250,000 only on flights. That behaviour raised some eyebrows just before WeWork dramatically fell.
INTERESTING READ: What Is Still Not Working for WeWork- Bleeding Billions Since Months?
A brief history
Adam Neumann started WeWork in 2010 having only one office in the NY area SoHo. Ever since then, WeWork became a lot more than just the office lender – it transformed into a multisectoral company that even had an educational division about business.
Even before its official launch, WeWork roots started as Green Desk back in 2008, as a company that had eco-friendly furniture, free hot beverages, and green office materials. Mr Neumann joined the company with his friend Miguel McKelvey – they made most of their money by offering fully-furnished offices so small and middle-sized businesses. They recognised trends and necessities that were needed in the office, which later on turned out to be a US$47 billion business as WeWork.
With US$300,000 in their pockets, the founders sold their stake at Green Desk and rented a one-level office space, launching WeWork. Neumann, his wife Rebekah, and McKelvey realised that Green Desk employees liked the office atmosphere, so they wanted to create a similar thing under their ownership. Just one month later, WeWork reported profit.
But what truly launched WeWork in the sky was when Benchmark (the investment firm in the US) recognised it for its good work. After a US$17 million funding, WeWork only grew from there and became internationally famous.
What did go wrong?
After reading many interesting and unbelievable facts about WeWork and how it started, it is tough to believe how it ended.
After starting a gym complex and business school for young children, WeWork signed the IPO deal, meaning it transformed into a public company. The parent company was now The We Company, and anyone could be part of it by buying WeWork shares on the marketplace. Once the IPO was signed, WeWork worth was estimated to be US$47 billion, which is remarkable on its own.
That was the beginning of everything.
As the IPO was initiated, the general public finally got an insight into this unicorn utopia business. The document showed significant losses in the previous three years. In 2018, the total revenue was US$1.8 billion, and WeWork reported a US$1.6 billion capital loss. The IPO also showed that Mr Neumann did not receive a salary that year.
Some experts estimated that WeWork was losing US$219,000 every hour of every day in 2018 and 2019, even though its total worth was US$47 billion.
Some media portals scrutinised the company with continually reporting on WeWork's losses. Investors did not chip in as once thought, even its biggest investor SoftBank decided to invest "only" US$6 billion instead of US$16 billion. Though, one billion of that sum went into existing stocks.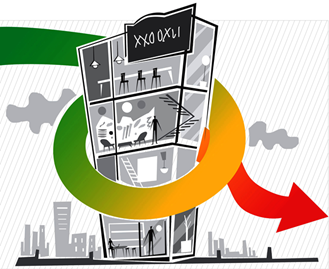 Image Source: © Kalkine Group
Controversial and unprofessional behaviour
After investors started losing interest and were not bringing big bucks to WeWork, Mr Neumann and his wife Rebekah decided to postpone the IPO finalisation. Not only did the company fell under the media microscope, but so did the Neumann couple. Their leadership was seen as reckless, especially after Mr Neumann wanted to put a trademark on 'We' for the price of US$5.9 million. Ms Neumann was infamous for firing people minutes after team meetings due to their "bad energy".
The couple was also analysed for abusing drugs and alcohol. Mr Neumann was, allegedly, smoking marijuana on a private jet and serving tequila to employees after a huge deal. All pieces of information were acquired by current and former employees at the time, according to the sources.
Some employees reported that newcomers needed to go to mandatory festivals with a high-profile line-up. Usually, after all the singing, Mr Neumann would be presented as a key-note speaker and would have motivational speeches about his marriage. They found it weird, but after all, everyone was having fun, so not many people raised their opinion about the unusual performance.
Mr Neumann was also famous for "losing it" if some of his ridiculous requests were not fulfilled – blasting music in offices during working times or not having many bottles of his favourite tequila bottle Don Julio, RRP US$140.
After all these memoirs, WeWork sounded like a cult that employees needed to breathe in every day. Not everyone liked it, and now they do not have to.
How does WeWork look like now?
People would be mistaken if they thought WeWork ceased to exist. On the contrary – they still have hundreds of offices across the world, but under a different leadership.
WeWork announced bankruptcy in 2019 and had laid off staff as a 'rigorous plan' to keep the company going. WeGrow school also needed to shut its doors forever.
After the affairs surfaced, Mr Neumann stepped back as the CEO in September 2019. Shortly after, he left the firm, taking US$1.7 billion from Soft Bank just so he could step down.
Today, WeWork is the biggest office lender on the island of Manhattan. The new leadership hopes they could regain the WeWork once respected reputation, and make up for all losses and unprofessional leadership that its founders, the Neumanns, led.