Summary

Telehealth is the delivery and assistance of health and other health-related services via telecommunications or digital communication technologies.
In Australia, telehealth services are mainly controlled by federal and state governments, while there is a growing private sector.
Several technologies are being implemented for telehealth, including mHealth, video and audio technologies, remote patient monitoring and others.
During the current COVID-19 pandemic, physical separation between clinicians and patients is encouraged to help in reducing the risk of community transmission of the coronavirus. Telehealth services are being used as an alternative method of providing health care delivery to avoid face-to-face contact. This is protecting both patients as well as health care providers.
MUST READ: Federal Budget: Healthcare takes priority amid COVID-19
Telehealth is having a consultation with a healthcare provider by phone call, text messages or video call. Many general practitioners (GPs), physicians and other healthcare service providers offer telehealth consultation nowadays when a physical examination is not required. Besides, it is not intended to replace essential visits to the doctor but rather to remain a convenient solution when patients cannot visit a doctor.
DO READ: Telemedicine: A Game-Changer to Combat COVID-19
Copyright © 2021 Kalkine Media
Telehealth in Australia
Australia had well-established telehealth services before the current COVID-19 pandemic began. In Australia, there were over 30 million telehealth consultations reported in 2020. The telehealth service models in the country attempt to decrease patient travel to the clinics or specialist centres by providing patients care at their homes.
Telehealth services in Australia are primarily operated by federal and state governments, even though the role of the private sector is also increasing. The federal government offers funding for telehealth services under the Medicare Benefits Schedule (MBS). States fund teleconsultations within the public hospital systems by using Activity Based Funding (ABF), a way of funding hospitals whereby the hospitals get funding for the patients they treat.
Telehealth Technology
Several technologies are being implemented for telehealth, including mobile health (mHealth), video and audio conferences technologies, and remote patient monitoring (RPM).
mHealth or mobile health- mHealth or mobile health implies healthcare applications and programs that patients can use on their smartphones, tablets, or laptops. These applications allow patients to keep track of health measurements, set reminders for medication and appointment, and share information with physicians.
Additionally, the users can also use mobile devices to schedule appointments and communicate with their healthcare providers.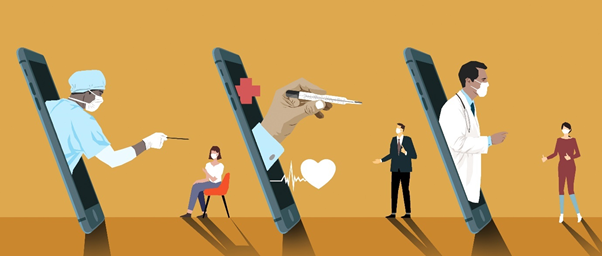 Copyright © 2021 Kalkine Media
Video Conferencing- Video conferencing technology has been applied to offer care to military personnel, inmates, and patients located in rural locations.
Remote Patient Monitoring- Remote Patient Monitoring or RPM involves collecting, reporting, transmitting, and assessing patient health data through electronic devices such as wearables, mobile devices, smartphone apps, and internet-enabled computers.
DO WATCH: How did the world react to Telemedicine amid Covid 19?
Benefits of Telehealth
Telehealth services range from consultations on phone calls and video conference sessions to public health broadcast text messaging as well as on-demand provider education. Some of the key benefits of using telehealth are-
Expanded access to care- Telehealth can help extend provider networks in new ways to expand access to care. It can be used to reach patients living in the countryside and outside the normal care delivery systems.
Telehealth for Education and Training: Telehealth can be used to help the rural health workforce overcome barriers to receiving education and training and allow providers to meet the evolving needs of their patients.
Patient Engagement with remote monitoring: With telehealth technologies, patients can easily take more control of their well-being. Educational videos, health management apps for mobile devices, and online health learning empower patients to control chronic disease indications, lose weight, and increase physical activity levels.
Reduces patient costs- Patients spend a lot of money and time seeking appropriate healthcare services. With a telehealth visit, doctors visit the patient on mobile, laptops, or any other digital device. It can reduce the burden of the cost of travel to the facilities.
Copyright © 2020 Kalkine Media
Drawbacks of Telehealth
Telehealth offers a convenient and cost-effective way to consult a doctor without leaving your home, but it also has a few downsides-
It is not possible to do a remotely patient visit for every type of indication. Sometimes there is still a need to visit the clinic for imaging, blood test, and diagnosis that requires a more hands-on approach.
Personal health data is transmitted electronically; hence security becomes a matter of concern.
Some health insurance providers cover telehealth visits cost during the COVID-19 pandemic. However, all services may not be fully covered and could lead to out-of-pocket costs.