Summary

Donald Trump became the first American president to get impeached twice by the House of Representatives.
Hundreds of soldiers from the National Guard slept in the US Congress building while the Senators were holding the impeachment vote.
Donald J Trump became the first president in the history of the United States to get impeached twice during his mandate, after a majority of Senators from Democratic and Republican parties found him responsible for inciting riots at Capitol Hill in Washington, DC, last week.
The House of Representatives voted 232-197 to finalise Mr Trump's impeachment a week before the Inauguration Day when he would be stepping down as the president of the US.
During one of the most important events in the history of the country, hundreds of armed soldiers from the National Guard fortified the area. The soldiers even slept on the ground floor of the US Congress building.
As many as 10 Republican Senators voted for the 'incitement of insurrection', a complete opposite from the 2019 impeachment, where Republicans stood behind Mr Trump and voted in his favour during the impeachment.
In December 2019, the House of Representatives held the impeachment vote in regard to Mr Trump's controversial conversation with the Ukrainian president.
Speaker Nancy Pelosi considers Mr Trump a danger for the United States, and said to her fellow senators:

However, Mr Trump will remain in the office until 20 January, as the impeachment trial will be held once President-elect Joe Biden comes to the White House to serve as the 47th American president, said Republican Senate Leader Mitch McConnell.
If a two-third majority of the Senate votes for a 'high crimes and misdemeanours' sentence, Mr Trump will never have the ability to run for office again, in any political sphere.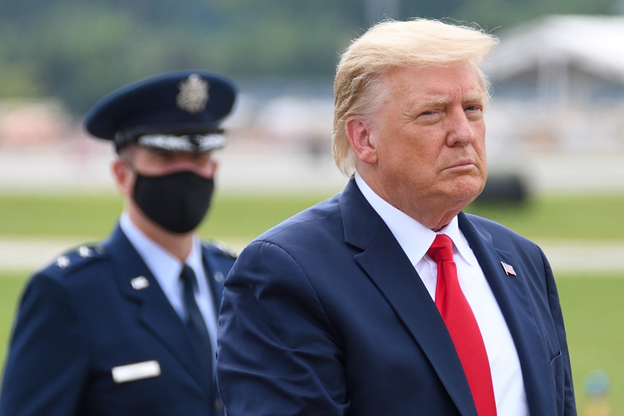 Image Source: Shutterstock
How did Mr Trump's fellow Republicans vote?
Anthony Gonzales, a Republican congressman, was one of the Republicans who voted for Mr Trump's impeachment, adding:
Another Republican senator Peter Meijer said it was not easy for him to vote against the current president. However, he still decided to do so as Mr Trump betrayed his oath and the Constitution.
However, most of the Republicans still voted against Mr Trump's impeachment, as it was 'pointless' to remove him from the office a week before the Inauguration Day.
The Republican House leader Kevin McCarthy held Mr Trump responsible for the Capital protests. Yet, Mr McCarthy stated that the impeachment would be alienating.
Andy Briggs warned that making Mr Trump a 'martyr' would make the president even more favourable among his supporters.
Did Mr Trump have any comment?
After the House of Representatives vote became official, Mr Trump wrote a formal statement saying: