© Artistashmita | Megapixl.com
Summary

Suez Canal is critical to the movement of goods across the eastern and western worlds and has been at the centre of world trade since its inauguration.
Boskalis, the salvager firm, has been involved in clearing the Suez Canal blockage caused by the container ship, Ever Given.
The salvager updated in Saturday's press conference that the blockage could be cleared in the early next week.
The behemoth 1,300 feet long container ship, Ever Given, had blocked the Suez Canal on 23 March 2021. While immense efforts to clear the canal undergoes, the strong tides and winds continue to delay the efforts.
During the press conference held on Saturday, Mr Osama Rabie, the Egyptian Suez Canal Authority Chief, said that the incident has been caused due to multiple factors and not simply by a human error.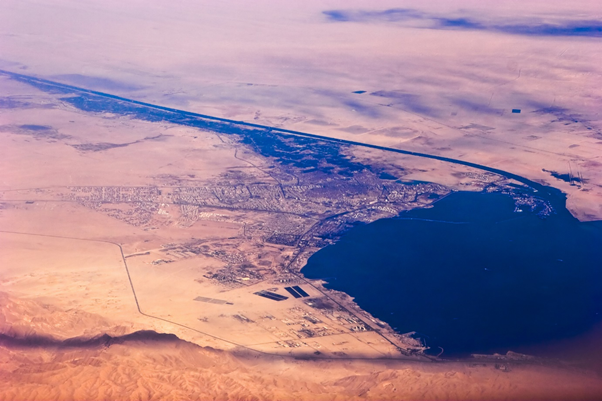 Aerial view of the Suez Canal and Seaport Source: © Birute | Megapixl.com
"At the moment, 321 ships are waiting for their turn to pass through the Suez Canal due to the situation," Mr Rabie added. The efforts to float the massive container ship have been continuing through around the clock, and over ten tugboats have been involved.
Must Read: Suez Canal Blockage: Dislodging Ever Given Ship Could Take Up To Weeks
Further, adding on the Egyptian waterway authority head stated that the longer the giant "Ever Given" remains in place, the greater the possibility of unloading the mega-ship using cranes. If such a case arises, the efforts to clear the canal may be delayed further by weeks.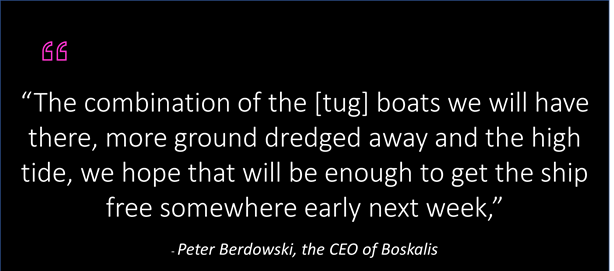 © Kalkine Group 2021
The salvager, Boskalis, was involved in extracting the ship and working around the clock to pull the container ship using heavy tugboats, high tides, and dredging.
Important Read: How Prices of Products Will Go Up Due to Suez Canal Blockade
Source: © Bwylezich | Megapixl.com
Ever Given is owned by the Taiwanese shipping conglomerate Evergreen Marine. If the giant ship's size or the containers boarded are not a problem, the strong tides and wind are now emerging as a major issue in the clearance.
As per the local weather reports, winds have been gusting at a speed of 50 km an hour. As per the Suez Canal authority statement, Ever Green had on Tuesday lost its ability to steer and ended up stuck diagonally block the path for the other ship through the narrow passage amid a dust storm and high winds. Strong winds and dust storms are a common phenomenon in the region this time of the year.
Read Here: Oil Prices Retreat Amid Rising Volatility Over Suez Canal Blockage
The obstruction of the Suez Canal has caused a major disruption in the global supply chain and trade. The shipping data and news company Lloyd list had estimated that the blockage is costing over US$400 million an hour. The global shipping giants, MSC and Maersk, have already begun to divert their vessels around the longer Cape of Good Hope and may escalate the shipping costs.