Highlights

Blackstone has completed its previously announced majority investment in womenswear brand SPANX.


The transaction puts SPANX's valuation at US$1.2 billion.


SPANX founder Sara Blakely will serve as the executive chairwoman of SPANX's newly appointed all-female board of directors.
Womenswear brand SPANX, Inc. has announced that global investment firm Blackstone Inc. has closed its previously announced majority investment in the company.
The transaction has raised SPANX's valuation to US$1.2 billion.
Meanwhile, SPANX has secured new investors like Oprah Winfrey, Whitney Wolfe Herd, and Reese Witherspoon. Other investors include female-founded investment funds, Able Partners, and G9 Ventures.
SPANX closes Blackstone deal|Oprah, Reese among new investors
Last month, both the companies had announced the majority investment plan. They said the deal would allow SPANX's global expansion and help strengthen its online business.
Also Read: Dicerna-Novo Nordisk deal revealed: DRNA stock pops 78% in premarket
On Oct 20, the two companies announced that Sara Blakely would be the executive chairwoman of SPANX's newly appointed all-female board of directors. The Blackstone team, which negotiated the deal with SPANX, were all women.


Sara Blakely founded SPANX, Inc. in 2000. She used her US$5,000 saving as seed money to kickstart the business. In the subsequent years, the company went on to make a name for itself in the "male-dominated shapewear and undergarment" market.
Blakely, who reportedly never flew on a business class and sold fax machines door-to-door, started the company from her apartment.
Also Read: Sono, Rivian & Canoo: Which firms are leading the EV market race?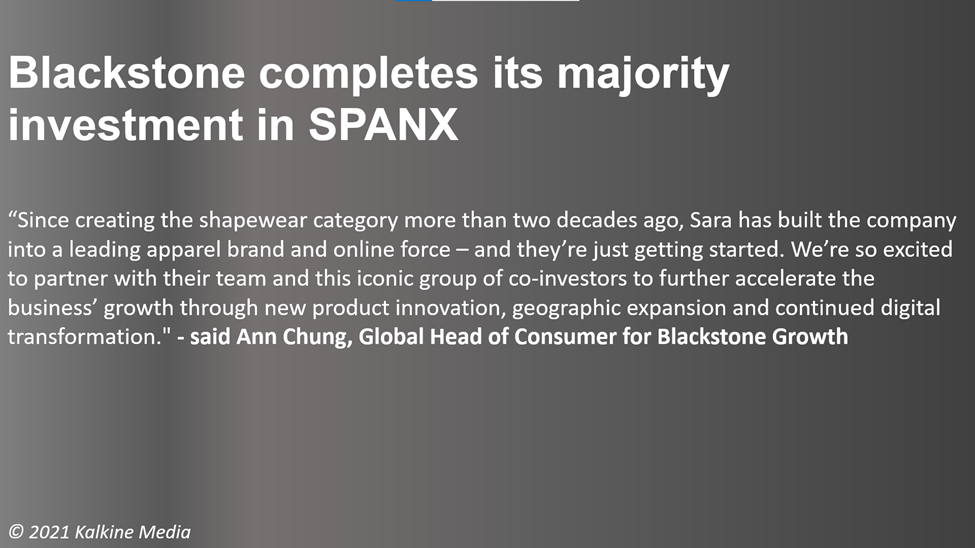 Image Description: Blackstone closed its majority investment on SPANX, pushing its valuation to US$1.2 billion
Also Read: Sweetgreen IPO: SG all set to debut in NYSE Thursday: What to expect
SPANX's new investors
Blakely has praised the new investors, like Oprah Winfrey, G9 Ventures, and others, for their faith in the company. She said Oprah and Reese have been providing her support for a long and Whitney has been a "gamechanger for women in business". She also highlighted Oprah's critical role in SPANX's "early success". Oprah had said SPANX was one of her 'Favorite Things' in 2000.
The Global Head of Consumer for Blackstone Growth, Ann Chung, said that Sara would build SPANX into a leading womenswear brand that she led over two decades. Chung added that she is optimistic that the "iconic group of investors" would aid the firm in accelerating its business while SPANX will explore new products, expansion, and digital transformation.
Also Read: KC Holdco IPO: KLC stock to debut in NYSE today, what we know so far
Bottomline
Meanwhile, Blakely will continue to hold a major stake in the firm. Blakely and the firm's senior management team will continue to look over the daily operations of SPANX.