Highlights

The Sweetgreen stock started trading on NYSE under the ticker "SG" on Thursday.


The company had initially offered 12.5 million shares.


The restaurant chain operator raised US$364 million in the IPO.
Fast-food restaurant chain Sweetgreen Inc. stock skyrocketed by 300% in its debut in the New York Stock Exchange (NYSE) on Thursday after raising US$364 million in an initial public offering (IPO).
The Sweetgreen stock (SG) jumped 303.12% to US$50.39 at 2:33 pm ET on Nov 18, pushing up its market cap to US$5.49 billion. The stock opened at US$52 per share, more than its previous offering price range of US$23 to US$25 per share, taking its market cap to over $5.5 billion.
The stock's highest and lowest prices were US$56.20 and US$50.07, respectively, as of 2:35 pm ET on Thursday.
The Culver City, California-based restaurant chain operator sold 13 million shares of its Class A common stock for US$28 per share on Wednesday.
In its IPO announcement on Nov 9, it had kept the price range between US$23 and US$25 per share and marketed 12.5 million shares, according to its filing with the Securities and Exchange Commission.
The restaurant chain was co-founded by Nicolas Jammet, Jonathan Neman, and Nathaniel Ru in 2007. The company is worth around US$3 billion, based on its outstanding shares, its filings show. However, its fully diluted valuation, including its employee stock options and similar holdings, is nearly around US$3.4 billion.
Also Read: Sono, Rivian & Canoo: Which firms are leading the EV market race?
In January this year, Sweetgreen was valued at US$1.78 billion after a funding round led by Durable Capital Partners. Some of the prominent names that participated in the round include affiliates of Fidelity Investments, T. Rowe Price, Line Pine Capital, and D1 Capital Partners.
Sweetgreen is the 12th food and beverage industry company to debut in the US market this year. However, most of the stocks that debuted recently are trading below their offering price.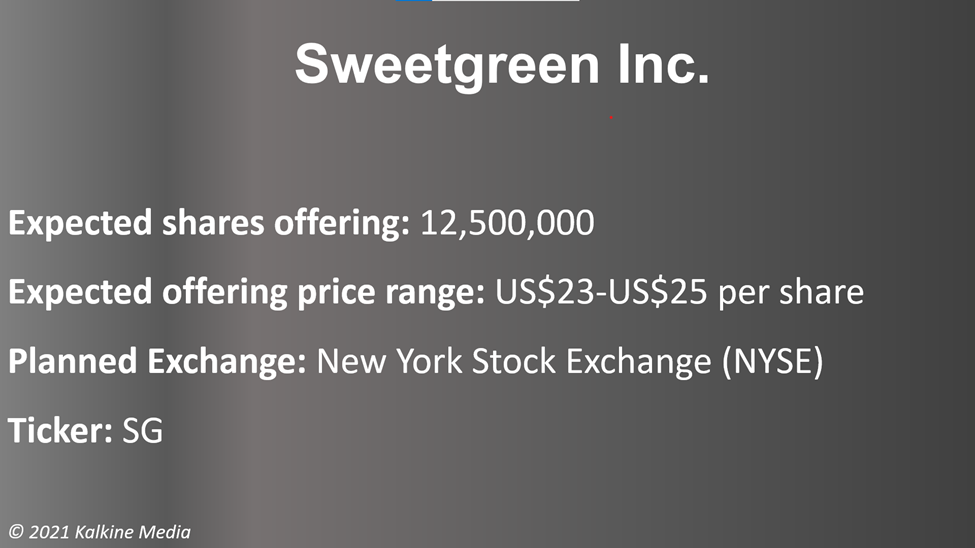 Sweetgreen plans to use the IPO proceeds for corporate purposes and working capital. In addition, it plans to invest heavily in robotic technology, which it acquired after purchasing the Massachusetts-based firm Spyce Food Co. Spyce helps automate the production line by using robotic cooking and serving techniques.
Also Read: Braze IPO: BRZE stock jumps 36% in market debut. How to buy it?
The restaurant chain operator has more than 140 restaurants in 13 states and has an employee strength of around 5,000.
For the 13 weeks ended on September 26, 2021, its revenue was US$95.84 million compared to US$55.54 million in the year-ago period. It reported a net loss of US$30.06 million against a loss of US$36.85 million for the 13 weeks ended on September 27, 2020.
Also Read: Bitcoin mining firm Iris Energy IPO: Here's how you can buy IREN stock
Bottomline
Sweetgreen is expected to start trading on NYSE on November 18 under the ticker "SG". Goldman Sachs & Co. LLC, and JP Morgan are the lead book-running managers.