Summary

SpaceX's Starlink has sought approval from FCC to launch another 2,824 satellites at 550km altitude.
Other near-space broadband service rivals have expressed concerns that congestion of many satellites in lower orbits could cause a collision.
In April, SpaceX marked its 10th launch so far in 2021 after additional 60 satellites were launched from its Falcon 9 rocket.
Tesla (NASDAQ:TSLA) CEO Elon Musk's lofty Starlink project is at a tug of war with rivals, including the Project Kuiper satellite unit of Jeff Bezos's Amazon.com Inc (NASDAQ: AMZN). SpaceX's Starlink has requested approval from the Federal Communications Commission (FCC) to reduce the altitude of another 2,824 Starlink satellites.
The rivals objected that if further thousands of satellites are added in the lower orbit, the risk of collision will increase significantly.
Earlier, OneWeb claimed that the Starlink satellite constellation nearly caused a satellite collision. However, the Starlink network negated the claim and told FCC that there was no such close incident.
Meanwhile, the arrival of SpaceX's Crew Dragon carrying four astronauts on 24 April sent the total crew numbers on the International Space Station (ISS) to 11, the biggest in a decade. This was SpaceX's third crew capsule within a year.
ALSO READ: SpaceX's Starship prototype explodes after a seemingly successful landing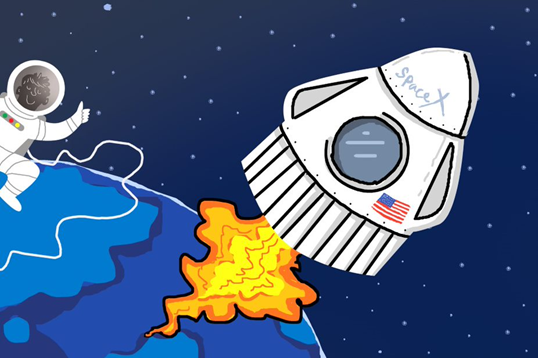 Source: Copyright © 2021 Kalkine Media Pty Ltd.
SpaceX's Starlink is eyeing to fly its additional 2,824 Starlink satellites in an orbit at an altitude of 550 kilometres, where it already has the approval to fly 1,584 satellites. The consent would allow a total of 4,408 Space X spacecrafts to orbit at around 540-570 km altitude.
However, in the proposal, SpaceX has indicated that low-Earth orbit satellites having relatively shorter lifetimes will drop out of orbit and burn up quickly when their life ends. Furthermore, the zone is just below that assigned to satellites from the Project Kuiper satellites.
ALSO READ: Elon Musk drops hints on the timing of Starlink IPO
Amazon in July received FCC approval to launch its 3,236 satellites for the Project Kuiper at an altitude of 590-630 km.
Competition Intensifies for launching Low-Earth Orbits (LEO) Satellites
While satellite internet is already present, LEO satellites can prove to be the next big thing in the internet revolution. Low-earth orbits are proximal to earth and the satellites are positioned at an altitude of less than 2000 km above the ground.
The proximity to earth increases the effectiveness of services by facilitating faster connections and quick transfer of signals. Furthermore, as the flight of satellites require relatively lower orbital speeds and altitudes, they have a lower launch cost per unit mass.
ALSO READ: Elon Musk's Romance With Cryptocurrency
On the downside, such satellites cover a smaller area, increasing the need to launch more satellites. Some of the prominent players apart from Amazon's Project Kuiper and SpaceX's Starlink include OneWeb, Telesat, Airbus' European Union Consortium, and many more.
ALSO READ: Amazon Web Services (AWS) now to mark its presence in Adelaide
In early April, SpaceX marked its 10th launch so far in 2021 after another 60 satellites were launched from its Falcon 9 rocket.
It appears that the Company is approaching the targeted satellite constellation to provide basic global service through its fast-paced rollouts.