Summary

D-DOCKS – Canada's answer to FAANG – is made up of Docebo, Descartes Systems, Open Text, Constellation Software, Kinaxis and Shopify.
D-DOCKS stocks have surged high amid pandemic, forcing investors to take note.
These respected tech stocks are a captivating mix of skyrocketing valuations, soaring stocks and proven business model.
The last decade was all about big tech and their global dominance. Life as we know it would never be possible without the ubiquity of the digital ecosystem nurtured by FAANG – Facebook, Amazon, Apple, Netflix and Alphabet (parent company of Google). Replace Netflix with Microsoft, and you get FAAMG – another acronym for the powerful big tech league.
American FAANG stocks have mounted high in the last couple of years as big tech scoured for emerging markets while penetrating every aspect of our daily lives.
Come 2020, and big tech smashed its own barriers to surge higher amid the COVID pandemic. Yet, 2020 was also the year when four chiefs of these power tech firms took stand before the US Congressional subcommittee in a historic antitrust hearing.
The dice had been rolled. After big pharma, big tobacco and big banks, the committee was now confronting big tech and their "anti-competitive" practices.
A couple of thousand miles away, another big tech cohort has been taking shape in Canada. This group has been ruffling the markets' feathers amid pandemic, proving it is no less than FAANG and forcing investors to take note.
D-DOCKS: Canada's answer to FAANG
The Canadian big tech club initially covered Descartes Systems, Open Text, Constellation Software, Kinaxis and Shopify – better known as DOCKS. Then came Docebo with its stellar stock performance and we, thought why not name it: D-DOCKS.
Collectively, the D-DOCKS tech stocks have contributed to much of TSX's growth (or rebound) this year.
Unlike its American peer, D-DOCKS maintain comparatively lower profile and are mostly working behind the scenes – powering businesses and enterprises survive in this pandemic. Some are even providing platforms to help smaller businesses go up against FAANG members.
Ecommerce giant Shopify and learning management system Docebo have been the top performers of the D-DOCKS group. This year, shares of Docebo gained an astonishing 192 percent while Shopify stocks surged 154 percent. These two have outperformed Amazon stocks – the greatest year-to-date gainer among FAANG stocks.
FAANG vs DOCK Stocks: Comparative Charting, 2020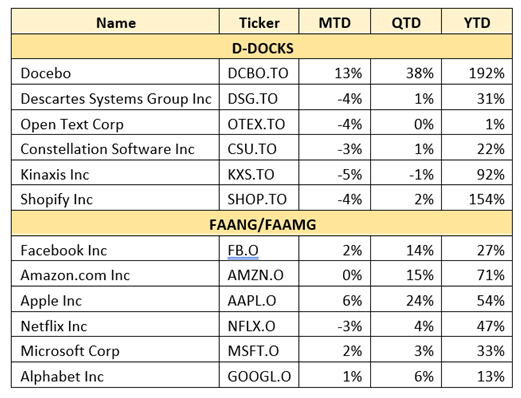 (Source: Refinitive, Thomson Reuters)
D-DOCKS do not have a wider global market penetration as FAANG. But all that is bound to change in the COVID era. Together, these highly respected D-DOCKS are a captivating mix of skyrocketing valuations, soaring stocks and proven business model.
Let's take a closer look at each of these star performers:
Docebo is among the hottest Canadian tech stocks on the Toronto Stock Exchange at the moment. A cloud-based learning management system (LMS), Docebo uses an AI-enabled, intuitive and customizable platform for enterprise learning for small and medium enterprises. It uses SaaS (software-as-a-service) platform to automate the end-to-end learning process.
Docebo's LMS system have performed well in the homebody or work-from-home economy leading to its stocks beating all market expectations. Its current valuation is around C$ 1.4 billion. The scrips have advanced by a stunning 192 percent this year, while posting 13 percent monthly and 38 percent quarterly gains.
Descartes Systems (TSX: DSG)
Descartes offers logistics network solutions through a technology platform. It allows firms to manage and simplify transaction driven processes like customs filings. Its current market cap is over C$ 6 billion and has a current P/E ratio of 114.3. Descartes stocks have returned over 31 percent yields in a year. It posted C$ 14.5 million revenue in the second quarter this year, an increase of 46.5 percent from same period last year. It's Q2 gross profit stood at C$ 11.7 million, while cash flow generated is C$ 0.2 million, as compared to C$ 0.9 in Q2FY19.
Open Text (TSX: OTEX)
Open Text can be considered as the weakest link among the D-DOCK, its stock up by just one percent this year. However, this cloud enterprise-management and software maker firm beat all earnings estimates to post $ 827 million in sales in its fourth fiscal quarter.
The company paid quarterly dividends of $0.17 and has a dividend yield of 1.60 percent. Its current P/E ratio stands at 52.4 percent while market cap is C$ 15 billion.
Constellation Software (TSX: CSU)
Constellation is the top firm on the TSX Capped Information Technology Index and currently valued over C$ 32 billion. Its shares advanced by 22 percent this year and the firm announced USD 1 per share dividend. Its current P/E ratio is 73.3 percent and dividend yield is 0.35 percent.
In the second fiscal quarter, the company's net income was $ 83 million, up 12 percent from Q2 2019. Cash flows grew by 370 percent to $237 million year-over-year.
Kinaxis (TSX: KXS)
This tech giant offers cloud-based solutions to supply chain management, logistics and sales and operations. Kinaxis stocks has returned 92 percent this year. Its market cap is C$ 5.2 billion and has a current P/E ratio is 142.10. In its second quarter financial report, the firm's SaaS (software-as-a-service) revenue grew by 26 percent YoY to $35.7 million, while total revenue went up 45 percent YoY to $61.4 million.
A king among the kings – that's the right way to define this burgeoning ecommerce giant. Shopify, a one-stop commerce platform helping businesses kickstart online operations, is Canada's most valuable public company. The company helps entrepreneurs, retailers and SMBs go digital and assists their sales through a basket of extensive solutions.
Read: Shopify, the TSX firm that turned into a legend during the pandemic
Since its debut, shares have returned over an astonishing 4405 percent. Shopify was already on a tear before 2020, and with the pandemic the stocks hit the roof. This year, stocks of the ecommerce giant surged by 154 percent, and analysts expect more rally will follow.
Shopify's bull run has dragged the TSX higher along with it. Some have compared its growth to Amazon's e-commerce dominance. But Shopify is not a retailer. On the contrary, it helps retailers compete against larger businesses like Amazon.
The Crux of the Matter
Canadian D-DOCKS' red-hot rally is no less powerful than FAANG's searing surge amid pandemic. Over time, these companies have carved out dominant position on the TSX, forcing investors to take note.
These companies may not have the ubiquitous digital nature like that of FAANG. But they stand tall behind smaller and larger enterprises, helping them build scale in their industries.
These Canadian tech names are slowly emerging as big winners on the global scale. With clients spread across the world, they may soon re-write the tech story.