Highlights

Intel to invest US$20 billion for building two new chip plants in Ohio.


It will also invest an additional US$100 million to help build the manufacturing site in partnering with educational institutions.


The project is expected to create 3,000 jobs in the initial phase.
Intel Corporation (NASDAQ: INTC) plans to build two new chip factories for US$20 billion in Columbus, Ohio. The stock gained 1% after the news. The company said the new factories will produce advanced semiconductor chips whose demand has increased.
Intel is also exploring other innovative products as part of its IDM 2.0 strategy, it said. The company will spend an additional US$100 million to help build the new semiconductor manufacturing hub in collaboration with educational institutions.
It will also help build a talent pool to support Intel's research programs.
The construction of the factories will start later this year, while production will begin in 2025.
Also Read: Why Blue Star Foods (BSFC) stock skyrocketed 429% today?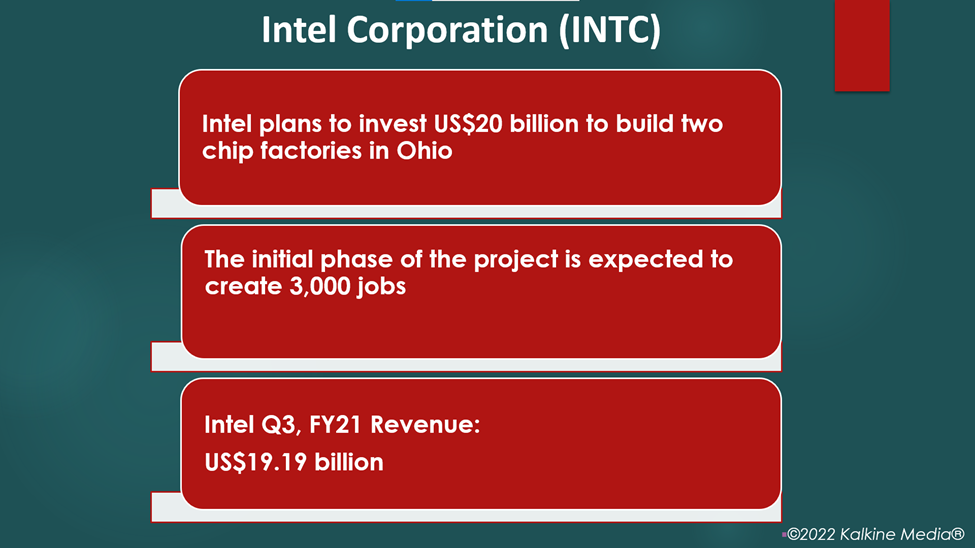 Also Read: Top 5G stocks to explore as US rolls out the service
Intel Corporation (INTC): Stock price, earnings
Its shares traded at US$52.749 at 10:40 am ET on Friday, up 1.36% from its previous close. The stock rose 2.5% over the past 30 days. Intel's current market cap is around US$213.29 billion, with a P/E ratio of 10.18 and a forward one-year P/E ratio of 9.86. Its EPS is US$5.15.
The stock's 52-week highest price was US$68.49, and the lowest price was US$47.87. The trading volume was 28,582,610 on Thursday.
Also Read: Pfizer covid vaccine for kids under five on the anvil
It will report its fourth-quarter results on January 26 after the market close.
The revenue rose 5% YoY to US$19.19 billion in Q3, FY21. Its net income was US$6.82 billion, or US$1.67 per diluted share, against US$4.27 billion, or US$1.02 per diluted share a year ago.
For the fourth quarter, its GAAP revenue to be around US$19.2 billion, and for full fiscal 2021, it estimates GAAP revenue of around US$77.7 billion.
Also Read: Russia to ban mining and use of cryptocurrency
Bottomline
The new factories are expected to create 3,000 Intel jobs initially. It will also generate around 7,000 construction jobs during the build. Intel will spend about US$100 billion at the new site over the next 10 years. Commenting on the project, Ohio Governor Mike DeWine said it is "monumental news for the state of Ohio".