Highlights

Mobile payment adoption boosted during the COVID pandemic due to a shift in the payment method and behaviour.
Apple Pay, Google Pay, and Venmo are a few famous names from this space.
Many industries have taken the front-row lead during the COVID-19 pandemic. One of the industries that indeed received a kick during the pandemic was the mobile payment industry. With lockdown and restrictions, people chose the mobile payment system to process any transaction. In addition, the social distancing measures also changed the way people shop and make payments worldwide.
What is Mobile Payment?
A payment made for purchasing products and services via electronic devices like mobile or tablet is called mobile payment. According to Grand view Research, the mobile payment market size by 2020 was valued at ~US$31.5 billion, and experts believe this market will grow at a CAGR of over 31.8% by 2028. The growth would be driven by the increasing usage of the device to make payments instead of cash. In addition, the increasing availability of smartphones is a key factor that is boosting the adoption of the payment system.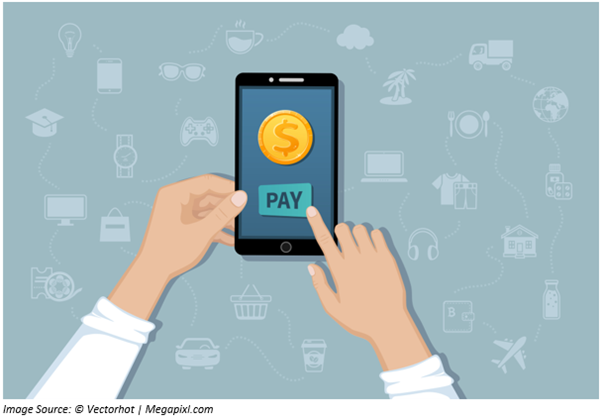 Some Important Facts about Mobile Payments worldwide:
In the present times, the availability of mobile and the convenience related to processing payment through mobile is driving the growth in cashless transactions. On that note, let us unveil some interesting facts about this technology.
Which country is leading the mobile payment adoption in 2021?
According to many media reports, the mobile adoption rate in 2021 was the highest in China amongst various countries.
What are the leading mobile payment systems?
We all are aware of the rise in mobile payment technology during COVID-19 and its adoption globally. Therefore, it would be interesting to know the top five preferred mobile payment apps globally.
Apple Pay: It works with an iPhone and an Apple watch. The advantage of Apple pay is that the user can use the app and redeem rewards in the wallet. If Apple Pay is not accepted anywhere, the user can pay with a credit card linked to the Apple pay account.
INTERESTING READ:
Google Pay: It works with any android device that contains a NFC Users can use it to make an online payment, contactless payment, and in-app mobile payment.
DID YOU KNOW: Now Google Pay Users In US Can Send Money To India, Singapore
Venmo: It is a subsidiary of PayPal and is distinctive because of its social style platform. The user can pay using via App, or they can go for the online payment option. Merchants who take Venmo creates a business profile. Merchants prefer Venmo as it enables an instant banking transfer. Also, Venmo can be used to make payments wherever PayPal is accepted. Venmo also allows consumers to transfer money to their friends or family.
PayPal: Like Venmo, the user can pay using via App, online or contactless in person. The customers get multiple options and are accepted on millions of websites globally. People mostly use PayPal to transfer funds to their loved ones.
ALSO READ:
Samsung Pay: It works with Galaxy phones and a few Galaxy watches. It works with systems that an inbuilt Google Pay. This app is accessible in 27 nations and is backed by Visa, Master Card, American Express, and Discover.
What Next?
With the pandemic prompting heavy usage of digitalised transactions, mobile payment technology is expected to have brighter prospects near future. There are chances that new players may enter the market with finer models and facilities, making mobile payments simpler and more convenient for the users.