Summary

The intranasal route of vaccine administration has enormous potential because of the organized immune system of the nasal mucosa, high compliance, and low cost.
Scientists believe that intranasal vaccines will reduce the virus load in the body as studies demonstrate that the coronavirus first establishes itself in the nasal cavity.
While intranasal vaccines have easy access, there are some drawbacks associated with them due to the complicated geometry of the nasal cavity.
The intramuscular route of vaccine administration has been considered as the ultimate way of vaccination. However, intranasal vaccines come with several advantages, such as ease of self-administration and induction of mucosal and systemic immunity.
ALSO READ: Better than injection? All about nasal COVID-19 vaccines in the pipeline
Source: © Citalliance | Megapixl.com
Unlike the intramuscular route, the intranasal route is an easy and painless way of administering a vaccine. Besides, it is an appealing option for people with trypanophobia or fear of needles. Furthermore, intranasal vaccines can be self-administered at home and may not require any refrigeration, making the transportation and storage of vaccines easier.
If annual booster vaccinations are required for emerging coronavirus strains, the intranasal vaccines can be transported easily and will provide quick access to large portions of the population.
ALSO READ: COVID-19 vaccine booster shots: do we really need them?
Intranasal COVID-19 vaccine
As the name suggests, intranasal vaccines are different from intramuscular vaccines in the way they are administered and under what settings. Nasal mucous is the human body's first line of defence, and hence it is highly immuno-efficient. Pathogens have to pass through this mucous wall to enter the body. Some studies suggest that when a small dose of antigen is delivered into the nasal mucosa, it can cause a rapid and potent immune response.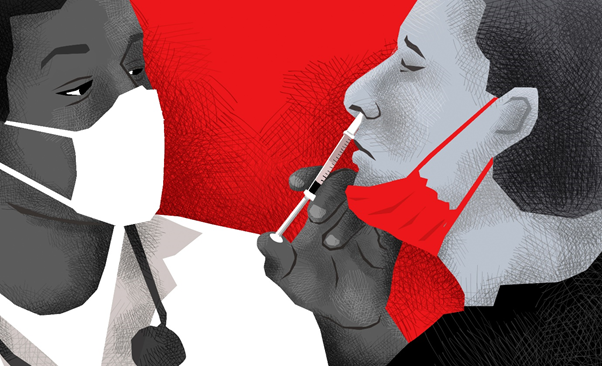 Source: Copyright © 2021 Kalkine Media
This is the reason why scientists are actively engaged in intranasal COVID-19 vaccine development. These vaccines can be delivered as a spray or a drop to help generate antibodies against the coronavirus.
Scientists have highlighted that the intranasal vaccine will reduce the virus load in the body as studies suggest that SARS-CoV-2 first establishes in the nasal cavity before entering into the lungs.
Intranasal vaccines in the pipeline
Intranasal vaccines are being studied worldwide, with researchers aiming to get the vaccines tested and approved quickly to boost the current situation. Some of the significant developments include:
Altimmune's AdCOVID intranasal vaccine candidate
Altimmune is developing a non-replicating adenoviral vector vaccine named AdCOVID. On 10 May, the Company announced encouraging findings from a preclinical study in a novel coronavirus challenge model of infection. In this study, a single dose of intranasal vaccine provided sterilizing immunity in the lungs of vaccinated mice.
On 26 May, the Company announced that the AdCOVID vaccine candidate neutralizes the rapidly emerging South African coronavirus strain, SARS-CoV-2 B.1.351.
COVI-VAC nasal vaccine
COVI-VAC is a single-dose, live-attenuated vaccine against SARS-CoV-2 that is developed for intranasal administration. Codagenix's SAVE (Synthetic Attenuated Virus Engineering) platform was used for the development of COVI-VAC. Currently, the vaccine is in Phase 1 clinical trial conducted by US-based Codagenix Inc and Serum Institute of India.
Nasal spray version Oxford/ AstraZeneca's ChadOx1 vaccine
Oxford University and AstraZeneca (LON:AZN) are investigating the nasal spray form of their ChadOx1 vaccine. On 25 March, Oxford University revealed that the Phase 1 clinical trial would enrol approximately 30 healthy individuals aged between 18 to 40 years.
The trial will investigate the immune system responses generated by the intranasal vaccine. Furthermore, safety and adverse reactions will also be investigated. The vaccine will be delivered using an intranasal spray device, similar to how over-the-counter hay fever nasal sprays are given.
ALSO READ: All you need to know about intranasal COVID-19 treatments and vaccines
Bharat Biotech's adenovirus vectored nasal COVID vaccine
Covaxin-manufacturer Bharat Biotech is also developing an intranasal COVID-19 vaccine named BBV154. BBV154 is a novel intranasal, adenovirus vector vaccine being developed to combat COVID-19. The Company disclosed that its candidate had demonstrated protective efficacy in mice and hamster. Currently, the vaccine is in Phase 1 clinical trial.
Advantages of intranasal vaccines
Better stability: Intranasal vaccines are stable at room temperature, making them easier to transport and potentially improving access to vaccination in remote or resource-poor areas.
Easier administration: Nasal route offers the benefit of easy and simple administration via a nasal spray or drop form.
Improved acceptance: These vaccines may help improve acceptance, especially among children and the elderly, because of the convenience.