Highlights

Musk's tweet on Senator Bernie Sanders can be termed offensive, but Musk doesn't seem to care
More share sale info may come on Twitter, and it can decide the trajectory Tesla's stock takes
Musk's Sander tweet may earn his a rebuke like the 2018 SEC action on one of his tweets
Elon Musk has never been a man who minces his words. Seasoned investor Warren Buffett has time and again trashed blockchain-based digital currencies, but Musk, aided a little by Twitter's Jack Dorsey, has never held back his sentiments. Musk is more a Twitter-first guy than somebody who subscribes to the theory that financial disclosures, which can impact stakeholders, should first be reported to regulators.
Can Elon Musk's Sanders tweet land him in trouble
Musk's latest Twitter affair is about his overt attack on the longest serving independent Congressman in the US, Senator Bernie Sanders. The latter's lack of affiliation with a major party has resemblance with Musk, who seemingly doesn't swear by any customs or beliefs.
Also read: Elon Musk's net worth now tops Jeff Bezos, Mark Zuckerberg's combined
What has Musk said about Bernie Sanders?
It wasn't exactly Musk who took the first step. The octogenarian Senator earlier tweeted that the 'extremely wealthy pay their fair share' and Musk entered the thread by tweeting that he 'keeps forgetting' Senator Sanders is 'still alive'. And this may classify as discourteous to many.
Musk has also sought the seasoned politician's view on whether he should offload more Tesla stock. The tweet was a direct question to Senator Sanders, and it can be viewed in the same breath as Musk's recent Twitter poll on selling 10 per cent of his Tesla shares.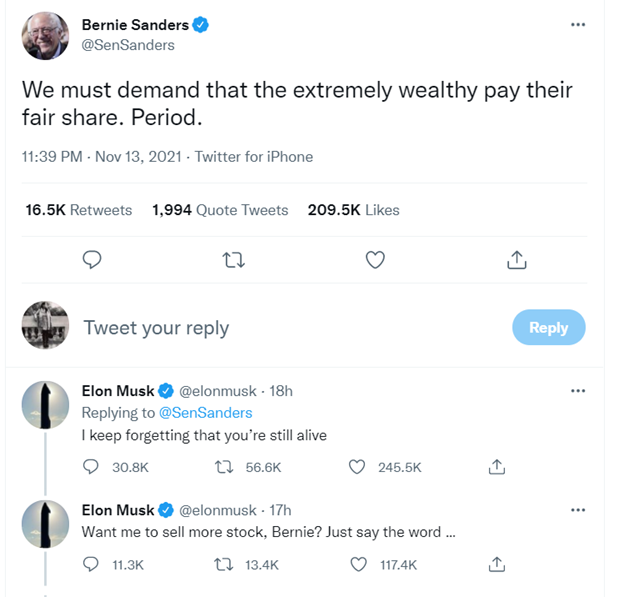 Also read: Elon Musk's crypto holdings & how they've performed in 2021
Musk's recent Tesla stock sale
Musk has offloaded shares worth billions of dollars from his holding in electric car maker Tesla the last week.
According to experts, Musk used his stock options to buy 22.8 million shares of Tesla at a price of just US$6.24 per share in 2012. The options are set to expire in 2022, and in the past one and a half year, the company has outshined its listed peers.
Tesla, we all know but often fail to consider, is the biggest carmaker in the world. That too when the company literally single-handedly brought a decisive shift from fossil fuel powered engines to fully electric mobility. Today, it's bigger than all other traditional carmakers, and the only real manufacturer in the top ten assets list by market cap, Saudi Aramco and NVIDIA are different sectors.
It is estimated that Musk will accrue a tax bill of as high as US$15 billion when he sells his above-cited holding.
Also read: Elon Musk loses US$50 bn this week but retains 'richest person' title
Tesla shares are subdued
Tesla shares have been losing value, which can be attributed to Musk's sale after the Twitter poll. The stock entered a brief bull-run mid-week, but closed lower at around US$1,030 on Friday.
But in the near term, the last week's bearish trend may deepen after Musk's deriding of a senior politician. That aside, Tesla still remains a long-term safe bet when seen in the context that the world is increasingly adopting clean energy over fossil fuels and this subject-matter remains the biggest newsmaker.
Viewpoint
Musk never shies away from making his beliefs and approach public though the micro-blogging site, be it his views on blockchain-based digital currencies or big money-related matters. For now, his Sanders' tweet can add to pressure on Tesla stock considering Musk has a history of making true his Twitter commitments.
Don't be shocked if tomorrow you see Musk sharing a Twitter poll on donating SpaceX assets to NASA.