Image Source: Shutterstock
Summary

Some health officials in the UK are still not sure that COVID-19 vaccines would fully protect the humankind from the novel virus.
Some scientists raised doubts over countries like Australia, which are claiming to limit deaths and the number of infections to almost zero. The scientists say that strategy can never be genuinely sustainable.
Instead, experts advised to first protect the most vulnerable individuals, and then slowly lift all restrictions in place, as the younger generations are at a much lesser risk.
Coronavirus vaccine rollout has started in several nations across the world. However, they are still limited to only a fraction of the population, which is considered to be at higher risk of infection.
While some persons cannot wait to receive the COVID-19 vaccine, others are sceptical due to numerous conspiracy theories surrounding the subject, or they just think, the vaccine might not be effective enough.
However, what are health experts thinking regarding this matter?
Some experts from the UK believe that COVID-19 vaccines might not be as effective in combatting the virus as it may seem.
Vaccine manufacturers are still not entirely certain about how long the shot will be effective, with some even saying that the impact of a jab might last for only a few months. It could also be possible that the standard coronavirus vaccine receiver might need occasional booster shots to maintain high efficacy.
©Kalkine Group 2020
Currently, around 2.6 million people have received a variant of the coronavirus vaccine in the UK, representing 3.9 per cent of people in the country. The UK's target will be to administer 13 million vaccine doses till mid-February, but the country is still far from it due to logistics difficulties and the supply shortage.
However, some scientists are concerned about the actual effect the vaccines will have.
Wei Shen Lim, the current chairman at UK's Joint Committee on Vaccination and Immunisation, warned the new vaccines created by Pfizer and AstraZeneca only promise to protect individuals from developing serious, symptomatic COVID-19.
There is still not enough data to prove that complete elimination of the virus is possible, or asymptomatic infection can be stopped completely, said Mr Lim.
Another medical expert Mary Ramsay said it was yet to be proved whether the vaccine could prevent transmission completely. He also highlighted that it was yet to be ascertained that once the majority of the population received the vaccine, social distancing restriction would be lifted or not: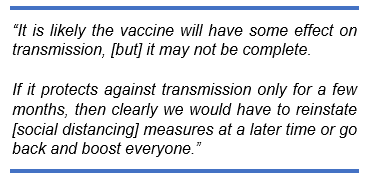 What advice are British scientists offering to Australia?
Britain's Health Secretary Matt Hancock said that Australian approach to aggressively oppress and eliminate the virus from the society might have been too optimistic, but it was likely impossible in practice.
Australia and New Zealand have become famous for their different approach during the pandemic, but their experience has also proved that even the strictest isolation and months of zero transmission can bring the disease back.
Hancock is a supporter of that theory, as he said:
Most professionals agree it is still early to tell how the situation will develop, as the emergency vaccine rollout started just a few weeks back.
For that reason, British doctors advised to protect the most vulnerable groups first, and then lift social distancing restrictions, rather than waiting for everyone to receive their jabs.
Dr Mary Ramsey also added: