Summary

Singapore health authority has given provisional approval for the COVID-19 breath test developed by Breathonix.
The COVID-19 breathalyzer detects the volatile organic compounds (VOCs) biomarkers and can generate findings within sixty seconds.
The Company is working with the Singapore health ministry to operate a breath analysis system deployment trial to screen travelers at Tuas Checkpoint.
A breath test that can precisely detect COVID-19 in less than a minute has obtained provisional approval from the Health Sciences Authority (HSA) Singapore.
Breathonix Pte Ltd has developed the COVID-19 breathalyzer. It is a spin-off firm from NUS (National University of Singapore). Breathonix's BreFence™ Go COVID-19 Breath Test System is the first breath COVID-19 assessment system granted provisional approval in the Asian country.
Source: © Koldunovaaa | Megapixl.com
The test aims to show in under a minute whether someone is infected with the novel coronavirus. Besides, clinical trials are ongoing to enhance the accuracy further.
DO READ: Are the Vaccines Working? When will Covid-19 end?
How does BreFence™ Go COVID-19 breath test system work?
BreFence™ Go COVID-19 test system is a fast and non-invasive breath test that operates by identifying VOCs (volatile organic compounds) present in an exhaled breath of the person.
The proprietary software algorithm in the test system analyses the VOCs biomarkers and generates the findings within sixty seconds.
Copyright © 2021 Kalkine Media (Data Source: Breathonix Website)
ALSO READ: How protective are COVID-19 vaccines against new variants?
The clinical trials for the system were performed between June 2020 to April 2021 at three trial sites, and the study was organized in collaboration with the Mohammed Bin Rashid University of Medicine and Health Sciences and the Dubai Health Authority.
Furthermore, Breathonix is in conversations with many local and international organizations to use the system.
Dr Jia Zhunan, CEO of Breathonix, commented-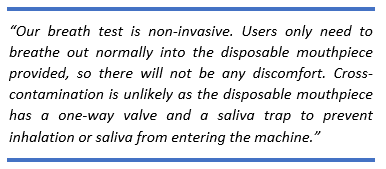 MUST READ: All you need to know about intranasal COVID-19 treatments and vaccines
Singapore to screen travelers with Breath Test System
Singapore will screen travellers coming from Malaysia in an implementation trial of the breathalyzers at the Tuas Checkpoint. Anyone who tests COVID-19 positive in the breathing test would be further required to undertake a confirmatory PCR swab test.
Breathonix is working with the Health Sciences Authority (HSA) Singapore to operate a deployment trial of the technology at the checkpoint.
Notably, the accurate tests at speed could be crucial to assisting unlock a travel sector that has reduced to a crawl during the COVID-19 pandemic.
ALSO READ: COVID-19 Vaccines' Global Roll-Out A Tough Nut to Crack