Source: Seasontime, Shutterstock
Summary

Australian government triggers a warning against vaccine protectionism on the vaccine export block from Italy.
The country has asked the European Commission to review Italy's decision.
The government and health authorities are confident that this block will not affect vaccination in Australia.
A few days back, the Italian government had announced the blocking of Oxford-AstraZeneca's COVID-19 vaccine export to Australia. The decision led impacted the shipment of 250K shots of COVID-19 vaccine manufactured at AstraZeneca's production facility in Italy.
Italy is the first EU nation to use new regulations for blocking the exports as the vaccine developer failed to meet its commitments to the EU.
Let us delve deep and discuss in detail-
Australian government warns against 'vaccine protectionism'
Amid Italy's imposed restrictions, the Australian government triggered a warning against vaccine protectionism. The government stated that it wants to build a coalition of countries to pressurise the European Union for COVID-19 vaccine shipments delivery as planned.
The Australian Trade Minister, Dan Tehan, stated that he was extremely disappointed with Italy's decision and has already raised his concerns with the EU and new World Trade Organization (WTO) director-general Ngozi Okonjo-Iweala.
The Australian government stated domestic politics was the major consideration for Italy's decision to cease the shipment.
Australia requested the European Commission to evaluate Italy's vaccine block
Australia has requested the European Commission (EC) to assess the decision to block Oxford-AstraZeneca's COVID-19 vaccine export to the country.
The export block has amplified a dispute between the UK drug developer, AstraZeneca Plc (LON:AZN) and the EU nation over the supply and delay issues.
Source: © Mikemareen| Megapixl.com
Australian PM Scott Morrison stated that while he had raised the request for review of vaccine block, he could also comprehend why Italy made the decision. He further added-
DO READ: Did you miss these updates on Oxford University-AstraZeneca's COVID-19 Vaccine?
Shipment block will not impact vaccine rollout in Australia
Australian federal government and health authorities stated that the blocked shipment from Italy would not have any impact on the vaccination in the country.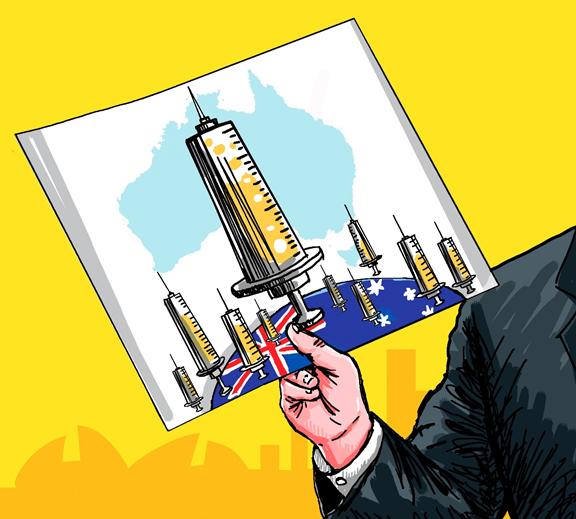 Source: Copyright © 2021 Kalkine Media Pty Ltd
The government stated that the local vaccine manufacturer CSL Limited (ASX:CSL) is anticipated to manufacture millions of vaccine shots in a week.
So far, Australia has secured almost 53.8 million doses of Oxford-AstraZeneca vaccine, of which 50 million will be manufactured locally by biotech giant CSL Limited.
ALSO READ: Two COVID-19 vaccines that are helping the world get over the pandemic