Source: REDPIXEL.PL, Shutterstock
The Asian markets on Monday morning are seeing a positive opening with investors keenly watching developments in China's Alibaba Group Holding Ltd (NYSE:BABA) and India's worsening COVID-19 situation.
Representative Image. © Embe2006 | Megapixl.com
Except for the Japanese markets, other Asian and Pacific Rim markets were trading in green at the time of filing this copy. Japan's benchmark index Nikkei 225 was trading 14 basis points lower at 29,641.5.
All other indices were trading in green, with Hong Kong's Hang Seng index being the biggest gainer. The Hang Seng was up 85 bps at 29,009, followed by Thailand's SET index, which was up 51 bps.
Although South Korean KOPSI opened in black, it witnessed buying later on, and was trading with gains of 23 bps, when this copy was filed.
Also Read: Jack Ma-Xi Jinping Standoff: The Battle Between Chinese Govt vs Private Tech
Also Read: Alibaba (NYSE:BABA) Stocks Surge As Jack Ma Resurfaces After 3 Months
Investors would be keenly watching out the developments at the Hong Kong-listed shares of e-commerce giant Alibaba, after its still-unlisted parent company -- Ant Group -- said that the reports about the firm looking at ways for Jack Ma to exit were "untrue and baseless."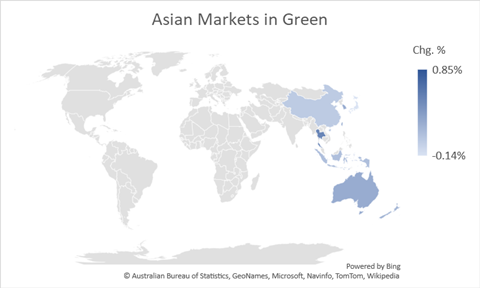 Source: Kalkine Research
However, the biggest pain point to global markets is likely to come from Indian equities. At the time of filing this copy, the SGX Nifty – the futures of 50-share Nifty traded in Singapore – was down 1.47%.
Indian markets opened in deep red as the world's second most populous country is witnessing a new record high number of COVID-19 cases every day. For the consecutive past four day's, India has recorded more than 200,000 cases, and more than 1,000 deaths for six days on the trot.
Even as India is making up 39% of the daily new global cases, the federal government doesn't seem to be in favour of a nationwide lockdown – which health experts say is much needed. The sources suggest that the federal government has asked the provincial governments to take a call on the lockdown. But, despite this, this has dampened the business activity in the world's fifth-largest economy, with fears of credit defaults increasing – both on retail and wholesale side.