Highlights

Tesla booked total revenue of US$13.75 billion, up 57% on year-over-year basis.
Analysts predict price target of US$1,000 for Tesla.
Despite a list of problems ranging from legal issues to supply chain constraints, the company made strong progress during FY21.
Elon Musk's electric vehicle sales jumped on strong deliveries, being the fastest growing brand of 2021 as per research. According to Interbrand's latest research, the company witnessed the largest rise in rankings, surging to no. 14 spot with a brand worth of US$36.3 billion during FY21.
A look at Tesla's latest quarterly results
To start with, lets have a look at the brand's latest quarterly results. On Wednesday, the global electric car maker announced its third quarter results reporting record revenue and profits supported by improved gross margins on automotive business. As per its FY21Q3 results –
The company booked total revenue of US$13.75 billion, up 57% on year-over-year basis.
Tesla reached an operating margin of 14.6%, exceeding its medium-term guidance.
Operating cash flow less capex stood at US$1.3 billion in the third quarter and the net debt and finance lease repayment stood at US$1.5 billion.
The gross profit from the automotive business hit record high of US$3.67 billion, growing 74%. This is the highest record since last five quarters.
For the second time, the company has surpassed US$1 billion, reporting net income (GAAP) of US$1.62 billion for the quarter. Net income was US$331 million in the previous corresponding period.
RELATED READ - Tesla's (TSLA) robust sales beat expectations despite chip shortage
Production highlights
Despite supply chain constraints, Tesla has produced approximately 238,000 vehicles, delivering over 240,000 vehicles during the third quarter.
In January, the company started delivering locally built Model Y and it intends to boost its sales further. Expanding its business in Shanghai and Austin, Tesla further plans to release its Cybertruck pickup truck by the end of 2021.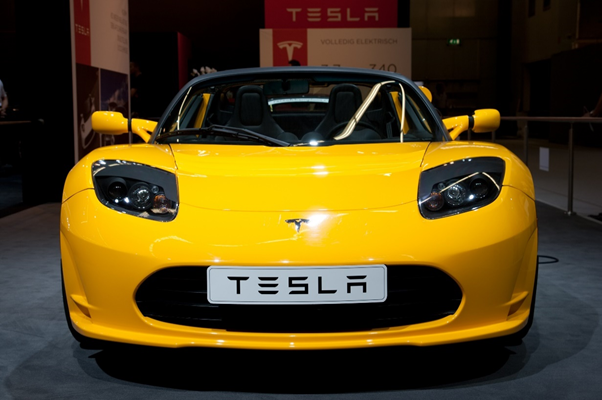 Representative Image Source: © VanderWolfImages | Megapixl.com
What's next?
Tesla is expected to reach 1.3 million deliveries by FY22 as per analysts, as the automaker is apparently getting ahead of the current supply chain issues in the auto industry. The company is also planning to release its compact vehicles in Europe by 2023.
RELATED READ - A video of Tesla's Autopilot car that grabbed Musk's eyeballs
It is planning to boost its annual production capacity to 1 million vehicles by FY22, starting operations at new under construction plants in Berlin, USA, and Germany.
Analysts predict US$1,000 price target for the electric car maker. Tesla is likely to become the biggest gainer in the world of electric vehicles.
Bottomline
Although Tesla share performance was affected due to several events – from National Highway Traffic Safety Administration (NHTSA) investigation to the supply chain issues in the automotive sector, the car maker made a halting progress this year. Analysts predict the electric car maker is likely to become the biggest beneficiary in the global electric vehicles push.