Source: GaudiLab, Shutterstock
Over the years, women have slowly, yet steadily been breaking the glass ceiling of gender biasness, which obstructs them to enter leadership roles in the top organisations, in spite of possessing necessary skills and qualities.
Females all over the world are constantly progressing and achieving milestones in all walks of life. In recent times, the world has witnessed a plethora of women leaders like Theresa May, Angela Merkel, and Kamala Harris proving their mettle at the top level in their respective countries.
Source: © Jirsak | Megapixl.com
One such leader is New Zealand's Prime Minister, the dynamic and ever-smiling, Jacinda Ardern. She became the world's youngest female to lead a country's government at the age of 37.
Born in Hamilton, Arden has been New Zealand's PM since 2017. Her proactiveness and efficient decision making has navigated New Zealand swiftly in times when the whole world was reeling under the uncertainties arising because of the deadly COVID-19.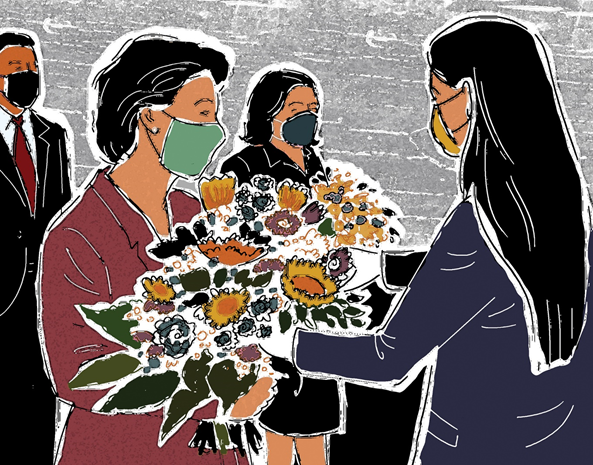 Source: Copyright © 2021 Kalkine Media Pty Ltd
At present, New Zealand is among the few countries across the globe which has sailed successfully amid the coronavirus pandemic. As a gesture of solidarity with those who lost their jobs and were forced to undertake salary cuts, Ardern too undertook a 20% wage cut, reflecting a rare quality of an exceptional leader who leads by example.
MUST READ: Key Takeaways from Jacinda Ardern-Led New Zealand Approach Against the Pandemic
On the given backdrop, let us take a closer look at NZ's rising women power, reflecting entrepreneurial skills and adroitness. These female entrepreneurs are doing extraordinarily well. Not because they are the fairer gender, but because they have earned their merit and deserve to be at a place, they are currently at to call the shots at their respective organisations.
Alyona Medelyan
Co-Founder and the CEO at Thematic, a customer insights platform, Alyona Medelyan, pursued her PhD from the University of Waikato. Being a natural language processing (NLP) expert, Medelyan is an O'Reilly speaker and runs the NLP in NZ meetup. She has authored Maui, an open-source topic indexing tool. It is pointed out that Thematic is a SaaS-based company, which analyses customer feedback and advises companies on loyalty parameters and churn.
Anjali Stewart & Rachel Easting
Co-Founders of 'Twenty-Seven Names', NZ's ethical fashion clothing line, Anjali Stewart and Rachel Easting, first met at a primary school. The duo began working together on small projects and announced its brand in 2006. Their fashion line focusses on curating wearable yet distinctive outfits across Australasia and the US.
Brooke Roberts
Founder & CEO Sharesies, an upcoming investment company across New Zealand, Brooke Roberts, firmly believes that opportunities must be given to all to enhance their wealth. Her company- Sharesies - provides access to invest in a diverse portfolio of funds across NZ and the US.
Kendall Flutey
Winner of the "Impact Award for Enterprise" in 2020, Kendall Flutey, is a young Founder-CEO at Banqer. Accountant-turned-education entrepreneur Flutey established Banqer to assist in enhancing financial knowledge and skills among school children. The programme has helped kids manage their personal finances and has influenced about 150,000 students across Aotearoa.
Shama Lee
A software-engineer-turned-hard tech entrepreneur, Shama Lee, is the Founder-CEO at Sunfed Meats, a start-up, which uses clean and green technology to make mouth-watering meat with the use of the beast! Here, the plat du jour is prepared using yellow pea protein, but the morsel looks and tastes just like animal meat, thus, healthier, and sustainable for the well-being of all living beings.
Brough Johnson
Hailing from the US and now settled in Auckland, established film and television editor Brough Johnson, is the Co-Founder and CEO of Narrative Muse. The organisation encourages and endorses books and films by women.
Brianne West
Business tycoon and founder of Ethique, Brianne West, has been awarded "Young Entrepreneur of the Year" in 2019. Being the world's first zero-waste beauty brand, Ethique, uses only vegan products with no plastic packaging. Foreign Policy magazine has named West as a "Global Thinker" for making eco-friendly beauty products.
Laura Bell
Cybersecurity expert, Laura Bell, is the Founder-CEO at SafeStack, an NZ-based security organization, which deals with agile application security. SafeStack provides requisite budget-friendly and flexible cybersecurity solutions to the companies, right from its inception to the company's full governance.