Highlights

The UK government is all set to tighten rules to stop greenwashing of green tariffs.
The government is also going to publish a separate call for evidence on third-party intermediaries.
A YouGov poll shows that 75% of consumers believe suppliers should be more transparent on green tariffs.
The Boris Johnson government has announced that it would go for a review on how energy retailers are marketing 'green' electricity tariffs to consumers amid growing concerns that many companies are exaggerating how ecofriendly their products are.
The review will explore the extent of greenwashing in the retail energy sector to know if the current system is suitably transparent and the rules around what can be called a 'green' tariff remain fit for purpose.
British Energy minister Anne-Marie Trevelyan said that around nine million households avail green tariffs, which are marketed as totally renewable.
Energy companies are currently able to market tariffs as green although some of the energy they supply to customers comes from fossil fuels, which industry figures have warned risks misleading consumers.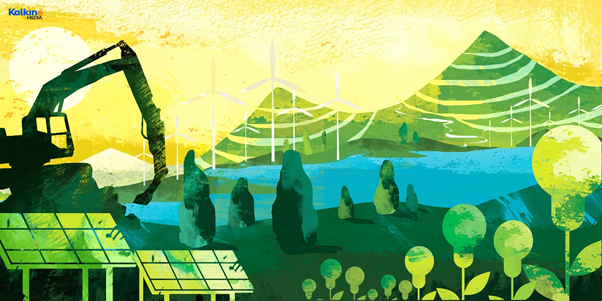 These energy companies can do this by acquiring enough Renewable Energy Guarantees of Origin (REGO) to cover their customer base. These tell you about the amount of power that get from renewable sources.
However, these firms are not bound to reveal how much energy is based on the purchase of these certificates versus those firms which supply electricity directly.
Options being explored include looking at whether the rule around these certificates needs to be smarter and whether suppliers need to provide transparent information to households about their green tariffs, including type of renewable energy used, where and the renewable power was generated.
Also Read: Is renewable electricity more economical than coal-based power?
The UK government also announced that they are going to publish a separate call for evidence on third-party intermediaries in the retail energy sector, like price comparison sites and non-domestic brokers.
As they currently operate outside of the retail sectors rule, and the UK cabinet will seek views on whether a uniform regulatory framework is needed or not.
Trevelyan said that millions of UK households are engaged in making the green switches and more and more of our energy comes from renewable. People should know that when they sign up as a green tariff when they consciously opt for environment-friendly energy system.
All of this is to ensure that the energy firms are being as clearer as possible on the source of there power, so that it become easier for families in Britain to assured their choices that are actually helping them to contribute to the global target of cutting carbon emissions by 2050.
According to recent YouGov poll, About 75% customers believe suppliers should be more transparent about their tariffs and sources, including how much energy they buy from other firms and around two-third of customers in UK said they prefer energy products based on how eco-friendly an energy tariff is.
Consumer protection advocates and price comparison services have also insisted on greater transparency in this field.
Richard Neudegg, Head of Regulation at Uswitch.com, said people are purchasing green tariffs to help environment, but it's difficult for customers to know if it is actually helping to support renewable energy.
ALSO READ: Take a look at top 10 global renewable energy stocks
What is Greenwashing?
The term Greenwashing begins to be used widely in the early 90's post the Rio de Janeiro Earth Summit in 1992.
According to the Oxford English Dictionary, the term greenwashing is used to describe the activities by a company that are intentionally making people believe it is concerned about the climate change and nature, but in real, its business practices are opposite to that claim.
This means companies making false claims about the sustainability of their products. Greenwashing is used to describe the practice of firms launching their products, ads and campaigns under the pretence that they are eco-friendly, often in contradiction to their environmental and sustainability record in general.
Greenwashing is misleading as it is not telling what you are buying. It also hinders the growth of the real sustainability movement and the fight against climate change.
Also read: How Renewable Energy Sources Evolved in The UK Over the Years
Why do companies greenwash?
A company uses greenwashing practices in a bid to promote its products and attract consumers who are environmentally aligned. There is also an increasing pressure, from the public and government, for businesses to reduce their impact on the environment, especially with regard to their contribution to greenhouse gas emissions.
ALSO READ: The World Is Shifting to Cleaner Energy Forms, but What About Sustainability?
How to spot greenwashing
Awareness in terms of greenwashing has surged in the last few years. This is due to the rising demand for environmentally sustainable products and transparency. As companies are eager to explore this new sector, customers should be more conscious about greenwashing than before.
A few tips:
Do your research
Make sure claims are verified by a third party
Companies that use false or misleading labels and ads
Companies that use irrelevant claims
Companies that blame the customer or the taxpayer
Companies that exchange plastic for recycled plastic, cardboard or bioplastic
Companies that offers vegan choices on their fast-food menus
Companies that brag about their carbon off-setting
Conclusion
The issue of sustainability is at the top priority for the world agenda right now. One should look for companies that are certified by a reputable environmental and ethical organisation. As greenwashing not only misleads the customers and make false claims about the sustainability of products, it also affects the growth of the overall sustainability movement to fight against climate change as customers stop trusting these initiatives.