Highlights

The 'Three Amigos Summit' is back after it was last held in 2016 before former President Trump shelved it
Though there's a lot of common ground between the leaders of the two liberal parties they will both be representing their national economic interests
Line 5 and the US' proposal to provide tax credits for American-made EVs will be points of contention
Dubbed the 'Three Amigos Summit', the North American Leaders' Summit (NALS) was last held in 2016 when Presidents Barack Obama and Enrique Peña Nieto headed north to convene with Prime Minister Justin Trudeau. During the Trump era, the summit was shelved as the ex-POTUS slapped on tariffs and forced a renegotiation of NAFTA.
Three Amigos Summit: What's at stake as Trudeau heads to Washington
The summit may be back with Mr. Biden in the White House but it may not be all sunshine and roses for Mr. Trudeau. Inflation is high in both countries with a supply chain crisis and rising oil prices. Amid all this, the fate of the crucial Line 5 hangs in the balance and winter is coming. So, on that somber note, let's see what's to be expected as the one-day summit convenes November 18 in Washington, DC.
Line 5 saga
While seemingly there's a lot of common ground between the two liberal parties on social policy, they will both be representing their national economic interests. Line 5 will definitely be on the table as the Michigan state government and Enbridge, Inc remain embattled.
Also read: 5 TSX energy stocks to buy with prices expected to soar in winter
For over 65 years, the pipeline has been a major energy artery to the continent but environmental concerns about it jeopardizing the Great Lakes have raised questions about its future. And this, after Mr. Biden shut down the Keystone XL pipeline almost before setting foot in the White House even.
In Michigan's corner is Biden ally Gov. Gretchen Whitmer; in Enbridge's corner is Mr. Trudeau who will be very aware how ruinous a shutdown could be to Canada's economy.
Nevertheless, the Biden administration has debunked the claim about shutting down the pipeline after a little miscommunication. Meanwhile, Canada's new foreign minister Melanie Joly has taken up the issue with US Secretary of State Anthony Blinken and he seemed empathetic.
Also read: 5 top Canadian oil & gas stocks to buy that soared over 100% in a year
Bid to lure EV manufacturers?
The other pressing issue is electric vehicle manufacturing that has become a bit of a sour spot between the two countries. The US has proposed serious tax credits upto US$12,500 to buy American-made EVs, a proposal that Canada says will lure companies away from the other two partners to make in America.
Some experts believe it won't just not be mutually beneficial, it would neither be beneficial to the US to disrupt existing supply chains. Furthermore, thousands of jobs hang in the balance and it would hamper the integration of the automotive industry, research and development and generally, the industry as a whole.
Canada has been trying to attract investment in the sector as it prioritizes a cleaner economy and this could throw a wrench in the works. It could also provoke retaliatory measures, with Canada coming up with its own credits. The north country says it violates the new NAFTA agreement -- the United States-Mexico-Canada Agreement (USMCA).
Also read: 5 Canadian lithium stocks to buy as Quebec attracts EV makers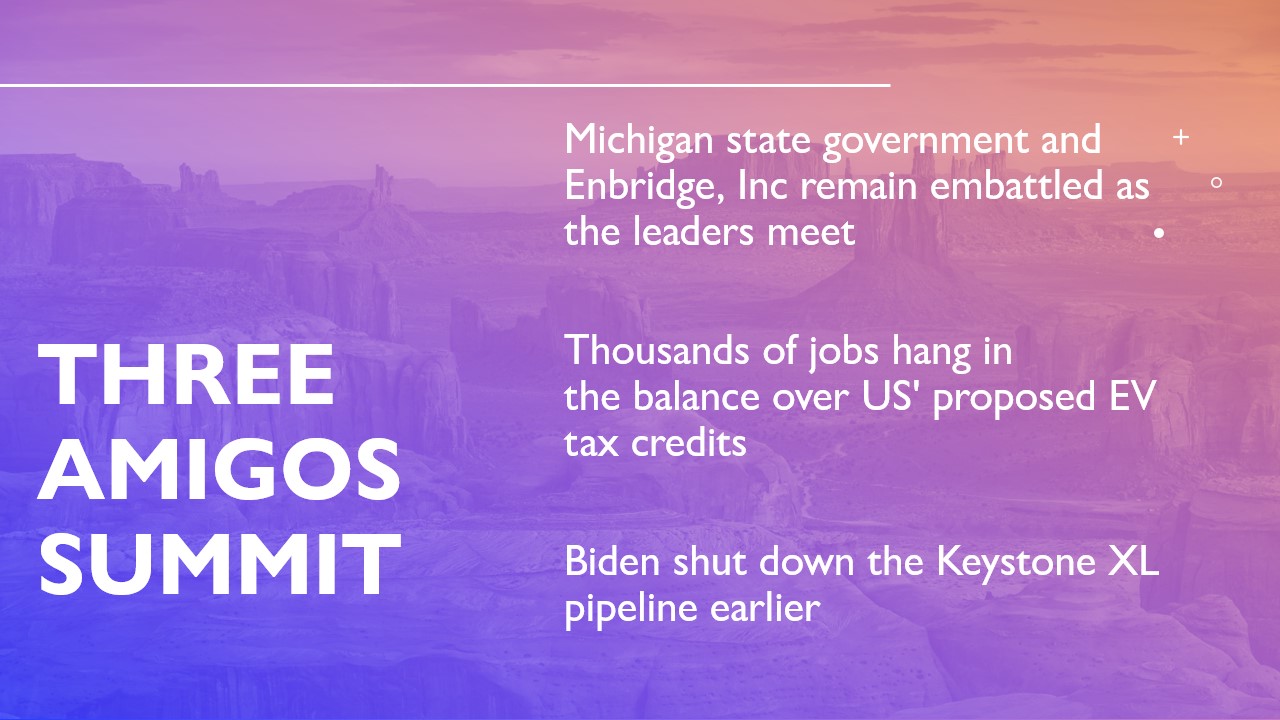 Bottom line:
Compared to the previous US administration, there's no doubt relationships between the three major players of the continent are on the mend. That said, the present issues ironically seem like quite a role reversal.
On the one hand, it may see the American partner prioritize an environment issue more than the Canadian one as Mr. Trudeau vouches on behalf of Line 5. On the other hand, it may see Mr. Biden argue for a buy American policy akin to that of his 2020 rival's America First policy.
Also read: 2 hot Canadian EV stocks to buy & hold for next 10 years