Highlights

The Labor Department's latest JOLTS report showed that the number of quits reached 4.5 million in November 2021.
Also, job openings were down from 11 million in October to 10.6 million in November.
With 6.9 million unemployed, the labor force participation rate stood at 61.8% in November.
Months after the outbreak of the Covid-19 pandemic in 2020, tens and thousands of Americans quit their jobs, either voluntarily or compelled to resign, as the economy took a beating.
The trend accelerated in 2021 as quits expanded to all sectors, leading to a major labor market disruption. Observers dubbed the situation or the phenomenon as the "Great Resignation".
On Tuesday, the Labor Department's latest JOLTS report showed the number of quits hit 4.5 million in November 2021, a sign of the deepening quits trend observed in recent months.
In addition, the number of job openings declined from 11 million in October to 10.6 million in November. New job postings fell to around 260,000, mainly in the hotel and food industries.
Also Read: Top fake meat stocks to keep an eye on in 2022
Overall, some 6.9 million Americans were unemployed at the end of November. The number of quits has been increasing in the last six months except for October when it slightly dipped.
The number is higher than the pre-pandemic levels and much higher than the 3.3 million quits recorded in November 2020, according to Labor Department data. The labor force participation rate stood at 61.8% in November, below the pre-pandemic level of 63.4% in January 2020.
Also Read: Top technology and gaming stocks to explore in 2022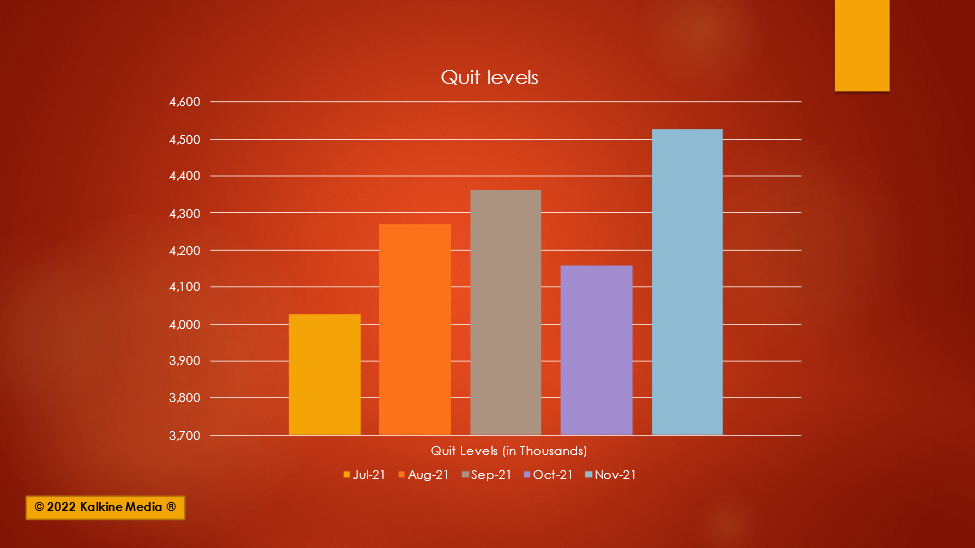 Data source: US Labor Department
Also Read: Top EV stocks to explore after robust vehicle deliveries
Employers struggle to fill vacant positions
Employers have faced difficulties in filling open positions, mainly in the low-wage sectors.
But there could be many reasons for this.
For instance, some economists believe it may be due to the lack of interest in the job over issues like salary, working conditions, inadequate childcare support, health condition, and re-evaluation of life priorities.
Sectors that involve direct contact with customers or have many frontline workers like retail, hospitality, healthcare, social assistance, and business services providers witnessed a higher quit rate compared to other areas where people could work from home.
In addition, these sectors require more low-wage workers. According to labor data, the quit rate in the healthcare industry was 3% in November on a seasonally adjusted basis.
Also Read: Seven hottest IPOs to explore in 2022
Besides, wage growth is observed in industries that has been seeing sluggish pay growth for a long time. In a tight labor market, low-paying jobs typically see moderate wage growth.
Many knowledge workers may have also quit their jobs due to burnout or other reasons like better work opportunities, higher pay, self-employment, etc. The government stimulus has been a major factor in reducing the household income burden during covid.
Also Read: Global investment firm TPG IPO is set in motion, eyes US$9 bn valuation
However, some economists opine that the current gap between labor demand and supply is temporary and attribute it to Covid effects.
They see Omicron has a major hurdle in the recovery. It is because workers may shun work for fear of contracting the disease. The inadequate childcare facility is also a limiting factor.
Therefore, employers should look at retaining workers by offering sops, like higher wages, work flexibility, healthcare benefits, rewards, etc., they stressed.