Highlights

The Reserve Bank of Australia (RBA) has kept interest rates on hold at 10 basis points.
The central bank has maintained the cash rate steady for the 16th consecutive month.
The RBA seems to have become less reluctant toward an interest rate hike.
The Reserve Bank of Australia (RBA) has announced its third monetary policy decision for 2022 today, i.e., 5 April. Largely in line with market expectations, the RBA has kept the cash rate steady at ten basis points and the interest rate on Exchange Settlement balances at zero per cent. Thus, there are no significant changes announced in this month's monetary policy decision.
In his monetary policy speech, the RBA's Governor Philip Lowe touched upon inflation and the related supply-side issues. Governor Lowe highlighted that bond yields and expectations of future interest rates have increased in response to Russia's invasion of Ukraine.
Unlike many other countries, Australia has maintained interest rates at a record-low level of 10 basis points for the 16th consecutive month. Despite no strong hints from the RBA, rate hike expectations are building up in the Australian economy, visibly affecting the bond markets.
ALSO READ: What does Australia's debt mean for taxpayers?
How is the Australian economy doing?
Governor Lowe gave a sneak peek at the factors keeping the Australian economy afloat during uncertain times. At present, the most challenging aspect facing the Australian economy is the rapid rise in inflation, which is faster than the rise in wages. Therefore, the RBA has set the target band of 2-3% for inflation before raising interest rates.
Key Takeaways From RBA's April Monetary Policy Meeting
Most aspects of the economy seem to be in good condition, including a strong labour market, gradually rising wages growth and highly accommodative financial conditions. Notably, the unemployment rate fell further to 4% in February, and underemployment reached its lowest in many years. Governor Lowe also highlighted that inflation rates in Australia have been lower than in many other countries despite rising prices. Currently, headline inflation stands at 3.5%, while underlying inflation is at 2.6%.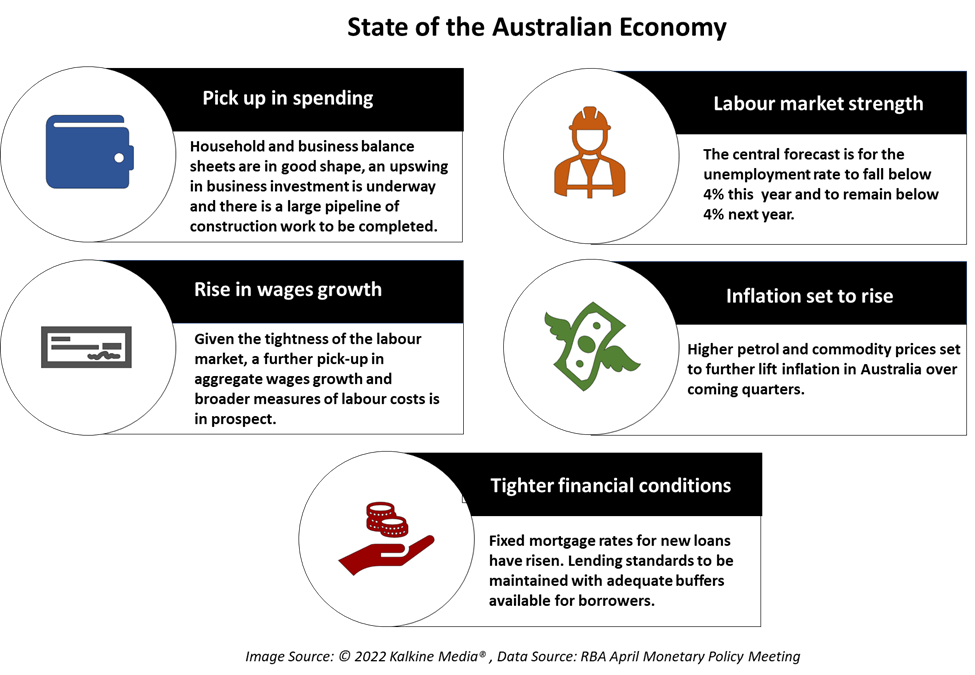 Though no clear signs of a rate hike were given by the RBA, the central bank's reluctance to raise rates seems to be easing. Experts suggest that Governor Lowe abandoned the long-used term "patient" when discussing a cash rate hike. The RBA had frequently stated that it would remain "patient" and observe ongoing factors before introducing a rate hike. However, this time, the RBA appears to have stepped down from its cautionary stance, with a possibility of rate hikes being nearer.
DO NOT MISS: When will Australia's petrol prices come down?

Additionally, Governor Lowe did not touch upon the AU$8.6 billion aid announced in the previous week as a part of the budget to combat rising costs of living. PM Scott Morrison recently introduced a sizeable fuel excise cut in its cost of living package. Some experts believe that the cash splash is a gateway to tighter lending restrictions in the coming months. Thus, the market expectations of a rate hike in May could rise considerably, given the ongoing inflationary pressures.
ALSO READ: Will Australia's budget spending stoke inflation?