Summary

FTSE 100 bounced back on Wednesday after witnessing the worst session in two months on Tuesday.
The index hurriedly crossed the psychological mark of 6,900 in the wee hours of trading.
The headline FTSE 100 bounced back in the early deals on Wednesday, 21 April, after recognising the worst session in nearly two months on Tuesday. London equities regathered momentum after the Office for National Statistics (ONS) said the CPI inflation in the 12 months to March 2021 rose by 0.7 per cent. On a month-on-month basis, CPI inflation recorded a rise of 0.3 per cent.
According to the data available with the London Stock Exchange, FTSE 100 hurriedly crossed the psychological mark of 6,900 in the wee hours of trading. At around 0837 BST, FTSE 100 was trading at 6,905.63, up 0.65 per cent from the previous close of 6,859.87.
FTSE 100 chart (21 April)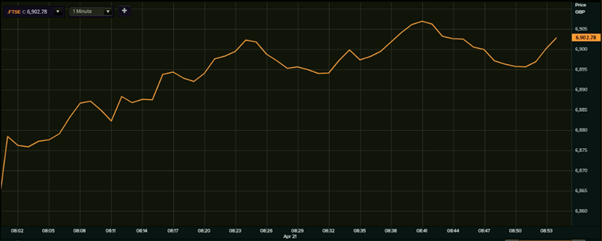 (Source: Refinitiv, Thomson Reuters)
The broader share barometers including the FTSE 350 and FTSE All Share followed the footsteps of the leading benchmark, while the gains of mid-cap heavy FTSE 250 were capped under 0.32 per cent.
Markets have been bracing for a topsy-turvy ride as the global events around the coronavirus pandemic unfold. The domestic investors are looking forward to gathering cues from the upcoming speech by the Bank of England Governor Andrew Bailey, scheduled to start by 1230 BST on 21 April.
Passing through the consequences of major macroeconomic releases in the present week, the focus will now shift to the forthcoming announcements including the Gfk Consumer Confidence and retail sales on Friday this week, followed by the Nationwide Housing Prices on 30 April.
The first quarter corporate earnings are likely to affect the proceedings, especially in the equities. In the next week, Paternoster Square will be reflecting the financial results outcome of the blue-chip heavyweight companies including HSBC Holdings Plc (LON: HSBA), BP Plc (LON: BP), GlaxoSmithKline Plc (LON: GSK), Lloyds Banking Group Plc (LON: LLOY), Persimmon Plc (LON: PSN), J Sainsbury Plc (LON: SBRY), Royal Dutch Shell Plc (LON: RDSA), NatWest Group Plc (LON: NWG), Standard Chartered Plc (LON: STAN), AstraZeneca Plc (LON: AZN) and Barclays Plc (LON: BARC).