Highlights

Promises of major parties regarding the health policy have been in the limelight
The aged care sector calls for a workforce partnership supplement
Pharmacy Guild is delighted by the commitment made by both major parties to make medicines more affordable
According to a new Australian National University Poll, reducing the cost of living and fixing the aged care system are major priorities for voters in the 2022 federal election. Thus, major parties for the Federal Election 2022 are tempting voters with lucrative promises regarding health policies which have also gained good public traction.
Further, several healthcare associations have put forward their demands and needs to be addressed to the plate of both parties.
Related read: ACA flags early learning sector concerns ahead of Federal Election 2022
Aged care sector looking forward to a workforce partnership supplement
The Aged & Community Services Australia (ACSA) wants more detailed plans from both political parties on strengthening the aged care workforce and retaining and upskilling the existing workforce.
It has highlighted the following three major points to be addressed by the new government:
A "workforce partnership supplement"
A minimum wage increase for aged care workers and award wage increases from July 2022
A pledge to a multidisciplinary workforce by putting allied health needs assessment and funding model in place by July 2024
Pharmacy Guild Supports commitment for more affordable medicines
Pharmacy Guild of Australia, the peak body of community pharmacy, is delighted by the commitment made by both major parties to make medicines more affordable.
The National President of the Pharmacy Guild of Australia, Professor Trent Twomey said, "A bipartisan commitment to address the cost of prescription medicines is a win for patients around the country who have been doing it tough and is a step in the right direction to restoring universal access to the Pharmaceutical Benefit Scheme (PBS)."
Image source: © 2022 Kalkine Media®
Stephen Mason - CEO of the Australian Patients Association -"Our research has found that almost 36 per cent of people believe that prescription medication is too expensive, and 20 per cent of people say it's outside of their regular budget."
Similarly, The Cancer Council of Australia has highlighted the points in this area to be addressed by the parties:
Funding for national skin cancer prevention
Reducing Australia's tobacco use
Reducing the impact of lung cancer
Eliminating cervical cancer
Access to world-class cancer care
Also read: Jobs back on Scott Morrison's federal election agenda
Coalition's policy for health system
The Coalition Party has released its policy for supporting Australia's health system with these four major points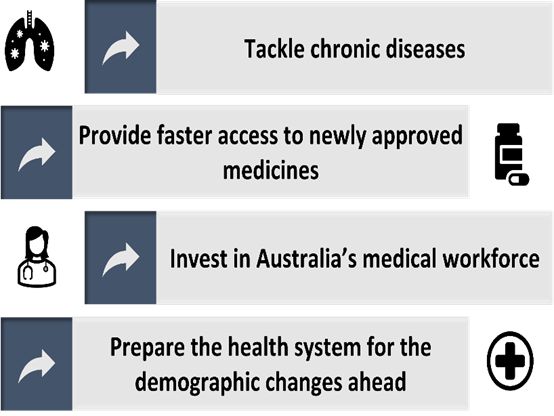 Image source: © 2022 Kalkine Media®
Besides these, some of the funding activities highlighted in the policy are as follows:
Giving authority to the Health Minister to list medicines recommended by the Pharmaceutical Benefits Advisory Committee (PBAC) that do not cost more than AU$20 million in any of the first four years of its listing.
Funding of AU$35 million to find a cure for Type One Diabetes
Bolstering primary care by providing AU$52.5 million to grow existing general practices for teaching
AU$40 million for 400 medical internships
Similarly, the Labor party made pledges related to aged care, which include wage raises, a provision of full-time nurses, a provision of nutritious food and new funding for better support to the aged care sector.
Will Australia's Budget Spending Stoke Inflation?