Summary

Australian economy has outperformed other countries and has recorded a GDP growth rate of 3.3%.
Stringent policy action by the RBA coupled with fiscal aids and job creation initiatives have led to a growth rate of 3.3% in the Australian GDP.
If vaccine rollout starts 6 months before expected, then Australian economy could benefit by $34 billion.
The Australian economy has managed to fare well in this stressful time by coming out of its first recession in nearly 30 years. With a GDP growth rate of 3.3% in the third quarter, Australia has started on its journey towards economic recovery. Treasurer Josh Frydenberg claims that a lot is still to be achieved before Australia is brought completely out of a state of peril.
Vaccine related developments might boost the Australian recovery even further. Treasurer Frydenberg stated that if the vaccine rollout were to be conducted 6 months earlier than expected then the Australian economy could benefit by A$34 billion.
CURBING THE VIRUS LINKED TO INCREASED GROWTH
Australia has outpaced many other countries like Japan, Canada, UK, Germany, France, and New Zealand in economic recovery. The improved forecasts for the unemployment rates in December came after strong and robust policy action by the Australian government.
Initiatives like JobSeeker and JobKeeper helped the economy recover, along with fiscal and monetary benefits. However, improvements to the vaccine timeline may further boost the economic recovery.
It is important to note that the Australian economy is still quite dependent on monetary and fiscal aids for its recovery. Thus, vaccine related news might not be sufficient to drive economic growth just yet.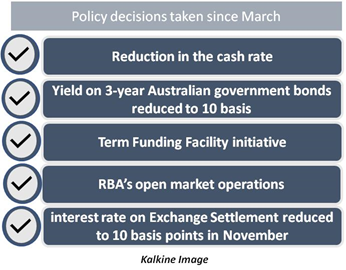 The Organisation for Economic Cooperation and Development urged the government to continue monetary and fiscal policies currently in action. However, treasurer Josh Frydenberg stated that the JobKeeper wage subsidy would stop by the end of March, while other policies would continue to remain in action.
RELATED READ: RBA Monetary Policy Decision: No Changes to Policy Setup
The Intensifying Dispute With China Affecting Economy Further
Australia and China have both joined hands in the Regional Comprehensive Economic Partnership (RCEP) Agreement. However, little seems to have changed between the diplomatic ties of the countries following this decision.
ALSO READ: Will RCEP bring a thaw in Australia-China trade relations?
The relationship between the two countries were threatened more when a Chinese official shared a fabricated image suggesting violence by Australian soldiers. An emergency meeting was called by Prime Minister Scott Morrison to address this issue as it was condemned by Australian authorities.
Australian economy is largely dependent on trade and on its exports. While China forms one of the biggest markets for exports of iron ores from Australia, current tensions have caused a severe blow to the Australian exports.
IN CASE YOU MISSED: What can Australia do about its relationship with China?