Canada's real gross domestic product (GDP) marginally improved for the sixth month in a row. It was up by 0.4 per cent in October, following a 0.8 per cent rise in September, as per the Statistics Canada report released on Wednesday.
The rising GDP trend has offset the sharpest plunges on record in Canadian economic activity witnessed in March and April this year. However, total economic activity was still nearly 4 per cent down from pre-pandemic levels in February.
The professional services sector witnessed a rise of 1.0 per cent in October, as all types of service sectors rebounded. Computer systems design and related work led the surge with a 1.1 per cent rise in October.
Furthermore, residential construction activities increased by 1.9 per cent in October, along with home restoration services. However, accommodation and food services sector dropped for the second straight month, shrinking by 3.9 per cent in October. This was primarily due to the deceleration of the initial impetus of re-opening amid the second wave of the COVID-19 virus.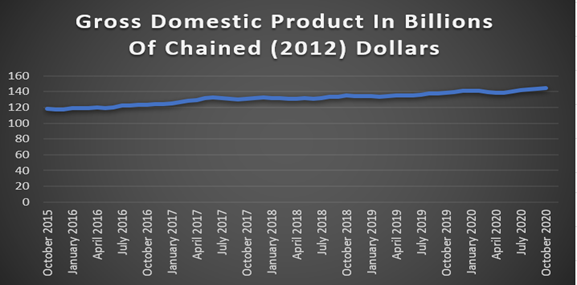 Canada's GDP Chart (Data Source: Statistics Canada)
Both goods-producing (+0.1%) and services-producing (+0.5%) industries were up with 0.1 per cent and 0.5 per cent, reactively, guided by 16 of 20 industrial sectors' higher performance in the month of October.
In its interim estimates, Statistics Canada's report indicates a nearly 0.4 per cent improvement in real GDP for the month of November, led by Manufacturing, wholesale trade and finance, and insurance, while construction lessened the growth. The above estimate will be reviewed on January 29, 2021, with the final report of the official GDP data.
Mining, quarrying, and oil and gas extraction operations remained flat in October, as oil and gas drilling operations compensated mining and quarrying loss.