Image Source: Shutterstock
Summary

Google has started algorithm experiments regarding the content from Australian news sites, removing some of the links from commercial news providers.
According to Google's spokesperson, the platform is testing tens of thousands algorithm features to evaluate the impact on Australian news providers.
Josh Frydenberg has urged Google to focus on paying for the content instead of fully blocking it.
Google is experimenting with its algorithms and has blocked commercial Australian news outlets from its search results on some users' devices, the Australian Financial Review has found.
According to some users who tried accessing commercial news sites such as The Sydney Morning Herald or the AFR, Google threw up some old links. Some Google users even saw different search results after looking for a particular news source.
Google confirmed the rumours of conducting the experiments, adding that it was just one of tens of thousands trials it conducted on its search algorithm.
Google further said that the experiment was being carried out to gauge the value of its service to Australian news providers. A google spokesman stated: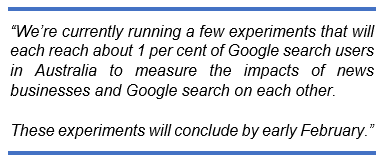 According to a new Media Legislation being proposed by the Federal Government, Google and Facebook are being urged to strike a deal with local publishers if they want to show their content online.
By this, the government wants to ensure that news companies are paid for their hard work and resources for finding the most accurate news.
The media bargaining code will also help ensure a level playing field between the digital firms and media companies.
RELATED: What is Australian media bargaining code? How will it affect Google, Facebook's revenues
Meanwhile, Google has said that it was ready to work with all the concerned stakeholder to reach at a fair workable code which would be in 'favour of all Australians'.
Both Facebook and Google have voiced their resistance against the code, saying that it was unfairly constructed and would 'hurt' their business.
Which news outlets were included in the experiment?
Via its experiment, Google seems to have mainly targeted commercial news sites, which include some of the most popular subscriber-oriented content in Australia.
However, private companies such as the ABC and the SBS were not that affected by the algorithm experiment.
Nine, a commercial network that owns several newspapers in Australia, has been a significant supporter of the Legislation, saying the following: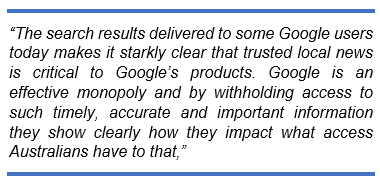 Nine's spokesperson also voiced concerns about Google's monopoly of power, stating:

How did the government respond?
Treasurer Josh Frydenberg issued a stern statement in response to Google's new experiment, saying that the tech giant should rather "focus on paying for the content" instead of fully blocking it from the site.
Both Facebook and Google were against the code as it 'hurt' their business and was unfairly constructed.
Mr Frydenberg also added:

ALSO READ: Who is Dr Timnit Gebru and why did Google fire her?